Tree-lined Chevy Chase street
Chevy Chase DC, the well-known suburb-in-the-city, is a place with gorgeous houses on well-appointed lawns, a strong community connection, and a large enough commercial stretch to make it feel relatively self-sufficient. But be careful not to mistake the far northwest DC neighborhood for Chevy Chase, Md. By and large, residents on the District side still see themselves as urban dwellers, like those who developed the area intended.
It Used To Be Farmland
Chevy Chase—both in DC and Maryland—was the product of a couple of foresighted developers in the late 1880s who bought farmland miles north of downtown DC, created Connecticut Avenue, and were instrumental in threading a streetcar all the way up to Montgomery County.
Chevy Chase DC, which formally opened in 1907, was one of the city's first streetcar suburbs, allowing federal workers to toil in the city and then retire to a quiet, green neighborhood. The earliest tracts were clustered around Connecticut Avenue, but gradually the neighborhood moved east, with Rock Creek Park currently forming its eastern border.
Houses Across the Board—In Style, Not Price
While there's a smattering of condo buildings along Connecticut Avenue, the vast majority of residential options in Chevy Chase DC are single-family homes. Most houses are relatively large, particularly by District standards, and just about all are fronted by well-groomed gardens and lawns of varying sizes.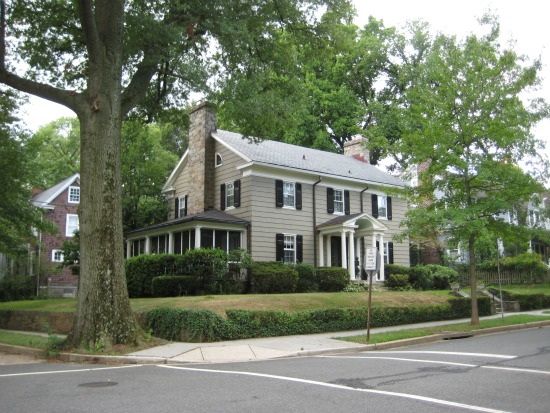 Home on Morrison Street
Home styles tend to reflect the area's growth. The oldest houses—and some of the most sought after—are located in the blocks close to Connecticut Avenue and were built in styles popular in the early 20th century: bungalows, four squares, and the odd Victorian. The farther east one goes from the area's main strip, the more colonials, Tudors, and Cape Cods one can see; close to the park, the area is dotted with postwar homes. Keene Taylor, a realtor with Taylor Agostino Group, said that the variation in home styles is part of what makes the neighborhood so pleasant. "It's more eclectic than similar neighborhoods, like American University Park," he pointed out. "People value the architecture." Unsurprisingly, those pleasing aesthetics don't come cheap, though the area is less expensive than its Maryland counterpart. The average home, a four-bedroom with three baths, fetches somewhere in the high $800,000s, Taylor said. Condos, by contrast, might cost around $300,000 for a one-bedroom, or $400,000 for a two-bedroom unit, although when people hear "Chevy Chase," living along a busy avenue in a high-rise building is not what usually comes to mind.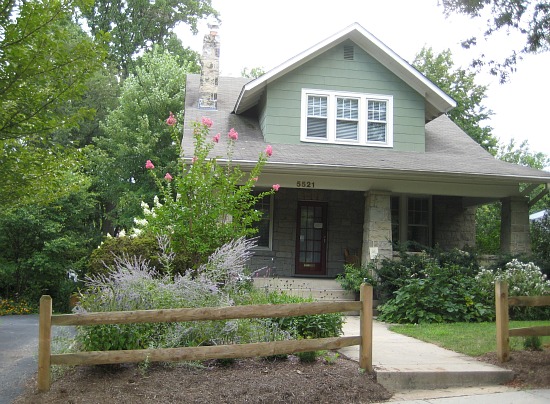 Another home in Chevy Chase
Almost All the Trappings of Suburban Living
True to its founders' vision, Chevy Chase DC feels like a suburban experience just within the city borders. The area is remarkably safe, streets are clean, quiet, and lined with tall hardwoods, and residents are primarily those who came to the neighborhood to raise a family or retire there once that portion of their life is over. Margaret Lidstone, 40, and her husband relocated to the area from Adams Morgan once they had children. "It's crawling with other families, au pairs, grandparents, preschools," said Lidstone. "It's wonderful." It is no secret that families with means tend to move out of DC once their children reach middle-school age, and Chevy Chase DC is one of the places they tend to move to, as the neighborhood's children are assigned to Lafayette and Murch, two of the top elementary schools in the city.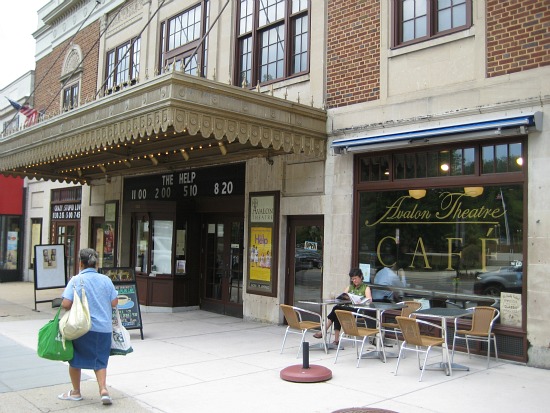 The Avalon Theater
In addition to its stellar academic credentials, Lafayette, located in the center of the neighborhood, has a large park that boasts playgrounds, a tot lot, tennis courts, ball fields, and a small amphitheater. The neighborhood also has a branch library along Connecticut Avenue, a community center, and the active citizens association holds a number of annual events, including a Chevy Chase DC Day in September. Families, headed by one or two professionals (federal workers, lawyers, or writers, according to one resident) are probably the area's biggest demographic, but a variety of groups are represented. "I like that it's not just one age group," said Wayne Page, who moved to the area four years ago. "There are parents, seniors, young adults, teenagers. That's what makes it interesting, not monolithic."
Two Commercial Avenues, But Only One Really Counts
When Chevy Chase residents praise their neighborhood's accessibility and convenience, they aren't necessarily talking about its proximity to the heart of the city. Running along Connecticut Avenue just south of Chevy Chase Circle is a three-block stretch of cafes, restaurants, and locally-owned businesses that are just a few minutes walk from many residents' homes. While not all the businesses are loved and there have been grumblings that options could be improved, establishments like Magruders supermarket, the Avalon Theater, the American City Diner, and Safeway have been there for decades.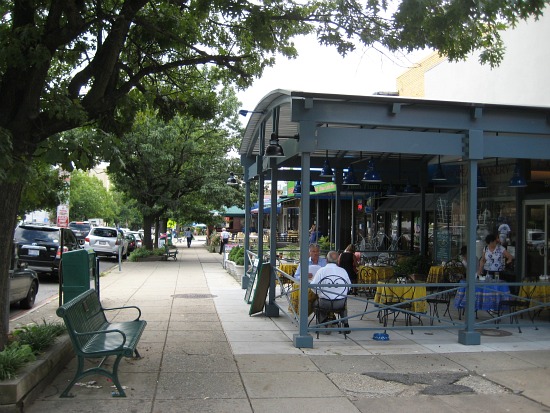 Connecticut Avenue
Located just beyond the neighborhood's western edge is the Friendship Heights commercial strip, which has in the last decade become one of the Washington area's high-end shopping districts with stores like Tiffany and Saks Fifth Avenue opening up. The stretch also has two malls, a Whole Foods, as well as a number of chain restaurants like the Cheesecake Factory and Maggiano's Little Italy. But many Chevy Chase residents say they much prefer their low-key, humble, barely-changed-since-the-'80s neighborhood gathering spots. "Friendship Heights doesn't have a personality," said Charles King, who's lived in the neighborhood for 32 years. When asked if he shops at the Whole Foods, he shook his head. "Safeway's good enough for me."
A Straight Shot
While some Chevy Chase DC residents work in Bethesda or other suburban centers, most seem to be oriented towards DC. Luckily, so are transit options. The closest Metro station is in Friendship Heights on the Red Line with Metro Center a fifteen-minute ride away. Buses heading to the station run through Chevy Chase DC. For drivers, Connecticut Avenue is a straight shot to downtown and Rock Creek Parkway is close by and a good alternate route for those who want a ride to work with more foliage. The Beltway lies a few miles north along Connecticut Avenue, and extensions off of Western Avenue will eventually lead drivers to northern Virginia.
The Bottom Line
Those 19th century developers who envisioned a green oasis lying not too far north of the central city clearly had insight, which has paid off for over 100 years. Today, Chevy Chase DC is still a pleasant neighborhood where well-off (but not necessarily loaded) Washingtonians can find some peace and community, while remaining in (relatively) close touch with the rest of the city to the south. Amanda Abrams is a Washington, DC-based journalist who has written feature stories for The Washington Post, Christian Science Monitor, and Washington City Paper.
Real Estate Agents Serving Chevy Chase, DC
The following real estate agents are active in Chevy Chase, DC. Call or email them to get in touch.
More Stuff about Chevy Chase
Zip Code: 20015
Schools: Lafayette and Murch elementary schools; Deal or Hardy middle schools; Woodrow Wilson high school
Chevy Chase DC real estate data from Redfin
Chevy Chase DC rental data from Craigslist
This article originally published at https://dc.urbanturf.com/articles/blog/chevy_chase_dc_not_to_be_confused/4004.
DC Real Estate Guides
Short guides to navigating the DC-area real estate market
We've collected all our helpful guides for buying, selling and renting in and around Washington, DC in one place. Start browsing below!
First-Timer Primers
Intro guides for first-time home buyers