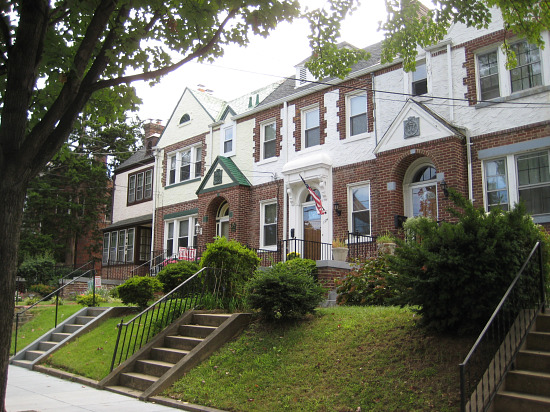 Row Houses Near 16th Street in Brightwood
It's not hip. There are no cool cafés or bars and no hordes of local bloggers covering the neighborhood's every move. For these reasons, and the lack of a Metro station, many DC residents have never heard of Brightwood, a quiet neighborhood near the District's northern tip. But local residents and realtors are fairly certain that in a couple of years, it will be on people's radar. That's partially because of its housing stock. "It's kind of the final frontier," said Dina Paxenos, a Long & Foster real estate agent who works in the area.
Vague Borders, Defined Population
Brightwood's boundaries aren't the most well-defined. The Brightwood Community Association considers the neighborhood's eastern boundary Georgia Avenue, but longtime residents east of that street say they live in Brightwood, too. The neighborhood seems best defined as lying between Rock Creek Park to the west, Aspen Street to the north, 5th Street to the east, and Missouri Avenue to the south.
Many residents are African American professionals who have been in their homes for decades and are now retired. The homes that have turned over -- and that's occurred only gradually -- have been sold to a diverse group of younger professionals. But unlike other moderately affordable neighborhoods, such as Petworth or Bloomingdale, the area hasn't yet been seriously recognized by first-time homebuyers looking for a bargain.
Not Swanky, But Solid
The houses of Brightwood are the most notable element of the neighborhood: drive through the area and you'll see row after row of moderately-sized, well-maintained row houses, duplexes, detached bungalows and colonials, and unobtrusive apartment buildings with an art deco flair. It's not the kind of neighborhood where houses have recently been renovated, so buyers shouldn't expect granite countertops and swanky appliances.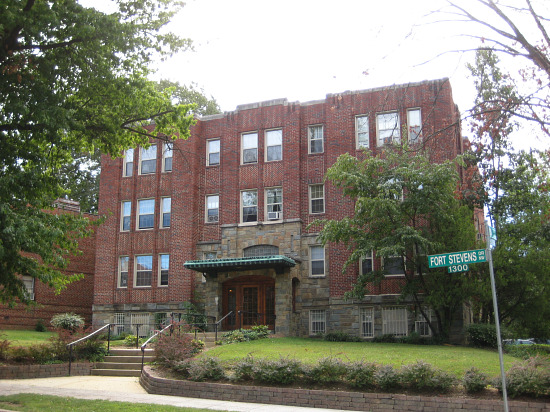 Apartment Building in Brightwood
"The houses are in move-in condition, because people here keep up their homes," explained Gina Beaven, an agent with UrbanLand Company. "But they'll probably need to be updated. They might have old paneling, for example." As for new condominiums, there are a few like The Tewkesbury and The Lofts at Brightwood, but since the area's single-family homes are almost the same price as the condos, the latter aren't as popular.
Easy On The Wallet (For DC)
The average price for a three-bedroom home in Brightwood is currently $282,000, according to Paxenos. Sixty-two homes in the neighborhood have sold since January, spending about 33 days on the market, a sign that Paxenos thinks means the market is picking up. Brightwood's apartments offer a similar bargain for renters: the average price of a one-bedroom unit is around $1,000 per month.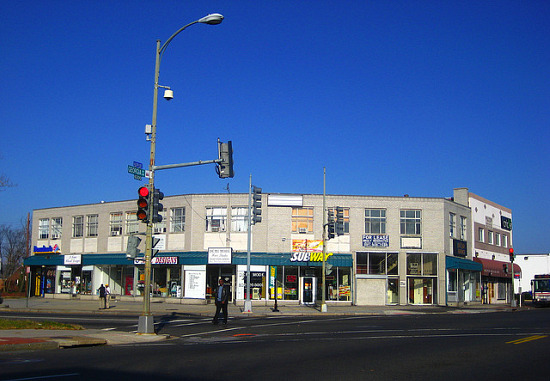 Intersection of Georgia Avenue and Piney Branch Road NW. Photo by
rockcreek
You Can't Walk For Groceries -- Or Much Else
The homes here are affordable for a reason. Brightwood isn't a place where you can walk to a variety of restaurants, bars or stores for everyday needs. So far, there's one sit-down restaurant, the Brightwood Bistro, whose service and prices have received mixed reviews from patrons. Other than that, the offerings along Georgia Avenue, and to a lesser extent Kennedy Street just south of Missouri Avenue, are limited to El Salvadoran, Caribbean, and Chinese takeout. For some residents, the lack of any major commercial strip is not an issue. For others, it is. The lack of eateries doesn't bother Anne Costello, an analyst at a think tank downtown and a seven-year Brightwood resident. "Silver Spring is a five-minute drive, and Takoma has great restaurants," she said. But Lee Ordeman, an actor who's lived in the area for five years, would love some retail and restaurants nearby. "I wish I lived somewhere where I could walk into a friendly bar. You have to drive for groceries here." In a few years, the situation could be quite different. Next year, the federal government is pulling out of Walter Reed Army Medical Center, and the DC government is currently soliciting community feedback about how the 62-acre area should be used. Right now, there is a preliminary proposal for a development with 2.4 million square feet of retail, educational, residential, cultural, hotel, and office space, including a grocery store and several restaurants. Plans aren't even close to final, but if the redevelopment moves forward, it will radically affect the neighborhood.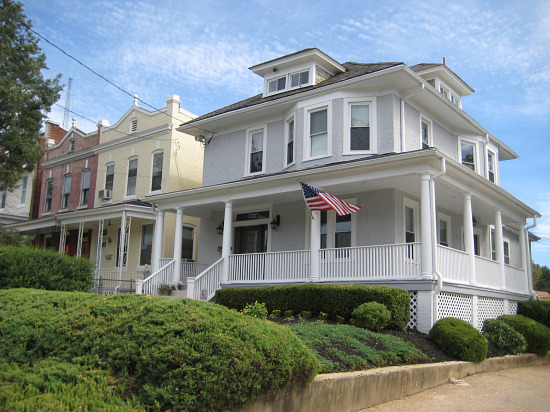 Unusually Large Home in Brightwood
Brightwood aka Parkwood
Brightwood was a family neighborhood for decades, but as residents aged, the area gradually became heavily populated by senior citizens. Recently, young families, mostly Latino, have moved into the neighborhood and given it a youthful vibe. According to Costello, the schools aren't the best, but the area is otherwise very family-friendly: the streets feel peaceful and traffic is minimal. Brightwood is home to several lush parks, some with playgrounds and community gardens, as well as Fort Stevens Recreation Center; both Emory and Coolidge rec centers lie at its borders.
Not a Dealer? No Worries, Then
Both Ordeman and Costello said the neighborhood is relatively safe, though they acknowledged that the area does have some drug traffic. But it's fine "as long as you're not in the drug trade," Ordeman said. Costello has had some problems with drug dealers on a nearby corner, but more because of the trash they leave behind than anything else.
You Can't Just Hop on the Metro
The most common neighborhood requirement for young professionals in DC, according to Gina Beaven, is a Metro station nearby. That's an amenity Brightwood lacks. Nonetheless, the northern section of the neighborhood is a five-minute walk from the Takoma station on the Red Line and the Petworth station on the Green Line lies about ten minutes to the south by bus. And buses serve the area well: the 70, 71, and 79 run north and south on Georgia Avenue; the S1, S2, S4, and D33 serve 16th Street; and the E2, E3, and E4 run east and west on Kennedy Street. Finding parking is not an issue in Brightwood, and the neighborhood is relatively close to I-495, though driving all the way to Virginia every day could get tiring.
The Bottom Line
Like every neighborhood in Washington, Brightwood has its pros and cons. The number of affordable, quality homes and the serenity pervading the neighborhood are major upsides. But for anyone who's looking for active nightlife, a cozy neighborhood restaurant, or even a simple coffeeshop -- and isn't willing to wait a few years for those amenities -- Brightwood isn't the place. Amanda Abrams is a Washington, DC-based journalist who has written feature stories for The Washington Post, Christian Science Monitor, and Washington City Paper.
More Info on Brightwood
Zip code: 20011 and 20012
Neighborhood blog The Brightwoodian
Schools: Brightwood students attend Whittier Education Campus (elementary and middle school), MacFarland Middle School, and Coolidge High School
Brightwood real estate data and profile from Redfin
Brightwood rental listings on Craigslist
This article originally published at https://dc.urbanturf.com/articles/blog/brightwood_dcs_northern_neighborhood_on_the_cusp/2498.
DC Real Estate Guides
Short guides to navigating the DC-area real estate market
We've collected all our helpful guides for buying, selling and renting in and around Washington, DC in one place. Visit guides.urbanturf.com or start browsing below!
First-Timer Primers
Intro guides for first-time home buyers