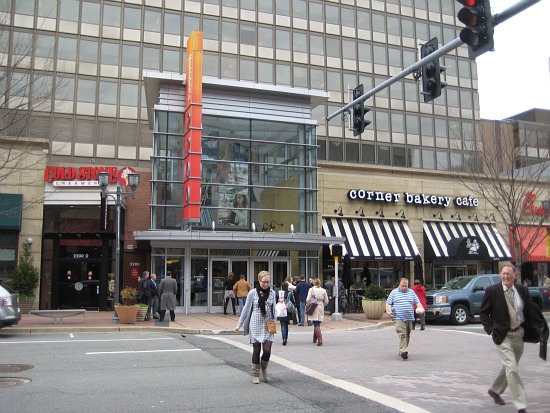 Near 23rd Street in Crystal City
Characterized by 1960s-era architecture and urban planning concepts, the Arlington County enclave of Crystal City was for years the quiet home of government agencies and military contractors. But in 2005, the federal government elected to relocate thousands of jobs from the area to nearby military bases, stripping Crystal City of its fundamental identity and leaving it open to an uncertain future.
But you have to hand it to the area's planners. In a great example of the "when life gives you lemons, make lemonade" adage, community boosters and business people are taking the opportunity to upgrade the area's dated style.
Built in a Different Era, But Modernizing Little by Little
Crystal City is located in southern Arlington County, close to Alexandria. Its boundaries are 27th Street to the south, Jefferson Davis Highway (US 1) to the west, 12th Street to the north, and just east of Crystal Drive to the east.
Most of Crystal City was built in the mid-1960s along uniform design principles, utilizing city planning philosophies popular at the time. Tall residential and office buildings hovered above vast "superblocks" devoid of people, and were ringed by expressways and broad one-way streets. Human interaction occurred below, in a network of tunnels connecting the buildings to shopping areas and the Metro station.
Just a few minutes from the Pentagon and a short ride from central DC, Crystal City offered convenient office space, much of which was rented by government agencies like the U.S. Patent and Trademark Office and military contractors. But in 2005, the Base Realignment and Closure Commission recommended that the military move 17,000 jobs away from Arlington County.
In response, the county appointed a transition task force to develop a vision for the area's future. With its huge blocks and car-centered design, Crystal City was at that time a long way from embodying the street-level, people-centered principles common in planning now.
Six years later, the community has gradually changed. Taking advantage of rental vacancies, some building owners are modernizing their spaces, a few new buildings have been added, and the community's southern section has been redeveloped. Some one-way streets have been turned into two-way avenues, and street-level restaurants and retail have become much more common.
And more change is on the way. A 150-page sector plan released last year outlines long-term ambitions to make it more transit friendly, add public art, and soften the lines of the big blocky buildings that still characterize the area.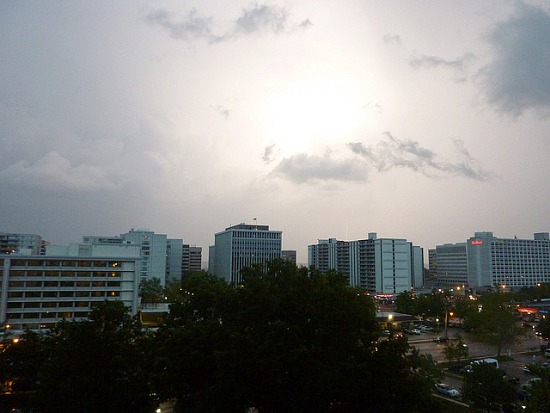 Crystal City skyline. By
Kevin Bowman
After Dark? Pretty Quiet
Despite all the changes, Crystal City is still very much a place to work. That means there's a bustling lunch crowd, but when the 30,000 folks who spend their days there go home, it's very quiet for the 11,000 residents who are left. Characterizing the residents isn't easy: almost three-quarters are renters, and they're a disparate mix.
"It's quiet, convenient, and clean," said Daniel Spencer, who's lived in one of the area rental buildings for four years. "If you're a party person, this might not be the best for you as the sidewalks tend to roll up fairly early."
The fact that the majority of residential units are high-rise rentals tends to discourage families. The area doesn't include a large amount of green space, though a new sports park is being built at the north side of the neighborhood and a fitness trail, volleyball pits and a jungle gym are sited along its eastern edge.
High-Rise Living
Crystal City doesn't have any detached homes, row houses or town houses; all of the residential for-sale options are located within tall buildings, most of which were built forty to fifty years ago. Some, like Crystal Towers near Jefferson Davis Highway, have a mid-century modern style and enough lobby space for lounges or computer rooms.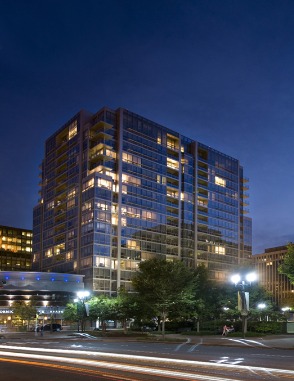 220 Twentieth Street
"It's about high-rise living," said Long and Foster's John Mentis, who has worked in the area for several years.
Two-bedroom condo units sell for around $400,000 to $500,000; one-bedrooms go for between $300,000 and $400,000. Mentis pointed out that while the units for sale in the area might be older, they're not yet "old" and are still very convenient to DC and the rest of northern Virginia.
Rental prices vary widely. It's possible to find the odd one-bedroom apartment for less than $1,200 a month, but most run somewhere in the $1,500 to $2,400 range. Two-bedrooms rent for $1,800 to $2,600 and higher.
The area has one new rental project, 220 Twentieth Street. A former office building located in the heart of the community, it's the neighborhood's only luxury apartment building, with a rooftop pool, fitness center, and 24-hour concierge service. Rents for studio, one-, and two-bedroom units begin at $2,000 a month, and the project is currently 95 percent leased.
A Little Hip Vitality
The Crystal City Business Improvement District has been hard at work to add elements that might help knit the community into Arlington's fabric of dynamic, walkable urban clusters. The group added Capital Bikeshare stands throughout the area, and sponsors events like "5K Fridays" in April and "Wine in the Waterpark" in June.
And while that sounds like an image that might clash with the community's stodgy past, the two seem to be merging surprisingly well so far. The center of Crystal City, near 23rd Street, now boasts a variety of above-ground restaurants like Jaleo, Pizza Autentica, and Kora Italian, in addition to a range of chain options.
And then, of course, there's the underground, with its long passages connecting two main shopping areas. The stores offer a wide variety of services, but aren't particularly exciting. Angie Fox, head of the BID, says it is thinking about ways to revitalize below-ground Crystal City, and has experimented with turning some of the retail space into an artist's studio.
"It is a creative reuse of space to keep people thinking about the underground," Fox told UrbanTurf.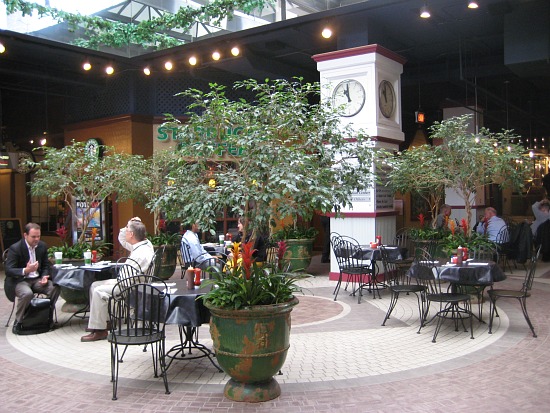 Crystal City Underground
Metro, Bus or Car — Take Your Pick
The Crystal City Metro station lies on the Blue and Yellow lines, and is only a few stops from a number of DC's main transfer stations; bus routes that lead all over Arlington County and to the Pentagon run right through Crystal City.
The neighborhood is situated on Route 1, which becomes the George Washington Parkway, and easily connects to I-395 as well as I-66.
The Bottom Line
While the push in Crystal City is to enhance the area's retail and streetscape, it still remains an attractive place for companies to look for office space.
Earlier this month, defense contractor Boeing announced that it would break ground this year on two buildings in Crystal City overlooking the Potomac, and the company cited the proximity to public transportation as one of the reasons it chose the area. If the efforts to attract residents and visitors can be as successful as the area has been in bringing in companies, Crystal City could eventually become a very popular place to be.
Amanda Abrams is a Washington, DC-based journalist who has written feature stories for The Washington Post, Christian Science Monitor, and Washington City Paper.
Zip Code: 22202
Schools: Oakridge Elementary School; Gunston Middle School; Wakefield High School
Crystal City real estate data from Redfin
Crystal City rental listings from Craigslist
This article originally published at https://dc.urbanturf.com/articles/blog/crystal_city_turning_lemons_into_lemonade/3203.
DC Real Estate Guides
Short guides to navigating the DC-area real estate market
We've collected all our helpful guides for buying, selling and renting in and around Washington, DC in one place. Start browsing below!
First-Timer Primers
Intro guides for first-time home buyers