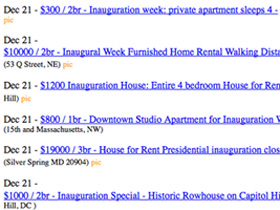 Soon after Barack Obama was elected president, we wrote an article about what seemed to be a very lucrative opportunity for DC-area residents: renting out your apartment or house for the week of inauguration. Within days of Obama's win, Craigslist was flooded with hundreds of posts from residents offering to rent their homes, and it looked like you stood to make a nice profit off the historic occasion if you were willing to have strangers come lodge at your place. However, just like those who headed west in search of gold in the 1850s, it seems that, for most, the opportunity has turned out too good to be true.
"At this point we have no one scheduled to rent our place," Julie Hamilton, whose house has been listed for about three weeks, told UrbanTurf. "So, I really doubt we'll rent it out but if a good fit came up it would be a great way to pay off three months of our mortgage!"
Hamilton and her husband put their four-bedroom, five-bath townhouse in North Arlington on the market at $15,000 for the week of inauguration. So far, there has only been one interested party, a man who wanted to help them rent the home, but bump up the price to $20,000 and keep a $5,000 referral fee for himself.
"It took me a little while to get back to him and I was skeptical when he never got back to me," Hamilton said. "So, I figure he either found someone else or I started asking too many questions."
The fact that the Hamilton's home is not in DC proper may be one of the reasons that they have had trouble garnering interest, but maybe not.
A 26-year-old professional and his two roommates told UrbanTurf that their three-bedroom in the U Street Corridor has been listed for about a month at $1,500 a night and they have gotten no responses. Carol Simms listed her Capitol Hill one-bedroom on November 10th for $1,200 a night and has not gotten any bites. Local real estate agent Jen Angotti offered to help one of her clients rent out his place in Columbia Heights, but he balked at her proposed rental price of $2,000 a night, saying he could get much more, and decided to rent it on his own. So far, there have not been any takers.
In fact, in all the research that UrbanTurf did, we were only able to find one person who was successful in renting his place. The man, a lobbyist who wished to remain anonymous, rented his one-bedroom on Massachusetts Avenue and 10th Street to a business associate for three nights at $1,000 a night. He is taking the money and heading to Colorado for the week of the inauguration.
The lack of interest may be the result of a number of factors.
Two weeks ago, about 4,500 hotel rooms in the DC area became available when advance room contracts were not signed. Even though the average price per night is still around $650 for these rooms, it is much cheaper than many of the Craigslist offerings, so visitors may be opting for a hotel stay now instead of staying in a stranger's apartment.
A more practical reason may be that supply is simply far outstripping demand. Despite the fact that there are going to be an estimated 2 million people in DC for the inauguration ceremony, the ads for inaugural lodging have now completely saturated the listings on many rental websites. For example, if you search for "Dupont Circle" now on the apartment rental section of Craigslist, there is as high a likelihood that you will find a place to rent for the week of the inauguration as you will to find a place for the year starting February 1st.
But perhaps the most compelling factor is that the prices are just too high for many people, especially given the state of the economy.
"I think there was more hype than anything else when this started and people are now not finding any takers," Michael Moore of Tutt, Taylor & Rankin told UrbanTurf. "I really think that these listings are sitting because of the astronomical prices that people are asking. Three, four and five thousand dollars a night is a lot of money these days."
DC Real Estate Guides
Short guides to navigating the DC-area real estate market
We've collected all our helpful guides for buying, selling and renting in and around Washington, DC in one place. Visit guides.urbanturf.com or start browsing below!
First-Timer Primers
Intro guides for first-time home buyers