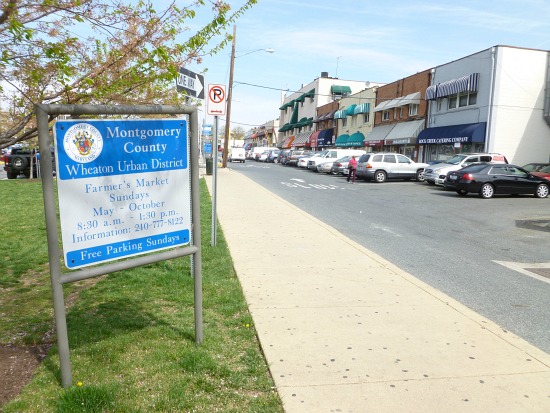 Wheaton's urban core.
Wheaton finally has Montgomery County's attention. The mixed-income area adjacent to Silver Spring has been quietly declining for the past few decades, and though the ethnic restaurant scene is a draw, the overall vibe around town is one of neglect. But this is about to change.
"There's been a big county emphasis on promoting development around the Metro stations in Montgomery County," Glenn Kreger, Montgomery County Planning Department's Area 2 Chief, told UrbanTurf. "It started in Bethesda, then a lot of effort and money went into the revitalization of Silver Spring. Wheaton is next."
Developers seem to believe in this line of thinking, and have started swarming with both infill development and redevelopment. With a Costco coming to the area mall and a few residential projects on the way, Wheaton is preparing itself for some big changes. However, with all the development on tap, some wonder if it can maintain the local businesses that have defined the area for decades.
Hard to Define Boundaries
Wheaton's boundaries are hard to define; UrbanTurf asked several people in the know and no one could provide a definitive answer. Roughly, Wheaton is bounded by Randolph Road to the north, Sligo Creek and Sligo Creek Parkway to the east, a winding path of small streets just above I-495 to the south, and a line that roughly runs along Connecticut Avenue to the east. The urban core of the area surrounds the Wheaton Metro station and is cut by three major thoroughfares: Georgia Avenue, University Boulevard West, and Viers Mill Road.
After World War II, developers started building single-family homes in previously rural Wheaton, creating an affluent suburban community. In 1957, the Wheaton Plaza mall opened up, giving the area a truly suburban feel. Now, the older homes, shops and public spaces are showing their age. One-third of Wheaton's residents are foreign-born, and the racial breakdown is very diverse: 42 percent Latino, 12 percent Asian, 18 percent black and 26 percent white, according to 2010 Census data.
Wheaton's Turn
The Wheaton Redevelopment Program is working on bringing public and private investment to the area and an updated master plan for the urban core reveals some big hopes: more nightlife, beautified public spaces, more jobs, and more housing, both affordable and luxury. Naturally, walkability is also on the minds of planners.
"The sidewalks need some big improvements," said Kreger. "We're really focused on what we can do to make Wheaton more pedestrian friendly. Right now, the pedestrian network is such that a lot of people just find it easier to drive from place to place."
Rendering of The Exchange at Wheaton Station.
Ana Lopez van Balen, Director of Montgomery County's Mid-County Regional Services Center, oversees Wheaton's Urban District and is constantly thinking about how best to manage the growth of the area while maintaining the local diversity. She is eager to connect developers to area business owners, rather than draw in national chains.
"Can we have pop-up galleries in the open retail spaces?" van Balen asked. "Bring in artists-in-residence? Is a 9:30 Club possible? A children's museum?"
Ethnic Food Smorgasbord and a Costco
For foodies in the region, Wheaton is already a destination. Ren's Ramen and Island Hut show up on Washington Post restaurant critic Tom Sietsema's recent list of favorite Cheap Eats, and Nava Thai and Hollywood East Cafe are perpetual blog favorites.
Les Dames d'Escoffier, with support from Local First Wheaton, coordinates a day-long culinary tour of the community each year, with stops at local shops like By Brazil, Carmelo's Bakery, Hung Phat Asia Market, Filipino Grocery Store and Thomas International Market (which sells Middle Eastern goods), among others.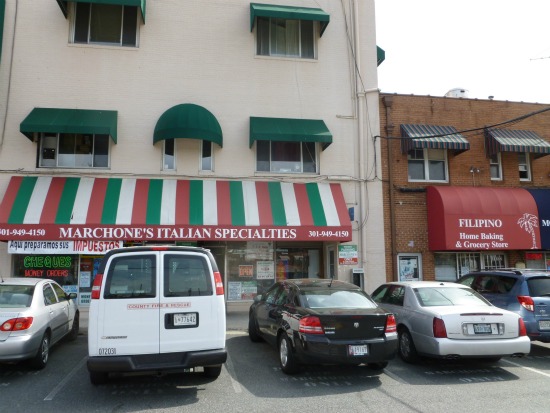 Ethnic grocery stores in Wheaton.
While these shops and restaurants are a draw, they can be intimidating for many potential customers. In a recent Wheaton Patch article, residents expressed concern that the local establishments will be priced out of the new, more expensive Wheaton. There is a sense of urgency to introduce these options to a more diverse client base, giving them stability before the rents increase.
Van Balen agrees. "How do we do more? Can we have tours more than just once a year? Can we incorporate more shops?"
The flip side of the ethnic food smorgasbord is that Wheaton doesn't have as many typical 'American' cuisine options. "We've tried to embrace the area and enjoy the vast array of ethnic food," resident John Clinger told UrbanTurf. "However, to this point we've found no edible pizza — we've looked very hard."
The Costco coming to the Westfield Wheaton mall later this year has created some excitement, and the mall has undergone a revitalization. Still, Wheaton is not an area known for its action.
"There isn't all that much to do as far as nightlife and entertainment," said Clinger. "We usually have to go to Bethesda, Silver Spring, or downtown DC to have some real fun."
With Development Comes Generation Y-ers
Older single-family homes, which include split-level homes and Cape Cods, fill Wheaton's residential blocks, but the housing stock is still affordable, attracting some first-time homebuyers who want easy access to DC. Recently, several townhome developments and apartments have gone up close to the urban center.
Real estate agent Kathy Whalen provided some housing statistics for 20902, the Wheaton zip code. The average asking price for homes on the market is $386,589, with current listings ranging from $62,500 to $645,000. In the past six months, 174 properties have sold.
Christopher Blackmon lives in a townhome near the area's urban center with his wife and children. "Our neighborhood is what I call city living with suburban amenities," Blackmon told UrbanTurf. "We always have parking because we have a garage. Although we're without a yard, we have a common park area in our development."
Mixed-Income Housing
At least two luxury apartment buildings are currently in the pipeline for Wheaton. The Exchange at Wheaton Station, a 17-story building, is under construction on Georgia Avenue across from Reedie Drive. The development from Patriot Realty will include a Safeway and 501 luxury apartments. Lowe Enterprises has plans to turn a 5-story office building at 11411 Georgia Avenue into a 14-story residential building, with construction scheduled to begin in early 2013. There are also several smaller projects in the works. "I think over the next couple years we'll start seeing the development applications coming in," to fill out the rest of the area, said Kreger.
With the new development, both Kreger and van Balen said that they expect an inflow of younger, wealthier residents to fill the new apartments, changing the demographic makeup of Wheaton.
With an eye towards keeping the community mixed-income, MetroPointe, an apartment building just south of The Exchange on Georgia Avenue, has a higher-than-normal percentage of affordable units (30 percent). The building, developed by Bozzuto and the Housing Opportunities Commission of Montgomery County, was completed in the fall of 2008.
The county is also working on a public-private partnership with developer B.F. Saul that could bring 900,000 square feet of office space to the area, as well as 40,000 square feet of retail and a town square. Rapid transit, a system that is something in between a bus and a rail line, is also being explored, and the county is in communication with the folks behind Capitol Bikeshare about the concept.
"We want to stimulate downtown on a 24-hour basis," said Kreger.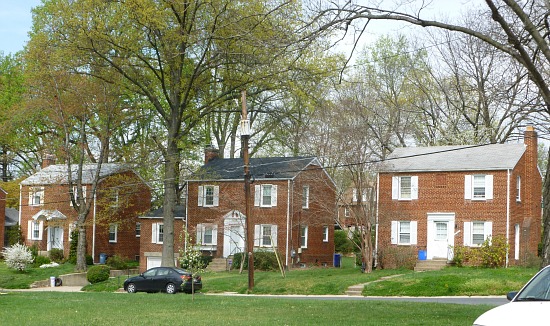 Typical housing stock in Wheaton.
Transforming a Patch of Grass
Wheaton's master plan also includes improved public spaces, especially in the urban center. Van Balen says there are plans to create a vibrant town square on what is currently a patch of grass with a couple aging picnic tables on it. "We want to build a place that draws families in, where kids can play freely."
Leave the central business district and Wheaton already has some very appealing public spaces. In addition to trails and picnic grounds, Wheaton Regional Park has horse stables, a train ride and carousel, an ice skating rink, and Brookside Gardens, a 50-acre display garden and popular wedding venue. Wheaton Library is one of the most used libraries in the county, van Balen told UrbanTurf, and there are plans to connect it to the already existing community center across the street. (An interesting factoid: the Wheaton Metro boasts the longest escalator in the Western hemisphere. It takes almost 3 minutes to ride.)
Families, Schools and Crime
Families fill many of the detached homes and townhomes in Wheaton, and residents are close to some of Montgomery County's better public schools, including Wheaton High School, Albert Einstein High School, Weller Road Elementary and Viers Mill Elementary.
A couple widely-reported shooting incidents in recent years have given the area something of a black eye, and van Balen acknowledges that a negative perception exists about crime in Wheaton. "But police tell me that we have the lowest crime levels we've ever had," she insists. "I'm hoping that redevelopment and increased walkability will change perception."
The Bottom Line
Wheaton has ethnic diversity, retail diversity and will soon see an increase in economic diversity. While development may take a while, the projects already underway promise to bring a new finish to the area.
"You're finding people who realize they can get in on the ground floor of something," Kreger said, using an oft-used phrase by those touting an area on the rise. "They can have access to the regional transportation system and all the great restaurants, but not live in Bethesda and pay that kind of money."
This article originally published at https://dc.urbanturf.com/articles/blog/wheaton_foodie_magnet_with_affordable_homes/5355.
DC Real Estate Guides
Short guides to navigating the DC-area real estate market
We've collected all our helpful guides for buying, selling and renting in and around Washington, DC in one place. Visit guides.urbanturf.com or start browsing below!
First-Timer Primers
Intro guides for first-time home buyers