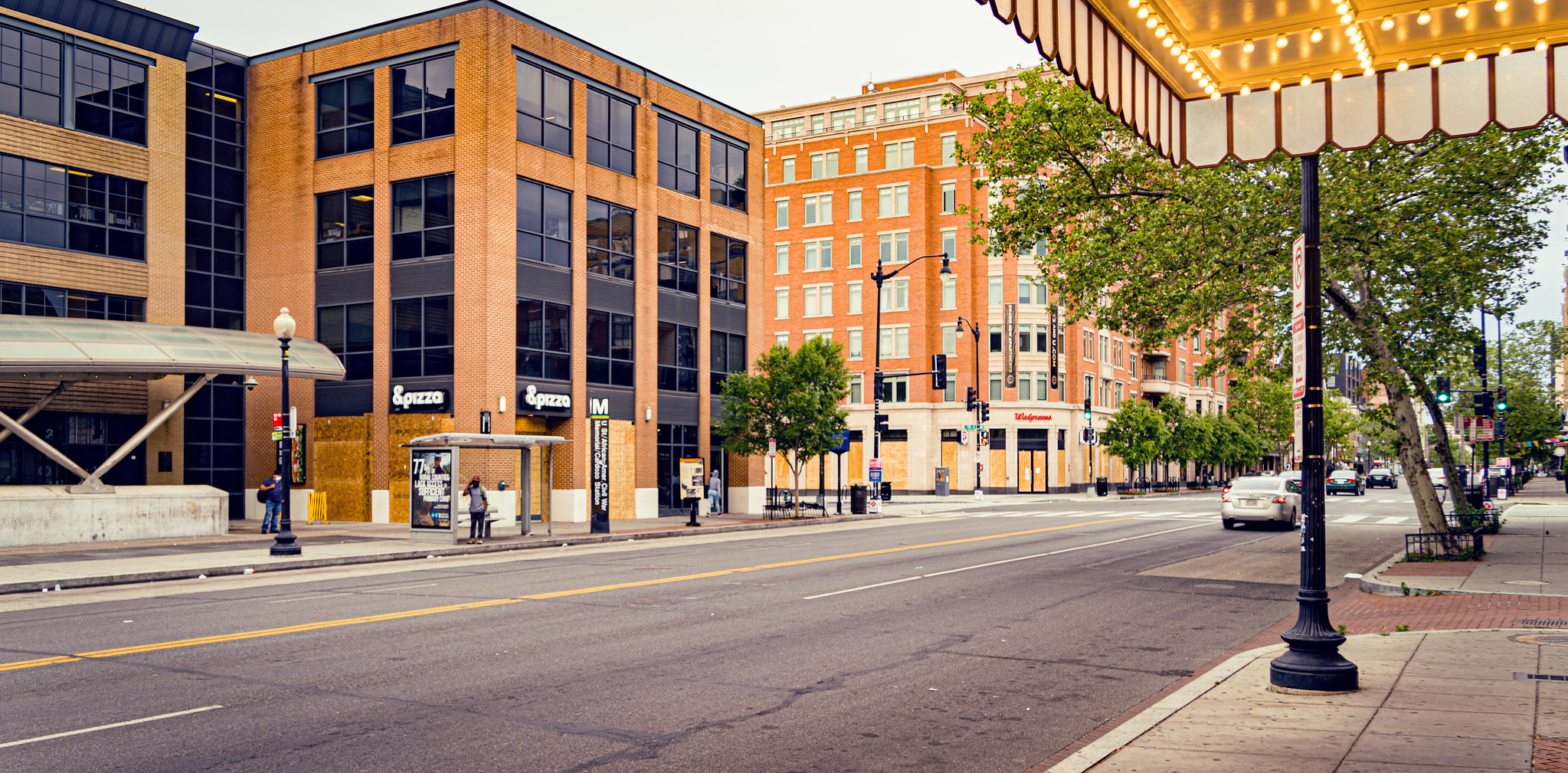 While many entities in the architecture and development fields seem to be focused on what will happen following the public health crisis, some are taking the opportunity to speak up about the protests and uprisings that have been seen across the U.S., and some cities worldwide, over the past week.
The uprisings, while inspired by an incident where a Minneapolis police officer asphyxiated George Floyd for nearly 9 minutes while three other officers didn't intervene, have sparked movements worldwide to advocate for, in part, the prosecution of murderous police officers, demilitarization of the police, and criminal justice reform. Although these protestors have largely been peaceful, there have been some incidents of vandalism, theft, and destruction of property, including in DC; many businesses have boarded up their windows preemptively to avoid this. Some property owners in DC and elsewhere have responded to questions about these incidents.
Meanwhile, a growing list of organizations have publicly released statements. Below, UrbanTurf shares the statements of those active in the architectural and development fields in the DC area and nationwide that have come to our attention thus far:
---
"As Americans, we are mindful of this nation's dark history of racial inequality. We are appalled by any actions that further threaten the universal respect and human dignity that everyone deserves. As architects, we remain committed to advancing civil rights protections, fair housing policies, and accessibility in the built world to help achieve the more perfect union we all seek."
— An excerpt from a statement released by the president of the American Institute of Architects.
---
"The American Planning Association is heartbroken over the brutal, senseless killing of George Floyd in Minneapolis earlier this week, and the immense pain inflicted on the black community, which continues to suffer from the insidious and blatant effects of structural racism nationwide.
We are also profoundly saddened by the additional burdens being visited on our cities, which are still reeling from the devastating effect of a global pandemic, and concerned for the tens of thousands of planners across the nation who strive daily — despite setbacks and frustrations — to raise the voice of the voiceless.
The impact of Mr. Floyd's death and other recent grave injustices like it must be viewed in light of the historical trauma inflicted on African American communities, including discrimination wrought by the planning profession itself, which led to structural disadvantages in housing, transportation, education and employment that last to this day."
— An excerpt from a statement released by the American Planning Association.
---
"We are joining #BlackOutTuesday 2020 and pausing our social media posts today to signify a time of silence and reflection. We cannot succeed without working together - design-builders live this creed each and every day. DBIA remains committed to bringing communities together."
— The Design-Build Institute of America posted the above on Twitter on a hashtag many companies used yesterday to telegraph their support for any or all aspects of the protests.
---
"We struggle to grasp for air as we all navigate a global pandemic coupled with the deadly and pervasive virus called racism that has plagued America for over four centuries.
As the National Organization of Minority Architects (NOMA), we are calling on our members and our broader professional community to condemn racism and take an active role in eliminating the racial biases that account for a myriad of social, economic, and health disparities, and most importantly, result in the loss of human lives – Black lives. As architects, we are professionally responsible for protecting the health, safety and welfare of the public."
— The National Organization of Minority Architects (NOMA) released an open letter last week, on the 99-year anniversary of the Tulsa massacres that decimated that city's thriving Black business district. The beginning of that letter is above.
---
Architizer republished most of NOMA's letter, introducing it with, "Following the senseless killing of George Floyd on Minneapolis, Minnesota, on May 25th, black communities and organizations across the United States have been grappling with grief, anger, and an increasingly urgent need to have their voices heard and understood."
---
"I am personally roiling with emotions, watching in real-time the injustices and inequitable treatment of people and communities who are in anguish because of centuries of racial discrimination. As landscape architects, we work to ensure that all persons have the right to equitable access to environmental and community benefits in the places they live, work, and learn. Now is the time for us to work to help ensure that these communities have fair and equitable treatment in all aspects of life."
— A portion of a statement released by the president of the American Society of Landscape Architects.
---
"The past 7 days has been emotional turmoil in acknowlegement [sic] of the cruel death of #GeorgeFloyd and many more black people before him in the hands of the police force. The inhumane brutality and disproportionate injustices towards black men, women & children directly affects each and every member of BFA & our extended families. Black people cannot wholly be responsible to put a stop to racism and our (centuries-old) oppression within society. We need solidarity & immediate action from our allies especially those who benefit from white privilege."
— A portion of an Instagram caption by Black Females in Architecture.
---
"Like so many others, I have been profoundly dismayed and deeply saddened at what is happening in our country. George Floyd's horrific and inexcusable death in Minneapolis; the shooting of peaceful protestors in Louisville; the fomenting of violence; destructive outbreaks in cities across the country; and the politicization of what should have been a compassionate response by leaders in our society: I would like to think that America is better than this. It is evident, however, that we have a long way to go to ensure that justice and equity are applied to all Americans.
We believe that historic preservation can play a critical role in acknowledging and healing the divisions in our nation, by telling the full story of our often-difficult history, by elevating and preserving the enormous and important contributions African Americans have made to our nation, and by carrying that powerful legacy forward through places of truth and reconciliation."
— A portion of a statement released by the president of the National Trust for Historic Preservation.
---
"As an organization formed to promote the economic success of African Americans in the real estate industry, most AAREP members are far too familiar with racial injustice. The recent senseless murders and acts of violence against black people are a symptom of the cancer of systematic and institutionalized racism supported by pervasive white supremacist ideals engrained [sic] in America.

AAREP stands with the families and justice seekers across this country, advocating not only for equal treatment under the law, but for a change in legislation and policies aimed at preventing inhumane brutality against people of color."
— An excerpt from a statement released by the president of African-American Real Estate Professionals of DC.
---
"During this time of undeniable turmoil in our country, the DC Preservation League acknowledges its support for those seeking justice for George Floyd and other people of color who have needlessly died before him. Black Lives Matter.
For a century or more, the nation's capital has served as a meeting place for agents of change and today is no different. Historic places and spaces across this city tell the stories of marches and protests past, and a new list of notable sites is sure to grow as current events unfold. Holding true to its mission, the DC Preservation League will continue to identify and document these sites, ensuring that history is not forgotten."
The DC Preservation League led its latest newsletter with the above statement.
---
"We share the anger, frustration and anguish we see displayed in the streets of cities and towns in every state across the country in recent days. The senseless killing of George Floyd at the hands of the police – and Breonna Taylor, Ahmaud Arbery, and too many more – are tragic and sadly familiar reminders that systemic racism is deeply entrenched in American society and threatens the very lives of black and brown people every day. We cannot be silent in the face of such injustice and must state unequivocally that Black Lives Matter....
As real estate and land use industry professionals, it is time to reflect on our industry's role in perpetuating these disparities. We must acknowledge the harmful legacy of past and current development policies and practices that segregate black and brown communities and restrict access to better schools, safer streets, even cleaner air. As an industry, we have a role to play in bridging the racial divides in this country."
— An excerpt from a statement released by interdisciplinary real estate group Urban Land Institute.
---
"Jubilee Housing works to build diverse, compassionate communities that create opportunities for everyone to thrive. We do this by creating justice through housing – justice housing.
We are heartbroken and angered by the lives taken, and join the voices of so many demanding justice for George Floyd, Breonna Taylor, Ahmaud Arbery, and all those that have lost their lives due to persistent personal and systemic racism. Black Lives Matter, unequivocally."
— An excerpt from a statement released by affordable housing development nonprofit Jubilee Housing.
---
"It is with great sadness that we at The NHP Foundation are once again observing the ugly result of racism and social injustice in America. The National Housing Partnership, our predecessor company, was chartered by Congress in direct response to the urban riots that began in Detroit in 1967 and spread to other cities across the country. Among the reasons given for the "urban unrest" at that time are familiar sounding themes today: police abuse, lack of affordable housing, and economic inequality. So here we are, over 50 years later, facing the same issues."
— An excerpt from a statement released by affordable housing development nonprofit The NHP Foundation.
---
"We have watched what has transpired in Minneapolis with horror, with anger and with heartbreak....
This time, systemic racism showed up in these devastating headline tragedies, but often it is found in smaller, everyday looks, words and acts that go largely unchallenged. It shows up in the drastic health disparities of Black Americans so disproportionately impacted by Covid-19 and the economic fallout. It shows up in the legacy of housing policy and disinvestment we confront every day in the communities Enterprise has worked in for nearly 40 years. These injustices underscore a basic truth: our mission as an organization and the progress of our country are not achievable until we address the racist structures that have led us here."
— An excerpt from a statement released by affordable housing development nonprofit Enterprise Community Partners.
---
"At AECOM, our purpose is to deliver a better world. We believe inclusion and diversity are essential, and that our differences make us stronger. We are listening to your experiences with these complex issues and are committed to helping bring positive change."
Architecture and infrastructure firm AECOM (which has come under fire for its extensive work in prison design) also posted the above on Twitter for #BlackOutTuesday.
---
"We denounce the continual dehumanization and compromised safety of communities of color who have been disproportionately targeted because of their physical appearance. We stand in solidarity with those who live in this trauma as a daily circumstance by identifying and calling out the unjust systems that perpetuate harm."
Architecture firm SmithGroup posted the above on Twitter.
---
UrbanTurf will update this article as more statements come to our attention.
This article originally published at https://dc.urbanturf.com/articles/blog/what-the-architecture-and-development-industries-have-said-amid-the-uprisin/16911.
DC Real Estate Guides
Short guides to navigating the DC-area real estate market
We've collected all our helpful guides for buying, selling and renting in and around Washington, DC in one place. Visit guides.urbanturf.com or start browsing below!
First-Timer Primers
Intro guides for first-time home buyers