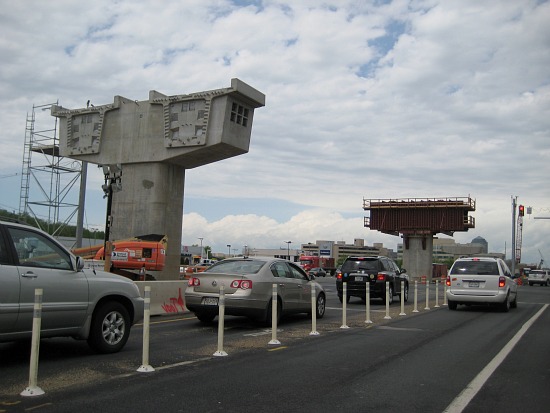 Construction of Silver Line in Tysons Corner
In an ideal world, residents of a future Tysons Corner will find it hard to believe that their lively, walkable neighborhood was once the Washington region's poster child for poor planning. But that future will only come about if all the ambitious plans for the area currently being hatched actually come to fruition. For now, the area is frequently characterized as a sprawling office park, known for its perennially snarled traffic. Still, despite a reputation as a place for the headquarters of a company and a weekend shopping destination, Tysons is gradually developing an identity as a community with a range of growing housing options and services.
NOVA's Megalopolis
As recently as the 1950s, Tysons Corner was simply the crossroads of Fairfax County's Routes 7 and 123, surrounded by farmland and a few stores. But northern Virginia experienced intense economic development in the 1990s, much of which was centered around Tysons. These days, the area serves as Fairfax County's de facto downtown and Virginia's largest commercial district. It's the headquarters of major corporations like Capital One, Freddie Mac, and Booz Allen Hamilton, and is home to the Washington region's biggest mall.
The five-square-mile area is currently an urban planner's nightmare: it hosts roughly 170,000 workers but fewer than 20,000 residents, has more square footage devoted to parking than to productive use, and isn't accessible by Metro.
Last June, A Visionary Decision
But major change is on the way. The most immediate news is Metro's Silver Line, which will connect downtown DC with Dulles Airport, passing through four brand new stations sprinkled through Tysons Corner. The stations—which will put pretty much all of Tysons within walking distance of Metro—are slated to open in 2013; work on elevated railways is already underway. While the addition of the Silver Line is the most concrete change, last June, Fairfax County's Board of Supervisors approved a comprehensive plan for the area that should transform it in the coming decades. By 2050, county officials hope that the existing car-oriented design will be supplanted by a beacon of smart growth, with the new Metro stations surrounded by a grid of small roads and a dense mix of residential, office, and retail space. The plan for the new Tysons is an area dotted with public spaces, outdoor cafes, and housing that's affordable to the average Washingtonian. But that vision will require a Herculean construction effort, in part because the plan aims to bring another 80,000 residents to the area, which will require the development of much more housing. Several large projects are already moving through the approvals process, but for now the most tangible outcome of those plans is the worsened traffic that's a result of new construction occurring along main roads.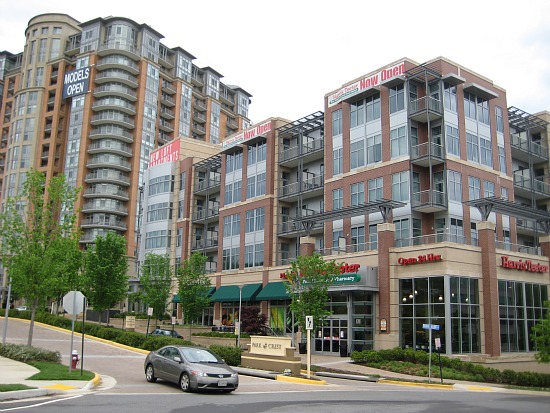 Park Crest
Keep an Eye Out For The Housing Options
Though there aren't many, housing developments are scattered throughout Tysons Corner. There are few single-family homes; a couple of new high-end developments lie north of Tysons, just beyond Route 267, and some quiet streets lined with split-level houses are at the area's southern end. There are also some apartment complexes like The Reserve, which was planned as a condo development but switched to rental. In general, rental prices in the area range quite a bit in price, from $1,000 per month for a one-bedroom apartment to over $2,500. For the most part, the Tysons housing stock is made up of condos and townhouses. Condo developments include low, garden-style complexes like Lillian Court, and high-rise luxury buildings such as the Rotunda and Park Crest, a 19-story tower boasting a massage studio and a lounge with a fireplace and pool table. Townhouse complexes include older one-story projects as well as places like Merry Oaks, a large new development full of two-story brick townhouses.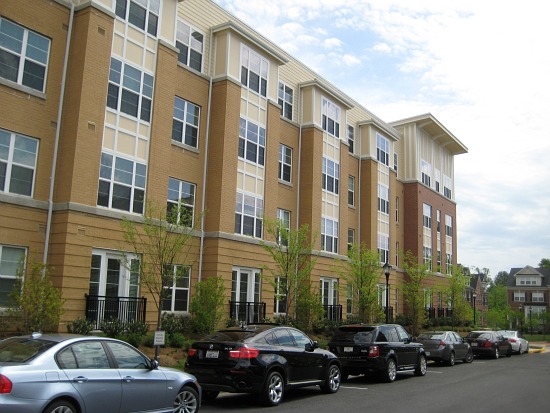 The Reserve
"Home prices depend on the area you're in," said Sharon Hayman, a realtor who works in the area. She noted that older places might cost less than $200,000, while more expensive units can be priced anywhere from $400,000 to $900,000. Prices are already starting to rise in anticipation of Metro's arrival in a couple of years, and Hayman noted that people are already getting priced out. David Mayhood, whose Mayhood Company is selling Park Crest, agreed with Hayman. "Pretty much the entire metro area population acknowledges the value of Metro in real estate," he said, noting that growth in the area is already starting.
Strollers Are Becoming More Common
Because it doesn't offer many detached homes, Tysons isn't a place that attracts a ton of families. Instead, it's mostly populated by young professionals working for IT and defense companies located in the area, or empty-nesters in their 50s and 60s who have downsized in recent years. Still, Mayhood pointed out that family sightings are becoming more common in the area. "There used to be that concept that children in a high rise was more of a New York thing," he said. "But it's not uncommon now in these larger buildings to see a stroller on its way out the front door."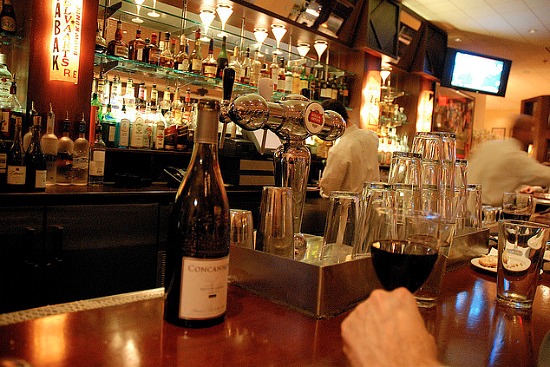 The bar at Cafe Deluxe
Steak, Burgers and Wal-Mart
Little by little, Tysons Corner has developed a variety of retail options catering to residents. There are two grocery stores, including a new Harris Teeter located in the ground floor of Park Crest, and a range of basic services like dry cleaners and pet stores. Additionally, Wal-Mart recently announced that it will begin construction on a new store in the area this summer, with doors scheduled to open in 2013. The restaurants in the area can be easy to miss as some are located within the mall or the nearby Galleria. American cuisine, in the form of the Capital Grill, Gordon Biersch Brewery, Clyde's, and Cafe Deluxe, is popular, but there are international options too, like the Lebanese Taverna and Neishai Thai.
Not Walkable, But That's Not Bad
Tysons is served by several bus lines—Metrobuses and Fairfax Connectors—that run from nearby Metro stations like Dunn Loring, West Falls Church, and even Rosslyn, into the area. While that's doable for commuters who work in Tysons, it's hard to imagine living there and getting around without a car. Residents that UrbanTurf spoke with said they don't mind the area's non-walkableness. After all, they knew what they were getting into when they moved to the region, and they say they appreciate the peaceful vibe in their housing developments and the variety of services that are fairly close. "This is much nicer and quieter than DC," mused Brian Franklin, 39, who moved to a condo in the area with his wife two years ago. The couple used to live in the District, but Franklin now works as a personal trainer in a gym across the street from his condo, and said that working near his home has helped him meet people. Bryan Greaux, 26, was similarly positive. "I like it a lot. There's a lot to do, and the major roads are close by. I don't mind that it's not pedestrian friendly," he said. A surprising note that both men touched on was that the area isn't as safe as one might expect. Both said they'd heard about car break-ins occurring in their respective complexes, and Franklin said someone had broken into his neighbor's condo.
The Bottom Line
Currently known for its malls and office parks, Tysons Corner is slated for radical change from car centric to pedestrian friendly. That transformation will occur gradually over the next few decades, but the process has already begun. Amanda Abrams is a Washington, DC-based journalist who has written feature stories for The Washington Post, Christian Science Monitor, and Washington City Paper.
Zip Code: 22102 and 22182
Schools:Spring Hill Elementary School or Freedom Hill Elementary School; Longfellow Middle School or Joyce Kilmer Middle School; McLean High School or George C. Marshall High School
Tysons Corner real estate data from Redfin
Tysons Corner rental listings from Craigslist
This article originally published at https://dc.urbanturf.com/articles/blog/tysons_corner_radical_change_could_be_on_the_way/3424.
DC Real Estate Guides
Short guides to navigating the DC-area real estate market
We've collected all our helpful guides for buying, selling and renting in and around Washington, DC in one place. Visit guides.urbanturf.com or start browsing below!
First-Timer Primers
Intro guides for first-time home buyers