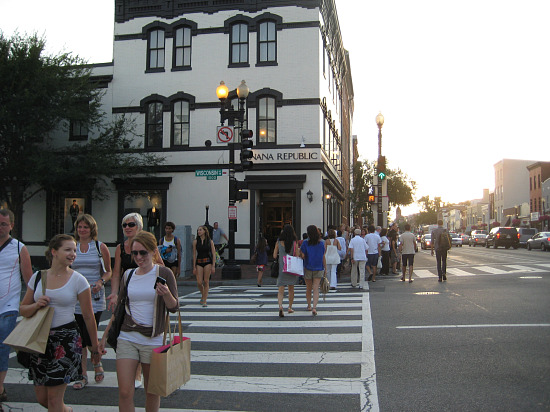 The Intersection of M Street and Wisconsin Avenue in Georgetown
Georgetown is frequently considered one of the toughest neighborhoods in the city to get residential projects approved for construction.
Companies building in Georgetown, even those building by-right projects, have to receive approval from the Old Georgetown Board (OGB), an arm of the United States Commission on Fine Arts. The law requiring that extra step was passed in 1950 and protects an area defined as "Old Georgetown." It requires the following:
"…The Commissioners of the District of Columbia, before issuing any permit for the construction, alteration, reconstruction, or razing of any building within said Georgetown district described in section I shall refer the plans … for a report as to the exterior architectural features, height, appearance, color, and texture of the materials of exterior construction which is subject to public view from a public highway."
Julio Murillo, a principal at Murillo/Malnati Group, joked that it's harder to build in Georgetown than "any other place on the planet." His company has constructed projects across the city, including in historic districts in Shaw, Capitol Hill, Dupont Circle and Logan Circle. The difference in Georgetown? The OGB tends to take a little longer to review things than the Historic Preservation Review Board (HPRB).
Below, we outline the variety of factors taken into consideration for new construction in Georgetown, based on a number of conversations UrbanTurf had in recent weeks:
It depends on the design. Designs that the OGB believes don't fit with the historic character of Georgetown can take a while to tweak. An Eastbanc proposal for condos on the site of an Exxon Mobil station at the tail end of M Street just west of the Key Bridge has been seeking design approval for years. It has taken so long, in part, because of the project's more modern design. ANC 2E Commissioner Tom Birch said he and his neighbors welcome modern design in Georgetown, but it has to be done properly.
"The Old Georgetown Board is very clear about this, and I share their view," he said. "There's no aversion to contemporary modern design. We welcome good modern design, which can happen where it's sort of a clean slate."
Murillo added that the OGB pays very careful attention to every detail of a project that comes before them. "They get very involved," he said.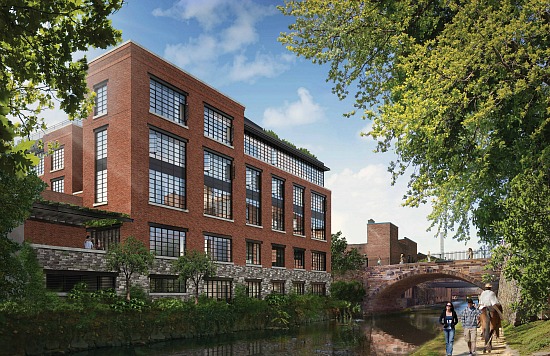 Rendering of 1055 High
It depends on the location. The Exxon condo project and another by Eastbanc demonstrate this well. The latter is near M Street along the C&O Canal; 1055 High was approved relatively easily, despite requiring approval from several government entities including the National Park Service. Georgetown Hillside has faced more scrutiny from the OGB and neighbors.
A project's location may determine whether neighbors get heavily involved in its direction, which can ultimately slow down the process. Joe Sternlieb, who heads up the Georgetown Business Improvement District (BID) and formerly worked for Eastbanc, acknowledged that opposition by neighbors can make a big difference in Georgetown. Neighbors can have "a lot of influence in the community," Sternlieb said. "Citizens generally don't like things to change. That's sort of at odds with living in a place that's always changing, especially in a city today that's booming and busting at the seams." (Sternlieb added that the BID doesn't explicitly support or object to specific development proposals, and said he is not up-to-date on the Exxon project.)
Tom Birch had another take on neighbor opposition. "I would not characterize myself or my neighbors as development-opposed," he said, adding that he is "not impressed" by whether or not a neighbor speaking in opposition to a project is particularly influential.
One of the recent design revisions for Exxon condo project.
It depends on what's being built. Whether or not the project is new or existing construction plays a role in whether or not there will be opposition. If the building is a contributing structure to the historic district, developers can reasonably expect to jump through more hoops, Murillo said. On one recent project that included a contributing structure, Murillo said the development group went back and forth to the OGB eight times. By contrast, the group normally expects to go back and forth with the Historic Preservation Review Board (HPRB) two or three times on a project elsewhere in the city, he said.
"As a result, we ended up with a better product," Murillo said. "Everybody was happy and [the OGB does] their work very well. If you plan for that, it's not such a big deal."
It depends on the architect or developer. Both Sternlieb and Birch said an architect or developer who's more familiar with designing in Georgetown may have an easier time winning over the various neighborhood and government entities necessary to start building. Birch said that's not about favoritism, but rather how well a developer understands the character of the historic district and the approvals process. What's approved and how quickly it gets through the process may also depend on which three members are on the Old Georgetown Board at a given time, Murillo suggested. Again, that's not necessarily because of favoritism, but because of differences of opinion.
"In some cases you might get a more contemporary slant" among board members, he suggested.
The Old Georgetown Board didn't respond to UrbanTurf's request for comment for this article.
Similar Posts:
This article originally published at https://dc.urbanturf.com/articles/blog/the_particular_challenges_of_building_in_georgetown/8522.
DC Real Estate Guides
Short guides to navigating the DC-area real estate market
We've collected all our helpful guides for buying, selling and renting in and around Washington, DC in one place. Start browsing below!
First-Timer Primers
Intro guides for first-time home buyers