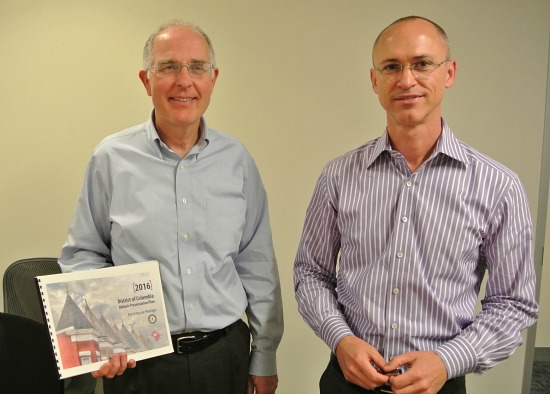 David Maloney and Steve Callcott of the Historic Preservation Office.
In this edition of One on One, UrbanTurf paid a visit to the Historic Preservation Office (HPO) and sat down with David Maloney, the State Historic Preservation Officer (SHPO) and Steve Callcott, the Deputy SHPO.
The HPO is currently in the process of creating a Historic Preservation Plan to guide preservation efforts in the city over the next four years. The draft of the plan, which lays out preservation goals for both the HPO and the city as a whole, can be found here. As the office is actively seeking public commentary on the plan, we thought it was a good time to talk with them about the state of historic preservation in booming DC.
We chatted with Maloney and Callcott about managing preservation in a rapidly changing city, the National Capitol Planning Commission's study of the Height Act, and how the office feels about contemporary architecture (they like it!).
Many of our readers feel that architecture is kind of boring in DC, and a few think that historic preservation and the height limit are holding DC back from being an exciting architectural city. Do you have response to that criticism?
David Maloney: We feel that the better new architecture is architecture that has gone through a design review process with HPRB or the Commission of Fine Arts commission. When developers and builders know they need to go through this process, they tend to pick better architects, and they think "OK, in order to get through this process, we need to come up with a better quality product." And it shows out on the street.
Steve Callcott: The review process also allows the public to have an opportunity to comment. If preservation is holding back architecture, then you'd see the highest quality architecture outside of historic districts, and that's not our experience. As David said, it tends to be the reverse.
DM: Some of the most exciting buildings — like Arena Stage and the Newseum — went through a preservation process. We have five architects on our board now, and I think they are all interested in contemporary design. We are not trying to push copies of historic architecture.
So historic preservation doesn't have to mean an olden style design?
DM: Absolutely not.
SC: But it's interesting how many architects will propose a traditional design of their own accord, citing that's what the market or the client wants.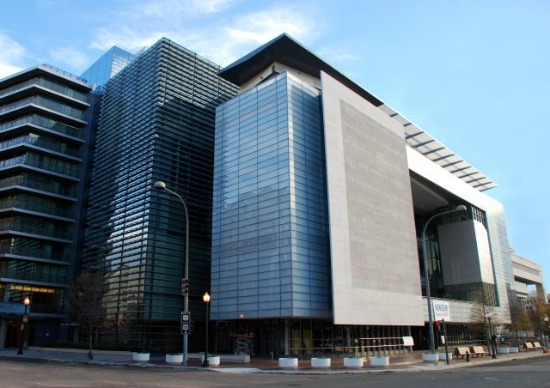 The Newseum
DM: A lot of people do have this sense that preservationists want traditional buildings, and that's not the case. Washington is a conservative market, and there's a lot of demand for traditional-looking products. That's coming from the market, it's not coming from us. We sort of get bored by these knock-off, phony buildings.
Can you give me any examples of buildings that were creatively designed?
DM: I think some of the new apartment buildings that are being built on 14th Street — it's an interesting street to walk up and down. They all came through this design review process, and they're not all of the same quality, but overall I think it's an exciting mix, and it's what people are now seeking in urban life. It's not just either all sterile modernism, or a stuffy historic-y environment. People want variety, mixture and liveliness. I think our board gets that, and certainly we as a staff do.
Does the Preservation Office have to adjust its attitude given all the development happening around the city?
SC: One of the commenters at a recent HPRB meeting made the very good point that preservation in DC and many American cities came of age in a period of urban decline. It was a way of preventing catastrophic change that was coming about from urban renewal. We have a very different equation today, where DC and American cities are booming. So, we need to figure out how to manage the very fast pace in growth and hold on to a sense of place at the same time.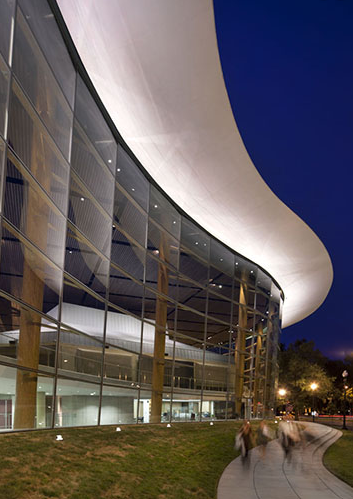 Arena Stage, courtesy Bing Thom Architects
Do you have any thoughts on the Height Act, now that NCPC is launching their study?
SC: We don't think DC is going to be a city of skyscrapers. The very rationalist formula that we've had for determining height in the city is fundamental to the character to how it has developed, and I don't think anybody is proposing to radically change that.
In your opinion, is there anywhere where it could be modified?
SC: I don't think we have any opinion at this point. Right now, NCPC is beginning to undertake some modelling, looking at various alternatives. In late summer, the modeling will be ready for unveiling, so people can see how it impacts the skyline of the city as seen from high points, how it's seen from down certain streets, and how it's experienced at the retail and neighborhood level. Until it's modeled, I don't think anybody has any sense of what the impacts might be.
DM: Also, this is just a very initial study. If they came out with a recommendation, that would need to go through the comprehensive plan process.
SC: First it would have to go through Congress, which may or may not decide to give the city authority to change the height limitations. Any implementation would have to wait until the comprehensive plan was changed, and then zoning would have to change. There are many steps that would have to be taken.
This article originally published at https://dc.urbanturf.com/articles/blog/one_on_one_historic_preservations_new_plan/7043.
DC Real Estate Guides
Short guides to navigating the DC-area real estate market
We've collected all our helpful guides for buying, selling and renting in and around Washington, DC in one place. Start browsing below!
First-Timer Primers
Intro guides for first-time home buyers