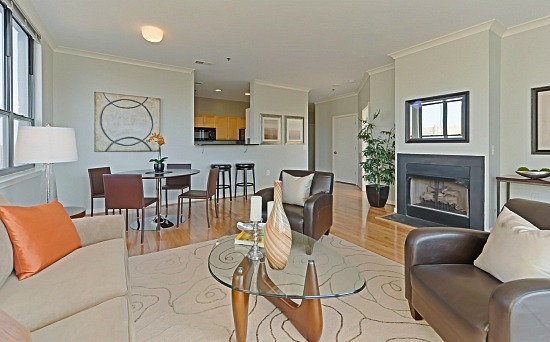 A condo that received an offer within hours of being listed.
When first-time homebuyer Kyle Stearns made an offer on a home back in November, he quickly became acquainted with the current realities of the DC housing market.
The 29-year-old Department of Health and Human Services employee made a $350,000 offer on a three-bedroom home in Trinidad, $51,000 above the list price. He and his fiancee ultimately lost out to a higher bid from another couple.
In December, a similar situation played out when Stearns made a $400,000 offer on a three-bedroom listed for $370,000 in the same neighborhood. About a dozen offers came in and the house ultimately sold for well above $400,000.
"We have kind of given up for the time being," Stearns told UrbanTurf. "When every home results in multiple offers, it gets pretty frustrating."
Stearns' experience illustrates the state of the DC area market right now: it can be exasperating to be a buyer, but quite lucrative if you are selling. Problem is, there aren't that many home sellers out there.
The winter months are a historically slow period by residential real estate standards, but to say that the current inventory of homes on the market in the DC area is scant right now would be an understatement.
With 6,466 active listings, the region finished 2012 with the lowest level of inventory in almost a decade, and 4,000 fewer listings than at the end of 2011. To put that number in perspective, it means that the region has only a 1.8 month supply of homes on the market. Given that the threshold between a buyer's market and a seller's market is six months of inventory, the DC market is deep in seller's territory.
As the second half of 2012 progressed, there was a noticeable correlation between dwindling inventory and increasing sales prices. As inventory dropped from 9,100 active listings in September to 7,900 in November to 6,400 in December, prices rose in DC, from a median sales price of $439,000 in September to $455,000 in December. Between December 2011 and December 2012, prices rose 10 percent.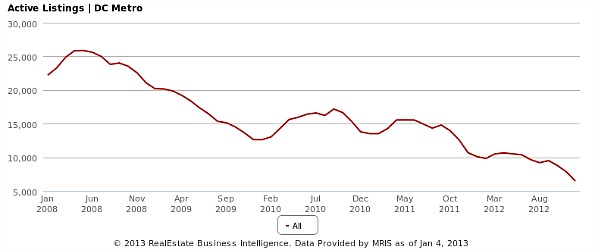 The decline of inventory in the DC area market.
And, the amount of time that a listing spent on the market dropped dramatically.
"At the end of 2011, homes in the region were spending a median of 50 days on the market," Corey Hart of real estate data firm RealEstate Business Intelligence told UrbanTurf. "That fell to 29 days at the end of 2012."
While that drop is significant, 29 days would be considered an eternity for a home to spend on the market right now, according to some real estate professionals around town.
"A two-bedroom condo on Connecticut Avenue was listed last Tuesday at 1pm," Long and Foster's Holly Worthington recently told UrbanTurf. "By 4pm, it already had a registered offer."
Worthington recounted another situation in which a recently-listed condo received 27 offers and went under contract for $100,000 above the asking price within days of being listed. And, who could forget the two-unit property near H Street NE that generated almost 200 offers and went for double its list price. Or the garage-turned-house in Logan Circle that fetched $160,000 above its $735,000 asking price in an all-cash deal.
"There are varying levels of competition," Coldwell Banker's Mandy Mills told UrbanTurf. "Some places may get a couple offers while other homes get 19. Regardless, almost every home that goes on the market at a good price will get multiple offers these days."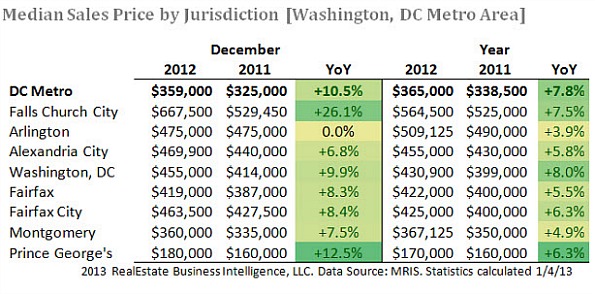 Median sales prices in DC Metro.
So, with this level of buyer demand, why aren't more people selling?
There are various schools of thought. Many believe that it is just the cyclical nature of the market, and that a slew of listings will come online once the spring market gets going.
Corey Hart posits that the area is not the transient place it once was, so there is less turnover in the market. "DC used to be a city where people would move every 2, 3 or 4 years," he said. "Now, you have a lot more people moving into homes where they intend to stay put for at least a decade."
Exacerbating the lack of existing homes for sale is the fact that the region isn't producing much new housing. The number of new condos on the market would satisfy just under six months of demand, and only 1,380 units are in the pipeline to be delivered in the coming 36 months.
An accelerating sales pace at new buildings over the last year has not helped sustain inventory. In a recent report, Delta Associates found that projects which have been introduced to the market in the prior 12 months have sold at a pace of 10.5 units per month, dramatically faster than new projects that delivered a few years earlier and were selling at only 2.8 sales per month.
For Kyle Stearns and likely many others, the current environment has led him to put his search on hold for the time being.
"Given the state of things, we'll probably wait until after we get married in July before we start looking again. Hopefully, there will be more to choose from then."
This article originally published at https://dc.urbanturf.com/articles/blog/oh_home_sellers_where_art_thou/6536.
DC Real Estate Guides
Short guides to navigating the DC-area real estate market
We've collected all our helpful guides for buying, selling and renting in and around Washington, DC in one place. Visit guides.urbanturf.com or start browsing below!
First-Timer Primers
Intro guides for first-time home buyers