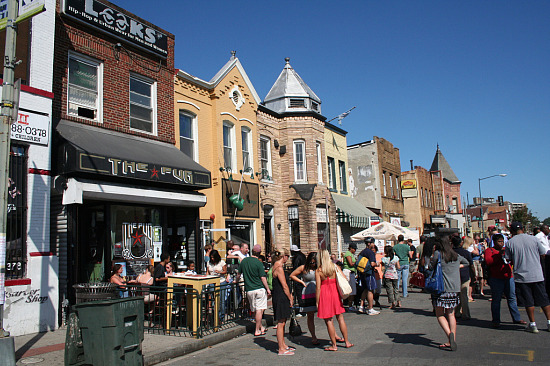 Crowds at this year's H Street Festival. Photo by Elise Bernard
UrbanTurf is happy to announce a content partnership with The Washington Post that began this past weekend. The article below on the H Street Corridor appeared in Saturday's "Where We Live" section.
Mischa and Chrystina Levin's search for their first home lasted five months, during which they looked at more than 60 properties. Their long hunt ended when they found a four-bedroom rowhouse on Northeast D.C.'s H Street corridor.
"Petworth, Columbia Heights, LeDroit Park, Capitol Hill, Shaw, we looked everywhere," explained Mischa, 32. "The H Street corridor is actually one of the few neighborhoods in D.C. where young couples can afford to buy a home."
The Levins closed on their house, near Seventh and K streets NE, in July. The property is not without its faults. (They are negotiating with the city to remove a light pole in the back of the property that prevents the couple from being able to park their car.) But their choice to invest in this transitional neighborhood is indicative of a larger trend.
Long characterized by vacant storefronts and used hypodermic needles, the H Street corridor is experiencing a renaissance punctuated by a growing bar and restaurant scene and a housing inventory that is attracting young professionals who have been priced out of other sections of the city. Even though the commercial corridor extends for only about five blocks along H Street, new businesses are sprouting and widening the neighborhood's reach.
The roller-coaster ride H Street has taken over the past half-century or so has been well documented. In the 1940s and '50s, it was one of the District's more popular destinations for shopping and high-end restaurants. Like other downtown neighborhoods, the area took a notable turn for the worse after being ravaged by the riots following the assassination of Martin Luther King Jr. in 1968. Only in the past few years have many of the storefronts that stood vacant for decades come back to life.
Elise Bernard, 30, has witnessed this resurgence. The Oklahoma native moved to the area in 2001 and started Frozen Tropics, a neighborhood blog that has become an authoritative sounding board for H Street and neighboring Trinidad, in 2004.
"A couple years ago, a friend sent me a Craigslist ad that advertised a property within walking distance of the H Street corridor," Bernard said. "It's funny because being within walking distance of the H Street corridor used to be the kiss of death!"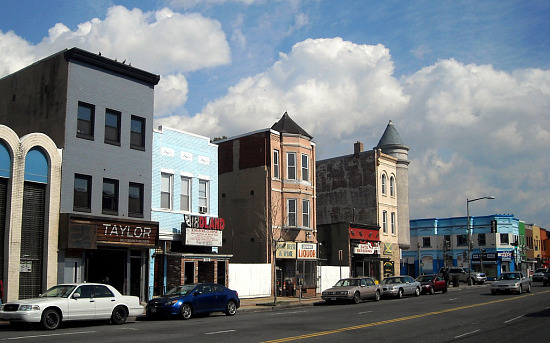 Looking Down H Street. Photo by NCinDC
Bernard noted that the transformation started in earnest when District restaurateur Joe Englert came to the area. Englert, who owns bars across the city, has opened some of H Street's most popular establishments -- including the hipster mecca Rock & Roll Hotel; the H Street Country Club, where beach boardwalk games like Skee-Ball and mini golf are in high demand; and Dr. Granville Moore's, a Belgian-themed gastropub that may be the area's biggest draw.
"Joe Englert was able to convince people to come here when they otherwise probably wouldn't have," Bernard said. "Granville Moore's was on the Food Network, and now people are actually coming to the area to sightsee."
Evidence of the neighborhood's growing popularity could also be seen at this year's H Street Festival in September. Thousands attended the day-long event, which stretched for blocks and showcased the area's diverse offerings. The line pouring out of Taylor, a new gourmet deli that specializes in Italian hoagies, only seemed to get longer as the hours passed, and getting an outdoor table on the crowded patio of the H Street Country Club required a fair amount of patience.
The neighborhood is not all new bars and restaurants, and a number of establishments considered local landmarks are still alive and well. The Atlas Performing Arts Center has been providing the community with theater and music performances since 2001, and the Argonaut, one of the pioneering bars in the neighborhood, is still serving discounted beers and sweet potato fries at happy hour.
Local developers are taking notice. Jim Abdo's Senate Square development at Third and H streets in the former Children's Museum building has been credited with providing an initial housing spark for the area. (One of its residents is former D.C. mayor Anthony A. Williams.) Condo sales began in 2005, but the building converted to rental apartments in late 2007. One-bedroom apartments are available starting at $1,695 a month, and two-bedrooms start at $2,050.
A parcel of land one block to the east is slated for a new 200-unit apartment building with a grocery store on the ground floor. Steuart Investment plans to break ground in summer or fall 2010.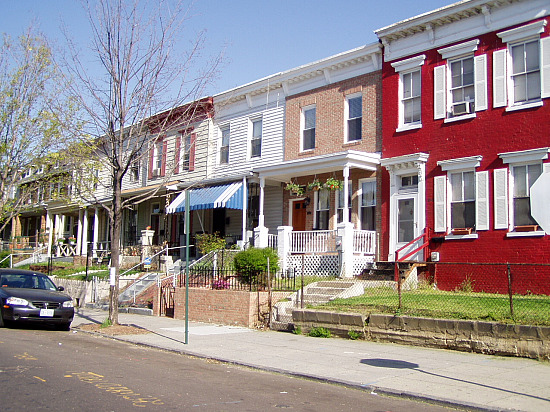 Rowhouses in the H Street Corridor. Photo by Elise Bernard
Examples of such large-scale development are few, though, and prospective home buyers looking near H Street are mainly limited to single-family rowhomes.
"There are a lot of first-time home buyers purchasing in the area who are taking advantage of rehab loan products, as well as investors who are grabbing up total rehab projects to bring back on the market," said Jason Martin, an agent with Keller Williams Realty. "Across the board, people are really starting to take to the area." According to Martin, 32 properties are under contract and 31 others have sold in the past 90 days.
While people are coming to the area, some wonder how they are going to get around once they are there. One regular complaint is that the neighborhood does not have a Metro station. The closest ones are Union Station and New York Avenue, both about a mile away.
That said, the area is serviced by the X1, X2, 90, 92 and 93 bus lines and the H Street shuttle, which ferries people between the neighborhood and Gallery Place seven nights a week. Also, one of the more exciting public transit developments to hit the city in recent memory is the planned return of streetcars to H Street. While construction has already begun on the new line, there remain a number of planning hurdles before it becomes a reality.
Despite its growing popularity, the neighborhood can still seem rough around the edges. Away from the five-block commercial stretch, the side streets can be deserted, and more than one resident complained about the amount of trash littering the sidewalks and streets.
Even though the public transportation options are limited and commercial and nightlife options along H Street are dwarfed by those in some of the city's more established Zip codes, there are those who believe that the area is on the cusp of maturing from trendy to fully mainstream.
"First there was Adams Morgan, then there was U Street, and the next U Street will be H Street," Mischa Levin said.
Note: We would be remiss if we did not include this humorous tale that photographer Josh Howell (aka NCinDC) relayed to us after taking some photos along H Street for this piece: I was able to shoot some photos yesterday afternoon, but my walking tour ended abruptly when three teenagers decided to steal.../pause/...one of my shoes. (dramatic recount below)
Note to self: if pebbles are stuck inside your shoe, do not take the shoe off while sitting in an open area on H Street, NE.
I sat on a curb, took the shoe off, and removed the pebbles. As I was re-tying the other shoe, its now-pebble-free twin was lying beside me, waiting its turn. For reasons unknown, three punks decided two shoes were too much for one man. As they were walking behind me, one grabbed my shoe and began running; his two sidekicks had already begun sprinting. I can run at a fairly decent pace, but chasing adrenaline-crazed teens who are each wearing /two/ shoes =/= a fair race. The only available finish line was a cab ride back to Dupont. I'm making light of the situation because it was an epic FAIL on my part, a fact my roommate has been more than willing to repeatedly point out since yesterday evening.
Real Estate Agents Serving H Street
The following real estate agents are active in H Street. Call or email them to get in touch.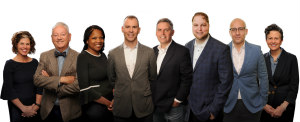 Joel Nelson Group
KW Capital Properties
Phone: 202-243-7707
Website: View website
Listings: View listings

This article originally published at https://dc.urbanturf.com/articles/blog/h_street_a_place_to_party_and_to_settle_down/1446.
DC Real Estate Guides
Short guides to navigating the DC-area real estate market
We've collected all our helpful guides for buying, selling and renting in and around Washington, DC in one place. Visit guides.urbanturf.com or start browsing below!
First-Timer Primers
Intro guides for first-time home buyers