Last fall, the House of Representatives' Oversight and Reform Committee held its first hearing on granting Washington, DC statehood since 1993. Today, the committee voted the Washington, D.C. Admission Act out of committee by a vote of 21-16. The bill would admit DC, minus a carved-out "federal enclave", as the 51st state.
Committee chair Carolyn Maloney (D-NY) introduced the bill by citing several statistics, such as DC's residents paying more in federal taxes per capita than 22 states and the city having a larger budget than 12 states. Maloney also called out the hypocrisy of some arguments against statehood, including the accusations that DC is corrupt.
Much of the debate that then ensued centered around whether it would be legal to admit DC as a state via legislation rather than via a constitutional amendment, and whether the founding fathers intended the nation's capital to be restricted to a small enclave (see below) "surrounded" by a state.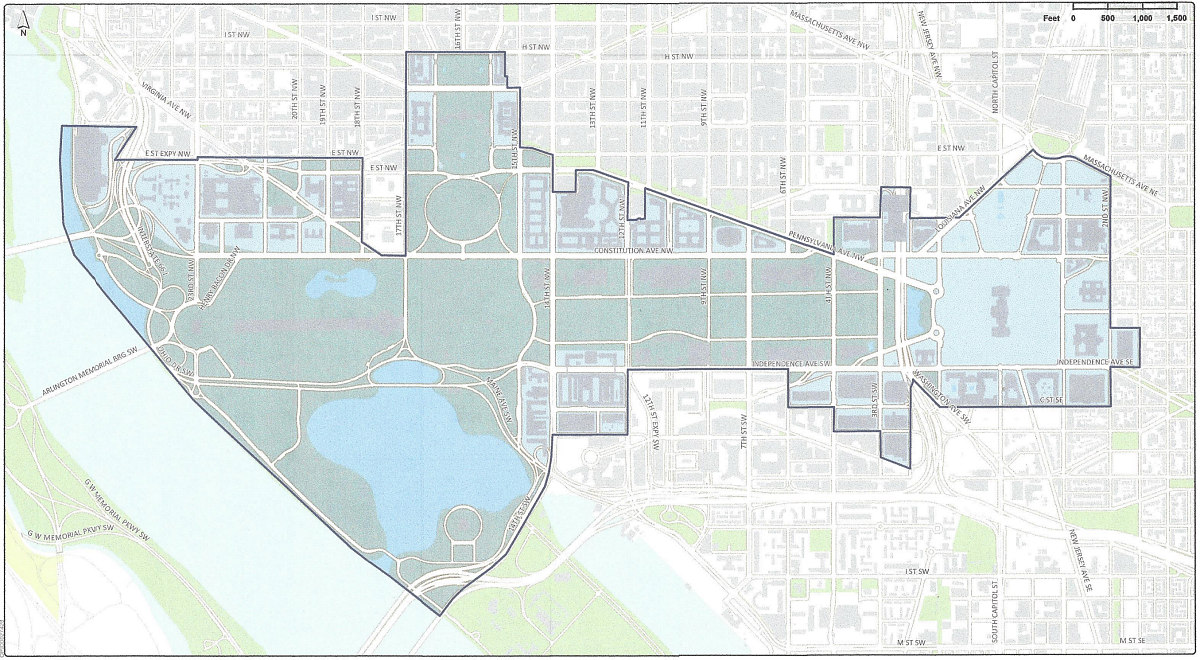 Representative Clay Higgins (R-LA) offered that while he was not opposed to statehood, a constitutional amendment should be introduced after Maryland's legislature votes to give consent to a new state being formed from the territory it ceded to create the District in the 18th century. Representative Paul Gosar (R-AZ) posited that Maryland should re-absorb DC and the states should bid for the seat of government to be relocated to a more centralized location in the country.
Representative Glenn Grothman (R-WI) drew laughter in the chamber after questioning DC's qualifications as a state by comparing it to Wisconsin, stating that while the latter has manufacturing and natural beauty in addition to tourism, DC is primarily driven by the federal government and a "little bit" of tourism surrounding the Mall. "You wouldn't break off the city of Milwaukee and give it two senators," Grothman quipped.
On the other side of the aisle, Representative Jamie Raskin (D-MD) stated that after the 13 colonies were established, none of the 37 states that followed were admitted to the union via constitutional amendment. Representative Gerry Connolly (D-VA) countered that he didn't think many of those calling for a constitutional amendment would vote in favor, and that the founding fathers did not intend for citizens to lack congressional representation.
"DC did not exist when we wrote the constitution; it was an abstract idea, and was thought of as a simple, small administrative capital somewhere on the banks of the Potomac," Connolly stated. "They never envisioned a municipality with 700,000 fellow Americans disenfranchised. That would be a wrong that I believe those founders would have corrected."
During the proceedings, Republican representatives introduced over a dozen amendments, most of which were described as "common sense" and some of which relitigated issues like abortion and gun control that Congress has raised to impose its authority over DC.
Unlike last fall's hearing, where then-Councilmember Jack Evans's alleged abuse of office was a primary argument against statehood, it took a few hours and a recess before Evans was mentioned. Representative Virginia Foxx (R-NC) cited Evans as an example while introducing an amendment seeking to continue current law that treats bribery of DC officials as a federal crime.
Another repeat argument from last year's hearing came via an amendment offered by Representative Thomas Massie (R-KY) to require any federally-owned properties abutting the enclave to be included in the enclave — specifically, the Old Post Office currently leased as the Trump International hotel and the J. Edgar Hoover building. Massie referenced DC Council Chair Phil Mendelson's reluctant admission at the September hearing that tax revenue was part of the rationale for including the hotel in the new state to lambast the configuration of the enclave as "gerrymandering" and "a jab at Donald Trump".
Virgin Islands' Delegate Stacey Plaskett questioned the derision toward the borders of the enclave head-on, conceding that the prospective state should include potentially revenue-generating properties and citing the anticipated redevelopment of the Hoover building.
"I think that this is ridiculous that we're not allowing them to keep those things that are revenue-builders for the state, that will allow them to have the kind of income that they need to sustain the people of the District of Columbia when it is a state."
Many of those who introduced amendments admitted to being opposed to statehood, but said they wanted to make the bill more palatable in case it moved forward. Representatives who spoke in opposition to the amendments often invoked the "equal footing doctrine", which asserts that all newly-admitted states be treated equally, to reject conditions on granting statehood.
While the chair considered each amendment rejected in a voice vote, a recorded vote for each was held after the committee returned after a second recess, confirming their rejection.
As for the name of the prospective state, DC Delegate Eleanor Holmes Norton referred to it as "Washington, Douglass Commonwealth"; Representative Raskin also used this name, but at other times referred to it as "Washington, Douglass County" and "New Columbia".
The bill still has a way to go before being brought to a full vote on the House floor (where it has 223 co-sponsors), and it is expected to die in the Senate (where it has 35 co-sponsors). Norton also acknowledged that, if a statehood bill were to become law, the Constitution would have to be amended to repeal the 23rd Amendment, which granted DC three electoral votes in the presidential election.
This article originally published at https://dc.urbanturf.com/articles/blog/dc-statehood-bill-passes-house-committee/16448.
DC Real Estate Guides
Short guides to navigating the DC-area real estate market
We've collected all our helpful guides for buying, selling and renting in and around Washington, DC in one place. Start browsing below!
First-Timer Primers
Intro guides for first-time home buyers