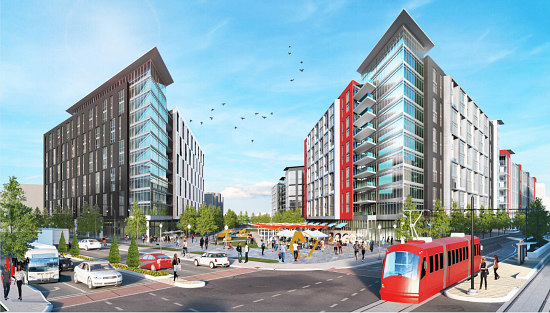 The District of Columbia has nominated 25 Opportunity Zones as vehicles to leverage and encourage targeted investment in the city.
Opportunity Zones (OZ) are low-income census tracts that allow individuals and businesses to pool money for development while deferring taxes on gains from sales of assets within those tracts. Out of 97 qualifying low-income census tracts, the Office of the Deputy Mayor for Planning and Economic Development was able to nominate 25 to the Treasury Department and has selected the following:
Census tract 2101, the area of Brightwood Park between Georgia and Missouri Avenues to the west and north, with 5th and Gallatin Streets NW to the east and south.
Census tract 3400, which is roughly between Georgia Avenue and First Street, from Irving Street to Florida Avenue NW. The zone includes both Howard University and the address of the McMillan Sand Filtration Site, although it does not encompass the land McMillan sits on.
Census tract 6400, which essentially encompasses the Buzzard Point neighborhood from South Capitol Street to Delaware and 5th Avenues SW beneath M Street. This area is home to the soon-to-open Audi Field soccer stadium.
Census tract 6804, which runs under Benning Road to the west of Oklahoma Avenue, 22nd Streets NE, and 19th Street SE. The tract is bound by the Anacostia River (but includes RFK Stadium and parts of Kingman and Heritage Islands).
Census tract 7304, which encompasses the portion of Congress Heights southeast of Alabama Avenue and Wheeler Road SE and just west of Stanton Road SE. This area borders southern Prince George's County and contains the vast majority of Oxon Run Park and Parkway, as well as United Medical Center.
Census tract 7401, which includes the Poplar Point and Barry Farm neighborhoods from the Anacostia River to South Capitol Street SE, east of the St. Elizabeth's campus and bound by Suitland Parkway. While Barry Farm is being razed and redeveloped, the tract is also skirting the future landing of the 11th Street Bridge Park.
Census tract 7407, containing the Fort Stanton neighborhood north of Suitland Parkway, west of Stanton Road, south of the intersection of Martin Luther King, Jr. Avenue and Morris Road SE.
Census tract 7503, which is the historic Anacostia district bound by the Anacostia Freeway, Good Hope Road, and Morris, 16th and Bangor Streets SE. The neighborhood includes the Frederick Douglass Home and a raft of redevelopment that will include the first Busboys and Poets east of the River.
Census tract 7601, which includes the portion of Fairlawn between the 11th Street Bridge Park/Good Hope Road and Minnesota and Pennsylvania Avenues SE, north of S Street.
Census tract 7603, southeast of the Alabama Avenue and Naylor Road intersection and south of Pennsylvania Avenue SE. The tract includes Naylor Gardens, Hillcrest and Fairfax Village.
Census tract 7604, northeast of the Alabama Avenue and Naylor Road intersection, south of Pennsylvania Avenue, including the neighborhoods of Good Hope and Randle Highlands.
Census tract 7709, the Ward 7 area north of Pennsylvania Avenue and just east of the River, cutting off just above the DC Therapeutic Recreation Center and including parts of the Twining and Dupont Park neighborhoods.
Census tract 7803, the Central Northeast area that runs north of Benning Road, east of Kenilworth Avenue, west of 47th Street and south of Nannie Helen Burroughs Avenue NE.
Census tract 7804, the Lincoln Heights/Deanwood area straddling Nannie Helen Burroughs Avenue between 44th and Division Avenues from Hayes Street to East Capitol Street NE, and including the future Deanwood Town Center and redeveloped Strand Theater.
Census tract 7806, the Deanwood area south of Kenilworth and Eastern Avenues and north of Sheriff Road NE.
Census tract 7808, which stretches from the Northeast Boundary north of East Capitol Street, south of Eads Street and east of Division Avenue NE, including part of Marvin Gaye Park and much of the Watts Branch tributary of the Anacostia.
Census tract 8904, which includes the triangular neighborhood of Carver-Langston east of the Starburst intersection (and potential redevelopment site) and bound by Benning Road, Maryland Avenue and 26th Street NE.
Census tract 9102, including the Brentwood neighborhood between New York and Rhode Island Avenues, 18th Street NE and the train tracks that separate it from neighboring Eckington.
Census tract 9204, the area of Edgewood bound between Rhode Island Avenue and Franklin Street with 4th Street and the aforementioned train tracks.
Census tract 9601, the Kenilworth and Eastland Gardens neighborhoods just east of the River and north of the Watts Branch, between Kenilworth and Eastern Avenues NE.
Census tract 9602, the Mayfair neighborhood just east of the River and south of the Watts Branch, between Kenilworth Avenue and Benning Road NE.
Census tract 9603, the Benning area east of 295, north of East Capitol Street and south of Benning Road in Northeast.
Census tract 10300, which primarily is sited between Piney Branch Road and Alaska Avenue NW, between Butternut Street and Fern Place NW, including the old Walter Reed Campus (and site of a massive ongoing redevelopment). The tract also includes the area of Takoma between Georgia and Eastern Avenues and Fern Place NW.
Census tract 10400, which includes the St. Elizabeth's campus (and site of the under-construction Monumental Sports and Entertainment Complex and larger mixed-use development). The tract also includes the portion of Congress Heights from the intersection of South Capitol Street and Martin Luther King, Jr. Avenue SE northward, bound by Alabama Avenue and the Hebrew Congregational Cemetery.
Census tract 10900 of Bellevue, at the southernmost tip of the city bordered by both Prince George's County and Alexandria, west of South Capitol Street and south of Galveston Street SW.
The selected zones were intended to focus on areas east of the Anacostia River, retail-heavy corridors and creative, industrial and manufacturing zones, but most also share the distinction of having a strong development pipeline.
"As the program ends in 2026, census tracts with projects ready for investment were given greater consideration as the sooner funds can be deployed, the greater the value," a press release explains.
"With feedback from our residents and stakeholders, we are moving forward with a program that offers another tool for us to drive investment in every corner of DC and put more Washingtonians on pathways to the middle class," said Mayor Bowser in a statement.
While much of the regulatory structure is still vague, once OZs are approved, entities will be able to incorporate Opportunity Fund investment vehicles to facilitate and invest deferred gains. Ninety percent of assets in a Fund must be OZ properties (whether tangible property, stock or partnership interest).
Correction: The boundaries of census tract 9204 were previously misstated.
This article originally published at https://dc.urbanturf.com/articles/blog/dc-nominates-25-opportunity-zones/13876.
DC Real Estate Guides
Short guides to navigating the DC-area real estate market
We've collected all our helpful guides for buying, selling and renting in and around Washington, DC in one place. Start browsing below!
First-Timer Primers
Intro guides for first-time home buyers