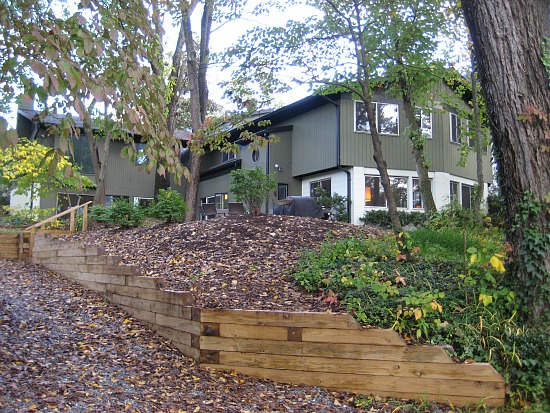 Home in Cabin John
Nestled close to the Potomac River, Cabin John is an eclectic, leafy community with a long history, a range of funky houses, and just enough commercial and community amenities to provide a feeling of cohesion.
History and the Union Arch Bridge
Located in a corner of Montgomery County bounded by the Potomac to the south and the Beltway to the northwest, Cabin John was established in the early 1800s during the construction of the C&O Canal. The "cabin" in its name is widely believed to come from the word "captain," though it's not clear who Captain John was.
There's still a feeling of old-timey-ness in the area's residential streets, which lack sidewalks and are bounded by rambling yards and tall hardwoods. But probably the most historic element in the community is the Union Arch Bridge, known by locals as simply "the one lane bridge."
Built during the Civil War, the bridge—which was then the longest single-span masonry arch in the world—was designed to carry the Washington Aqueduct across Cabin John Creek. These days, it ferries a line of cars waiting on either end for stoplights that allow them to cross, and is the source of huge traffic backups during rush hour.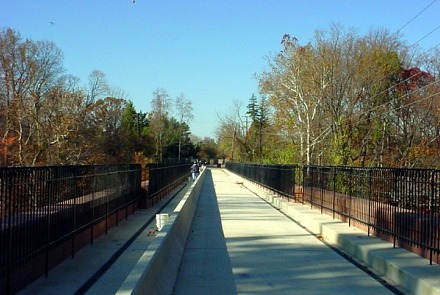 Union Arch Bridge
An Eclectic Mix
Cabin John is a place where some residents have been in their homes for four decades or more. During World War II, a couple of housing developments were constructed for workers aiding the war effort, and many of those people—as well as their descendents—have stuck around.
"We work together and take care of each other," explained Rita Gerharz, who's been in the neighborhood for twenty years.
In addition to long-timers, the community's share of DC professionals who work downtown or in northern Virginia has increased over the past decade. The influx of newbies has caused some grumbling among established residents, but "even the new people get caught up in our vibe," posited Gerharz.
There are several elements that draw people to Cabin John: its suitability for families, its safe, pedestrian-friendly reputation that means kids play in the streets and teenagers roam freely on their own, and the fact that the Montgomery County public schools have a very strong reputation. The neighborhood is also home to Clara Barton Community Center and Cabin John Park, which has several sports fields and a playground. And the C&O Canal and the wilds of the Potomac River are only minutes away by foot.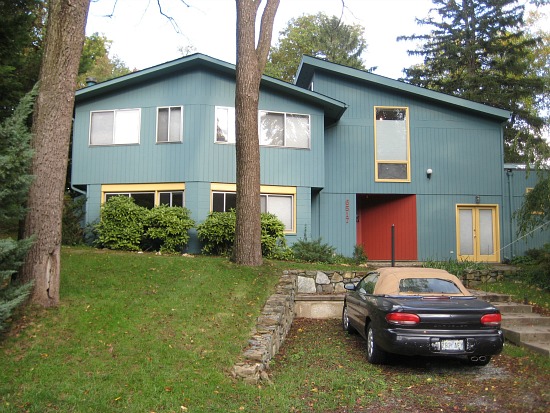 A home in Cabin John
Old Homes and Mini-Mansions, Side by Side
Cabin John has a variety of homes on display, a smattering that continues to get more diverse as new residents purchase existing homes and then tear them down to build new ones. The prevalence of the latter means that a number of new houses have been built in recent years, Patricia Ammerman, a Long & Foster agent who lives in Cabin John, told UrbanTurf.
So, there are the original houses, which come in pretty much every possible style, from Sears kit bungalows and rambling Victorians to ranch houses and more than a handful that are hard to categorize (for example, the one in the photo above). And then there are the new homes, many of which are sprawling mini-mansions that wouldn't look out of place in tony Potomac.
The subsequent change to the community's flavor wasn't particularly appreciated by older residents, said Ammerman, but the area has managed to retain a good portion of its relaxed, friendly atmosphere.
As for prices, Cabin John's home values have swelled in the past decade. These days, it's hard to find a single family home for under $500,000; many hover in the $700,000 range, and the community has a number of newer homes selling for around $1.5 million.
The exception to these price points is Cabin John Gardens, a housing development of around 100 homes that was built in 1942. Nowadays, it's a cooperative. The houses are fairly small, but they're also slightly cheaper than those in the surrounding area, listed for between $400,000 and $500,000.
One Good Place to Eat
Talk to Cabin John residents about area eateries and they'll likely gush about Wild Tomato, one of the community's only sit-down restaurants. Located in the middle of the neighborhood and featuring wood-fired pizza and new American cuisine, Wild Tomato opened in January to strong reviews and consistent crowds. The only other standout local amenity is the Bethesda Co-op, a large, old-school natural foods grocery.
Otherwise, Cabin John has all the basics (a post office, dry cleaners, day spa, deli, and a sushi restaurant), but not much more. It is fairly close to downtown Bethesda, and some residents told UrbanTurf they do their shopping in Potomac Village or Tyson's Corner—neither of which is more than a 20-minute drive away.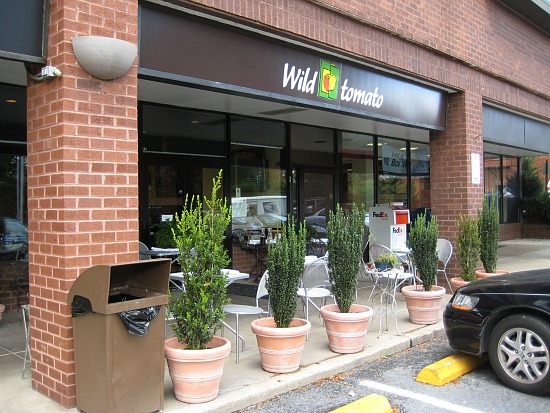 Wild Tomato
A Good Location…For Those With a Car
While traffic can get pretty backed up at the Union Arch Bridge, Cabin John's location is fairly convenient for drivers. Close to the spot where the Beltway and the George Washington Parkway converge, the area offers easy access to northern Virginia and Maryland. Even getting into central DC isn't particularly nightmarish, said resident Michael Ellert, whose wife works downtown.
Without a car, though, it's a different story. Public transportation is limited to Ride-On buses, which travel every half hour from Cabin John to Bethesda's Metro station on the Red line. "The buses are good, except during rush hour, when they get backed up," said Neal Roberts, as he waited at a stop for the bus to come. Several residents also commute into DC via bicycle on the C&O Canal's towpath; it's about a 45-minute ride.
The Bottom Line
When you drive out MacArthur Boulevard and hit Cabin John, it's immediately obvious that you're no longer in DC. The community almost has the feel of a country crossroads, with its winding streets, smattering of small stores, and the sense that everyone knows each other. The atmosphere is what has kept so many residents in place year after year, while simultaneously drawing in new folks. Even with an influx of the latter, it doesn't appear that the face of Cabin John will be changing anytime soon.
Zip Code: 20818
Schools: Bannockburn Elementary School, Pyle Middle School and Walt Whitman High School
Cabin John real estate data from Redfin
Cabin John rental data from Craigslist
This article originally published at https://dc.urbanturf.com/articles/blog/cabin_john_in_with_the_new_maintaining_the_old/4400.
DC Real Estate Guides
Short guides to navigating the DC-area real estate market
We've collected all our helpful guides for buying, selling and renting in and around Washington, DC in one place. Start browsing below!
First-Timer Primers
Intro guides for first-time home buyers