After over a decade on the District's roster of parcels ripe for development, we are finally getting a look at what could potentially be constructed at 2 Patterson Street NE (map).
The Office of the Deputy Mayor for Planning and Economic Development (DMPED) released a request for proposals (RFP) for the 42,252 square-foot surface parking lot at North Capitol Street and New York Avenue in June. DMPED announced in November that six teams responded to the RFP, proposing a range of high-density mixed-use development options for the site.
Four of the six teams presented their proposals at last night's ANC 6C Planning, Zoning, and Economic Development Committee meeting; the teams led by Level 2 Development and Monument Realty are expected to present their proposals at the January 2nd meeting, after which each team will submit its Best and Final Offer. A proposal is expected to be selected in February.
Below, UrbanTurf summarizes the six proposals:
---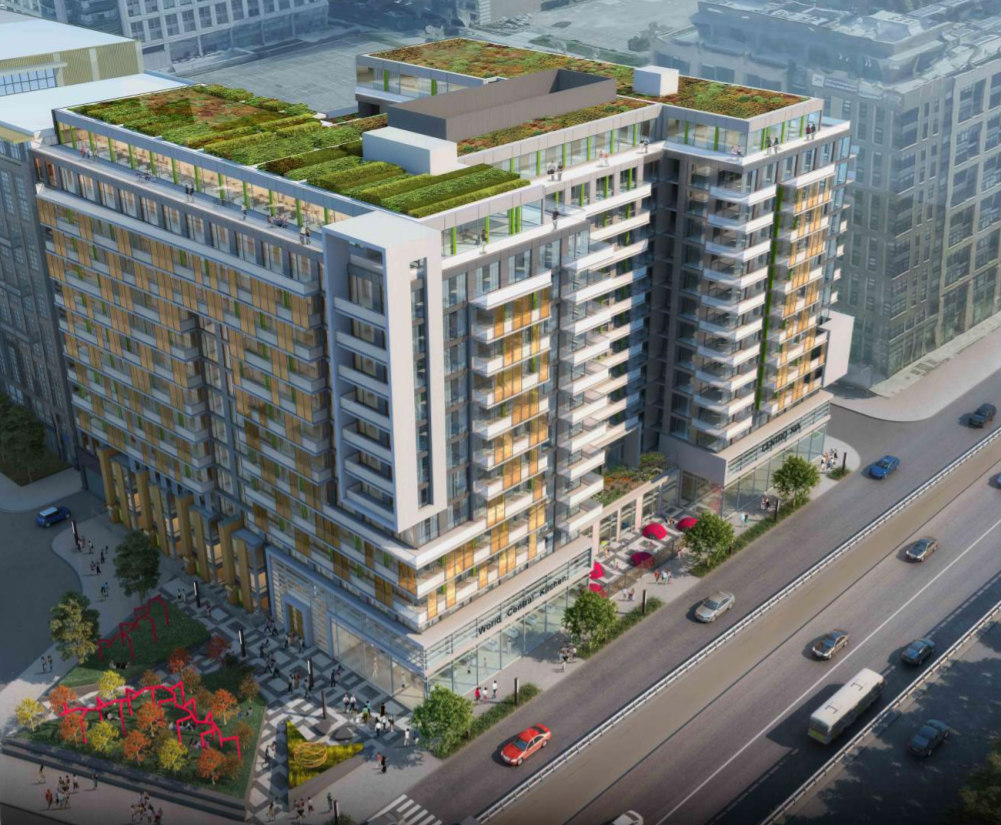 424 Apartments, Childcare and a Nobel Peace Prize Nominee
Jefferson Apartment Group, Argos Group and SGC Development are leading the charge on a proposal that would deliver 424 apartments and 8,900 square feet of commercial space to what they are calling "NoMa Gateway". The ground-floor space would be occupied by a location of CentroNía, an early childhood development center, as well as a new headquarters for Nobel Peace Prize Nominee Chef José Andres's World Central Kitchen. There would also be 110 below-grade parking spaces.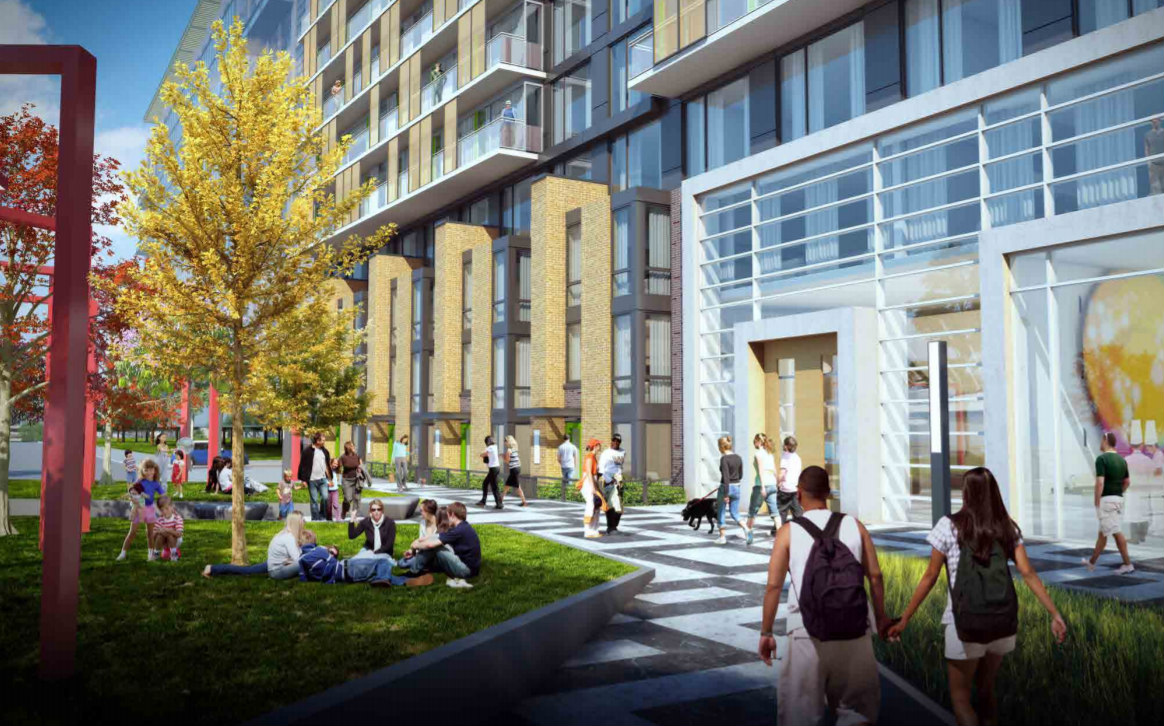 Of the 424 apartments, 170 will be affordable — 44 for households earning up to 30 percent of area median income (AMI), 85 for households earning up to 50 percent AMI, and 41 for households earning up to 80 percent AMI. Nine of the apartments will be townhouse-style units opening onto N Street and the adjacent park, which will have an art installation and incorporates the space that would be created if District Department of Transportation (DDOT) closes N Street off to restrict traffic flow to right turns either onto the street or from the street onto New York Avenue.
A screened-in playground for CentroNía would sit between the two commercial entrances on North Capitol Street. Moya Design Partners is the architect.
---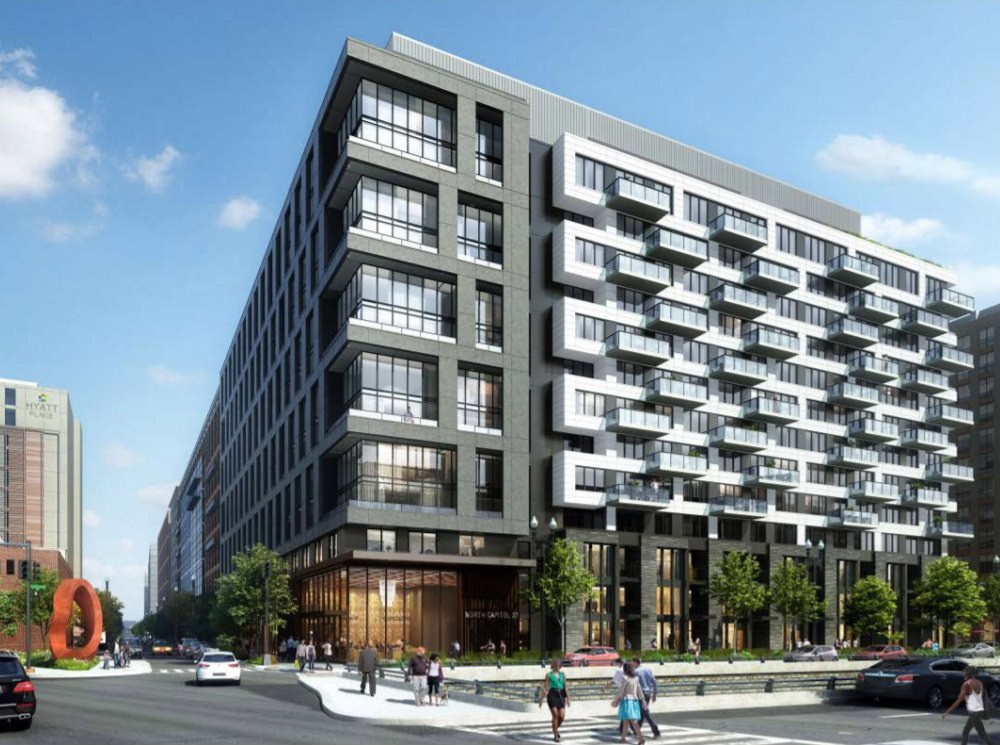 405 Apartments, An Arts Lane and a Black Box Theater
WC Smith, which owns 2M just on the other side of Patterson Street, has partnered with The Menkiti Group on a proposal that includes 405 apartments above approximately 14,000 square feet of arts space, including a 255-seat black box theater occupied by City Dance and Step Afrika!.
122 of the apartments will be affordable, half for households earning up to 30 percent AMI and the other half for households earning up to 50 percent AMI. The building would have a third floor courtyard, and there would also be a public pocket park on the N Street side of the building; the size will depend on whether DDOT reconfigures the street as previously mentioned.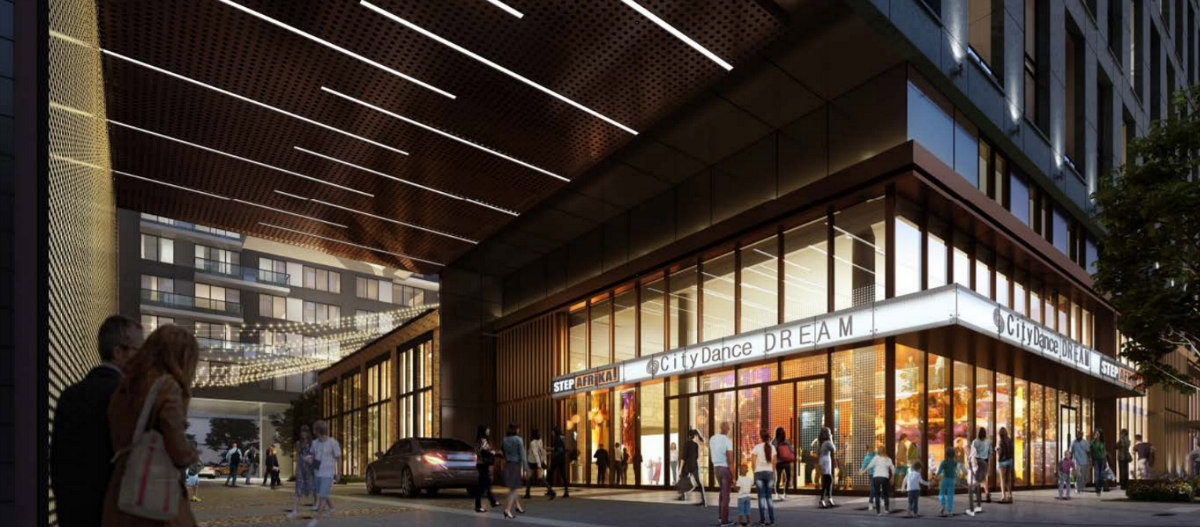 The project would also create a private street dubbed "Arts Lane" between Patterson and N Streets behind the building, which could be closed off for programming and would serve as an additional stage, of sorts, for dance performances. A bi-level, 180-space parking garage (which will also provide 156 bicycle spaces) will sit near the Patterson Street side of Arts Lane. WDG Architecture is the designer.
If the team is selected, a location of the Skyland Workforce Center will occupy ground-floor space in the adjacent 2M to provide support services for lower-income residents in both buildings and in the surrounding community.
---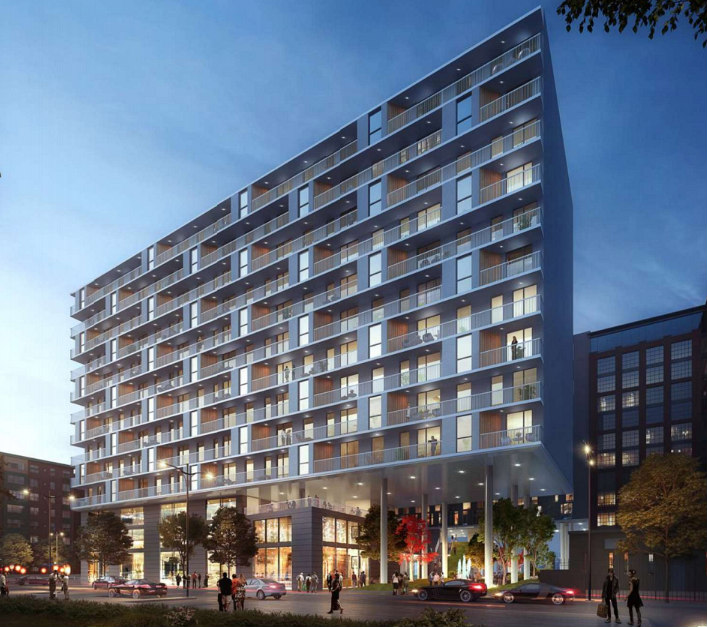 435 Apartments and Room For Ideas
A partnership between Tishman Speyer and Thoron Capital is proposing to construct a 13-story building with penthouse on the site, delivering 435 apartments above 14,000 square feet of retail and arts space, including a retail shop within the residential lobby. The arts portion of the project will front N Street and North Capitol, while the residential portion will front Patterson Street. The project will also include roughly 20,000 square feet of public park space to the rear of the building between N and Patterson Streets.
In lieu of long-term residential parking, there will be a surface lot for rideshare pick-up and drop-off. Of the apartments, 304 will be market-rate, 33 will be available for households earning up to 30 percent AMI and 98 will be available for households earning up to 50 percent AMI. STUDIOS Architecture is the designer.
Compared to the other proposals, this one is intentionally less specific in order to leave room for flexibility and responsiveness to community preferences. For example, no letter of intent has been signed regarding the commercial space yet, although it is currently envisioned as some sort of arts space occupied by organizations like Blind Whino, The Lemon Bowl, Rhizome DC and/or the DC Public Libraries Foundation.
---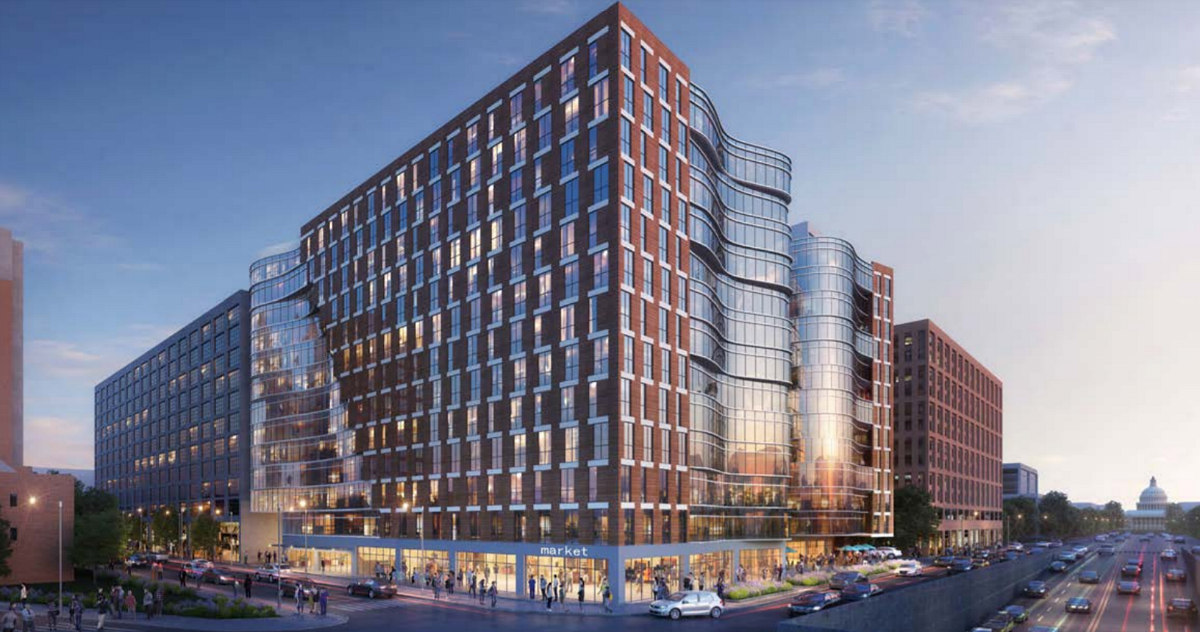 Half-Condos, Co-Working and an Extra Parcel
Monument Realty, Morningstar Community Development, The May Firm and CHP have teamed up for a two-phase proposal that would incorporate the adjacent parcel at 40 Patterson Street NE, for which Monument Realty is under contract. The 2 Patterson parcel would be improved with 400 residential units across an L-shaped wing with rental apartments and an interlocking L-shaped wing with for-sale condos, while the development at 40 Patterson would be appended later.
A Cove co-working location would sit on the ground-floor of the rental portion, while additional retail would sit below the condos at the corner of North Capitol and N Streets; renderings hint at a market for the latter. A boot-shaped public park would face North Capitol Street between both residential volumes and will incorporate a water feature.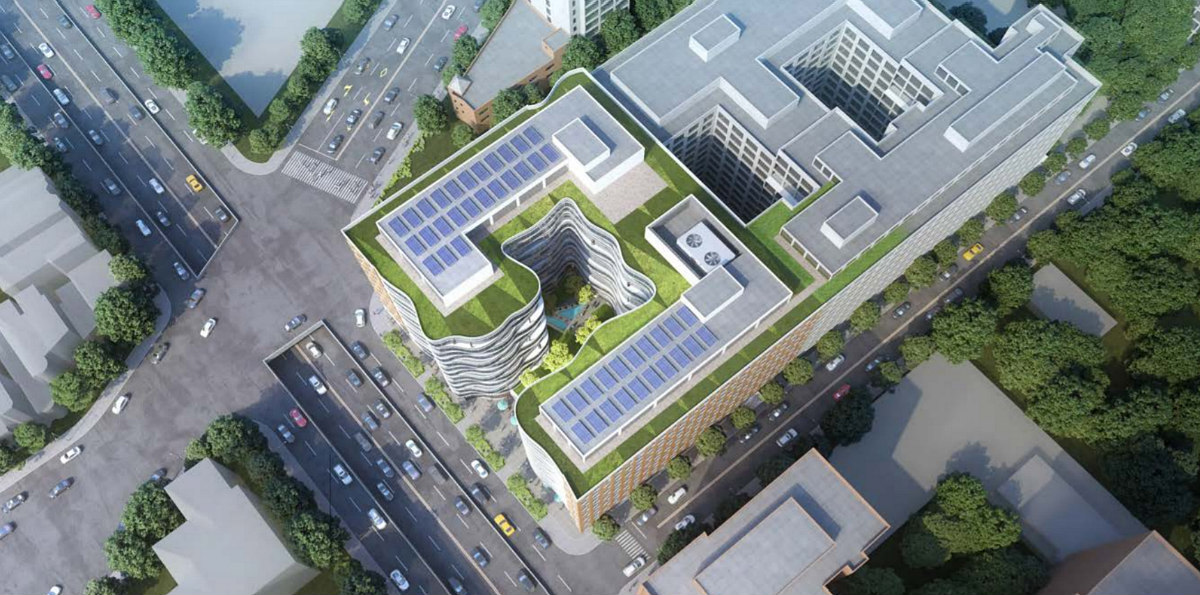 While we are still awaiting details on the overall unit count and mix, 73 of the condos will be affordable (30 for households earning up to 50 percent AMI and 43 for households earning up to 80 percent AMI), as will 98 of the apartments (21 for households earning up to 30 percent AMI and 77 for households earning up to 50 percent AMI). Amenities will include a pool, dog-washing station and indoor and outdoor rooftop space. The project is designed by KGD Architecture.
---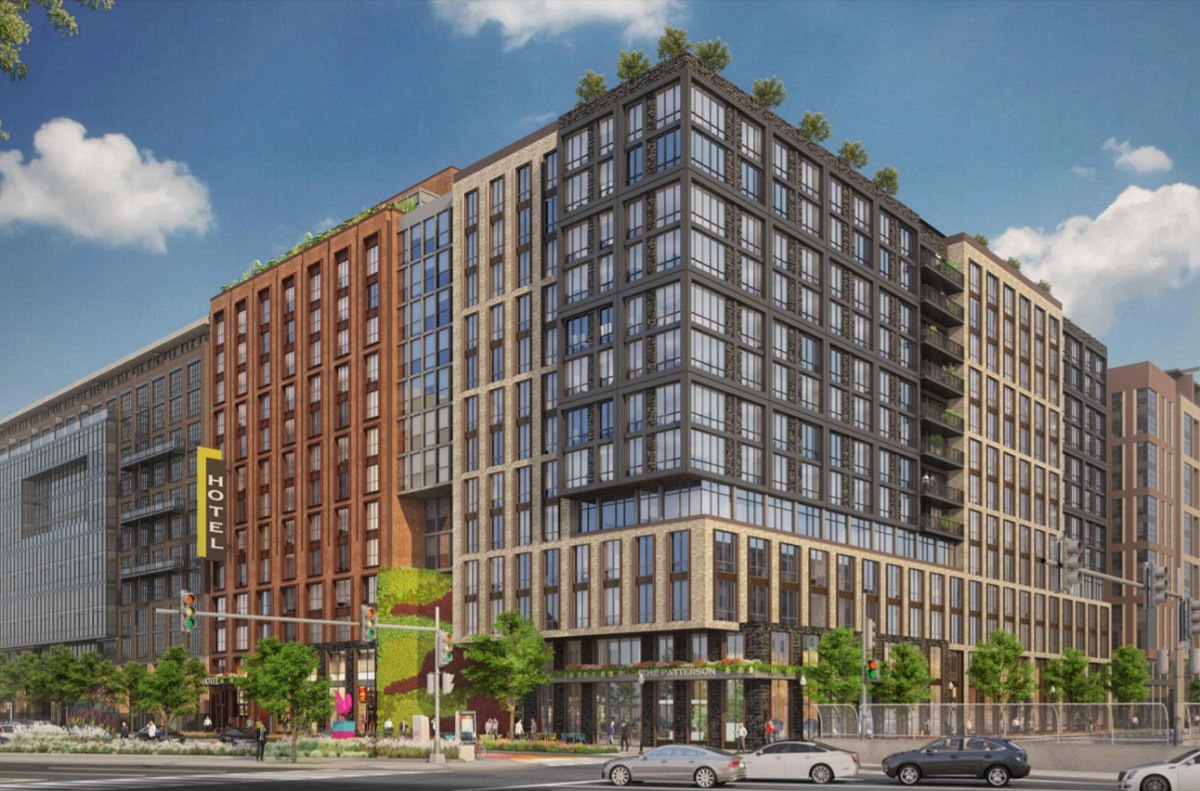 427 Apartments, Improv and Art, A Hotel and a Habitat
Level 2 Development is proposing a building which will deliver 427 rental and for-sale residential units and a 154-room Cambria Suites Hotel, bisected at the street level by the 20,000 square-foot "Patterson Walk" stretching from Patterson to N Street. Fronting North Capitol Street, the rental portion of the development will contain 318 units, 96 of which will be affordable. The for-sale portion of the development will contain 109 units where Patterson Street meets Patterson Walk; 55 of these units will be affordable.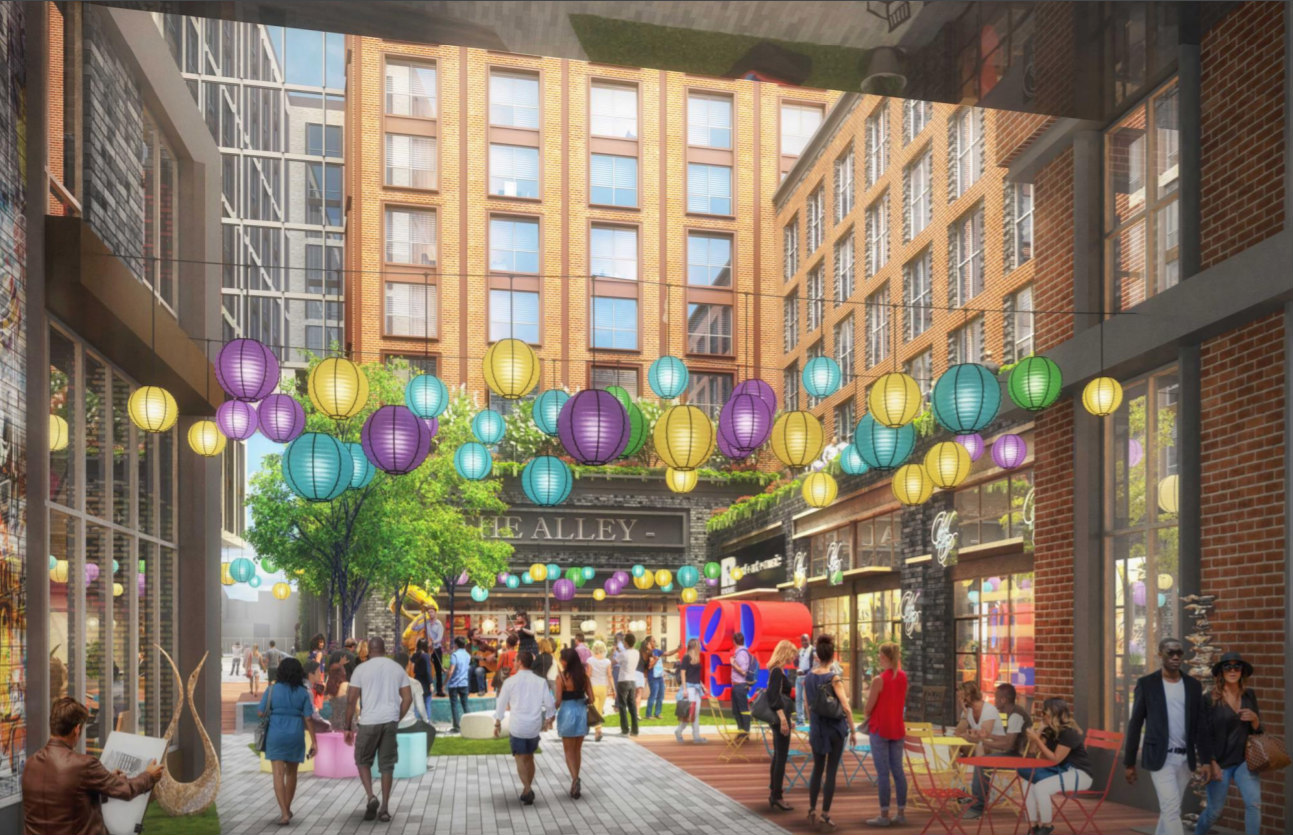 There will be a "NoMa Gateway" art installation along the N Street façade, while nonprofit Habitat for Humanity will occupy the ground-floor of the condo portion of the building. A location of the Washington Improv Theater will be located where N Street intersects with Patterson Walk; an R House restaurant will sit on the opposite side. A below-grade garage, accessible via Patterson Street, will provide 95-120 vehicular spaces.
---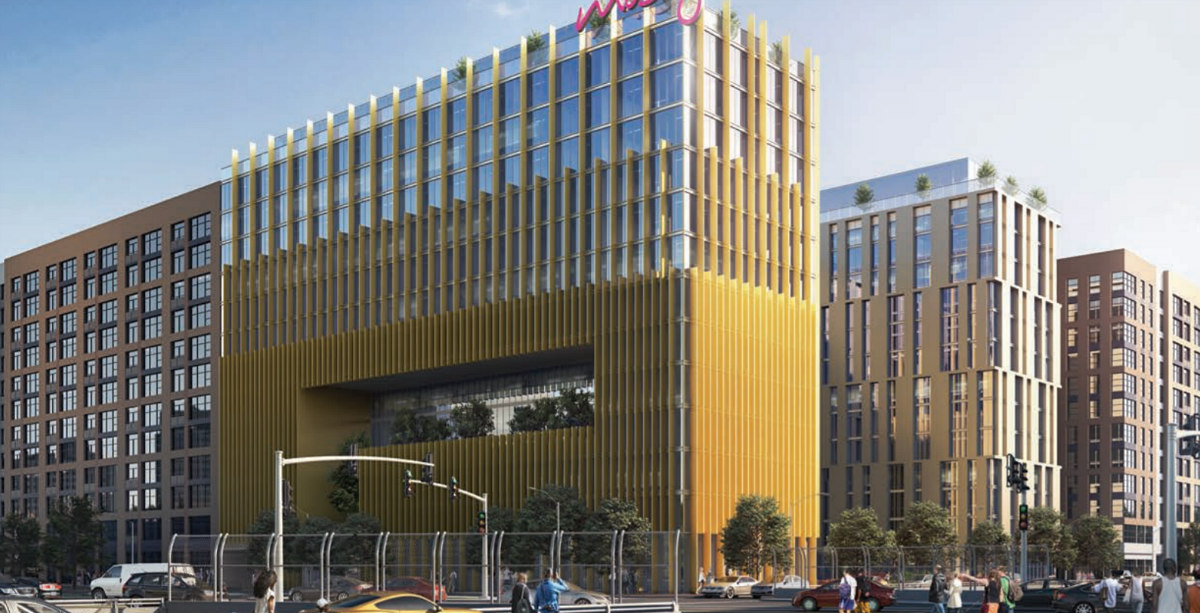 A Central Park and a Convertible Garage
A large team helmed by Republic Properties Corporation, Urban Matters Development and Capstone Development Partners would deliver a 13-story project with penthouse that incorporates a hotel alongside residential. This proposal features a U-shaped building with a 170-key select service hotel fronting N Street and an L-shaped, 228-unit residential wing, surrounding a 11,450 square-foot public park fronting North Capitol.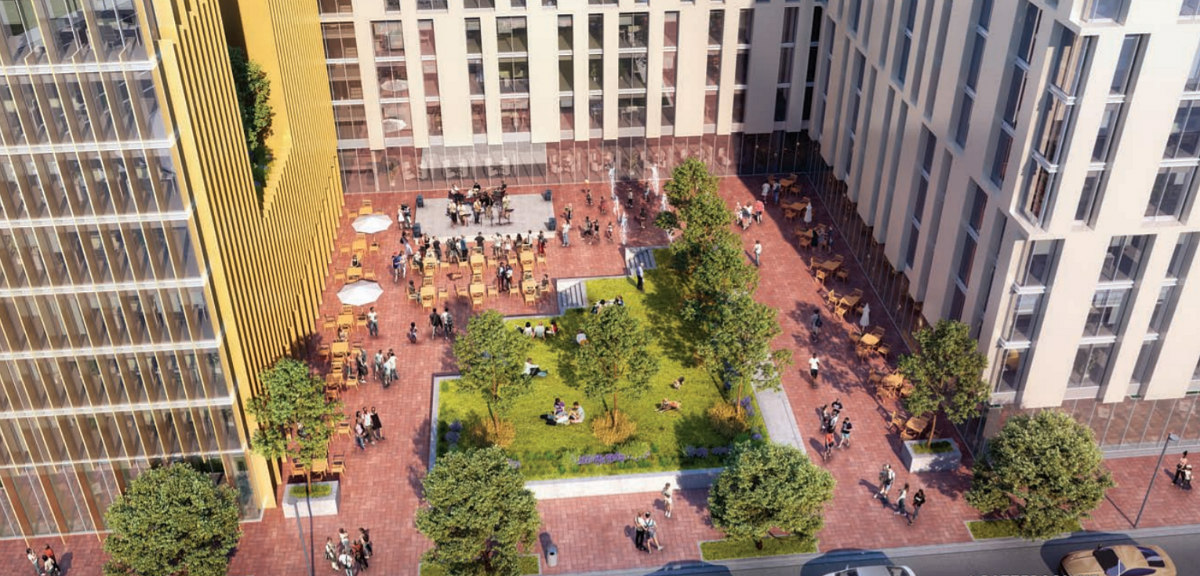 On all three sides of the park, 15,000 square feet of retail will line the ground floor, a portion of which will be a restaurant below the hotel. Seventy of the units will be affordable (75 percent at 50 percent of AMI and the remainder at 30 percent of AMI), including all of the three-bedroom units.
There will also be a level of below-grade parking with up to 220 parking spaces, including the potential for stacked or tandem spaces, constructed with the option to convert into other uses in the future, if needed. Michael Marshall Design is the architect.
This article originally published at https://dc.urbanturf.com/articles/blog/apartments-a-central-park-jose-andres-the-6-proposals-for-a-central-dc-parc/14768.
DC Real Estate Guides
Short guides to navigating the DC-area real estate market
We've collected all our helpful guides for buying, selling and renting in and around Washington, DC in one place. Start browsing below!
First-Timer Primers
Intro guides for first-time home buyers