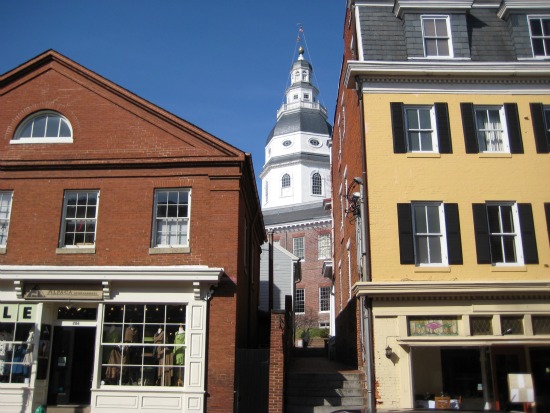 The Maryland State House in Annapolis
Downtown Annapolis may serve as the hub of Maryland politics, but at its heart, it's just a laid back little port town where the preferred leisure activities are hanging out on the area's main drag and sailing on the Chesapeake Bay. The only hitch is that many of the area homes are historic or lie close to the water, so housing prices skew much higher than they would in your run-of-the-mill small town.
Sitting on the Bay
Lying about 30 miles east of DC and sitting on the Chesapeake Bay at the mouth of the Severn River, Annapolis is home to roughly 36,000 people. While some of the town feels like a typical sprawling American burg, the downtown area — which sits on a peninsula jutting out into the bay — has a different flavor.
Bounded on the northwest by Taylor Avenue and an imaginary line reaching from Taylor to College Creek, on the southwest by Greenfield Street, Chase Street, and Spaview Avenue, and on the east by the water, downtown Annapolis is a warren of historic buildings, commercial streets lined with independent businesses, and a variety of homes.
The downtown has a few major focal points: Maryland's capitol, the State House, which lies at the center of the historic district; the harbor; and the U.S. Naval Academy, which has been in the town since 1845 and takes up the eastern end of the peninsula.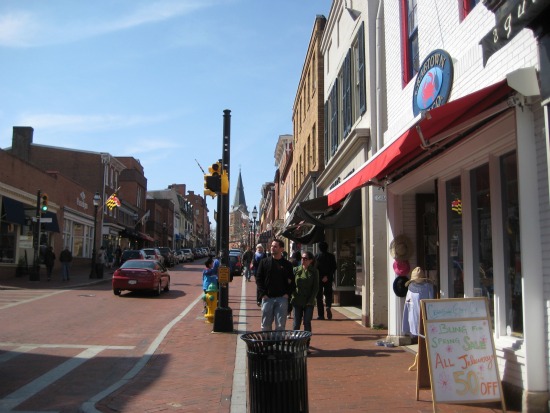 Main Street in Annapolis
Tourists and Annapolitans Mix
Arrive in downtown Annapolis on a sunny weekend afternoon and the place is likely to be swarming with tourists wandering along Main Street, waiting for ice cream in one of the town's parlors, or settling in for a pint in a tavern overlooking the city dock. But look more closely and you'll spot local "Annapolitans" mixed in among the visitors; the two populations tend to overlap pretty often.
"There's a laid back culture here," said John Burke, a tech consultant who UrbanTurf caught painting his porch on a recent Sunday afternoon. "People are very open, and it's very pedestrian centric."
The town is characterized by a mix of residents whose families have been in the area for decades, a bevy of twenty-something midshipmen (and women) enrolled at the Naval Academy, and newer residents who arrived after having lived in DC or Baltimore for a number of years.
Recent arrivals might be bringing their big-city aggression to Annapolis—Burke said he is noticing more traffic and honking lately—but so far, crime hasn't followed. The downtown area does have its share of crime, but almost all of it is in the form of thefts and some assaults. "I've never had a problem, and I've lived here 35 years," said Bonnie Parks, owner of Annapolis Realty. "I don't even lock my car."
This Is What "In Demand" Looks Like
Most of the homes for sale in downtown Annapolis are relatively expensive as there is a limited amount of buildable land, and there is a high demand to live near the state capitol, the bay and in around Church Circle.
Covering an area of about a half-mile in diameter that's centered on the State House, the historic district is lined with 18th century row houses and detached homes that wouldn't look out of place in Old Town. Prices are all over the map and depend on the home's size, condition, and location, according to Parks. For example, a three-bedroom home could be priced as low as $388,000 or as high as $850,000 or more.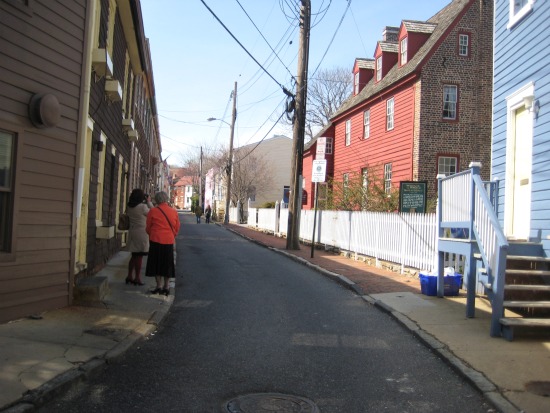 Houses on a side street
Outside of the historic district, homes are newer, but prices still vary considerably. A two-bedroom home near the water could be listed at around $800,000, while another might be $350,000.
The area has a few new condo and townhome developments. Most notably, Acton's Landing, a centrally-located condo and townhouse project built a few years ago where sale prices for two-bedroom condos hover around $725,000, and Park Place, a large mixed-use development lying at the fringe of the downtown area that features an outdoor pool and indoor fitness center. The project's condos are listed at around $450,000 for a two-bedroom unit, and close to $700,000 for a three-bedroom.
There aren't many big multifamily rental buildings in downtown Annapolis, and Bonnie Parks said that area apartments are mostly "in people's homes." Rents are relatively cheap, at least by DC standards; a one-bedroom apartment might go for $1,000 a month, and a two-bedroom could rent for around $1,300.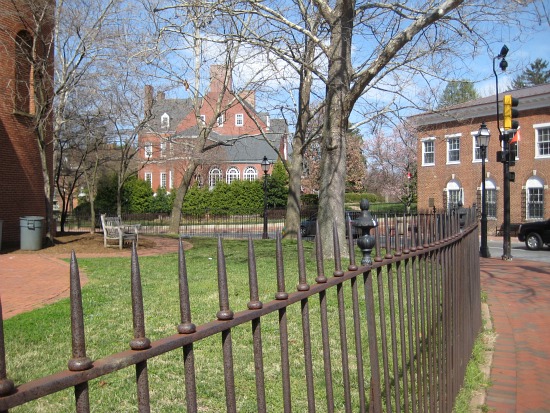 Church Circle
More Downtown to Enjoy
There may have been a time when "Downtown Annapolis" was synonymous with historic Annapolis, as it centered on the shops and restaurants of Main Street like Kilwin's Chocolate and restaurants like Aqua Terra, which features American food with a Japanese twist, and Chick and Ruth's Delly. Main Street is still popular, but in the past few years, West Street, which is the peninsula's main artery, has gradually grown and now competes when it comes to restaurants and hangout spots.
"The borders of downtown Annapolis have really widened with the emergence of West Street," said Parks. "It's a fabulous redevelopment, with lots of new restaurants."
Some of those new establishments include Tsunami (which features sushi, steak, and seafood), the wine bar Crush Winehouse, and 49 West, a popular coffeeshop and art and music gallery.
But although it boasts its share of sophisticated restaurants, Annapolis has a slower pace than the major cities that surround it, which means that going out on the water with a friend or wandering around the neighborhood are some of the more common Saturday activities.
"I do miss the amenities of the city a bit," said John Burke, who moved to Annapolis from DC ten years ago. "There's definitely stuff you don't get here. But instead you get kayaking and sailing."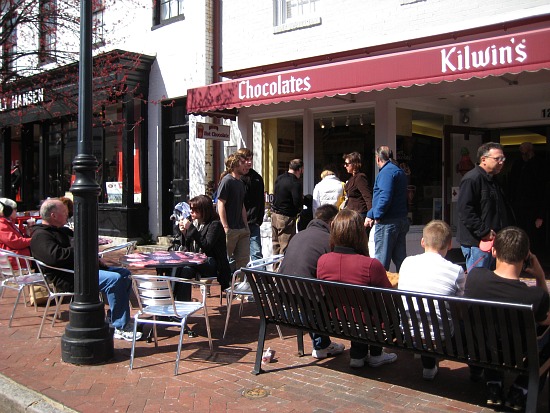 Crowds outside Kilwin's Chocolate
The Parking Problem
Driving around downtown is easy, and the area is a straight shot along Route 50 to DC, and close to I-97 leading to Baltimore.
But parking, residents agree, is generally a nightmare. While the Park Place condo complex includes underground parking, many single-family homes—especially those in the historic district—lack driveways. And on-street parking is hard to come by, especially on the weekends.
Navigating the area without a car is challenging, but doable. Some services are located downtown, but many aren't, and getting to them without an automobile can be tough. Still, Annapolis is served by a newly improved bus system, and four different lines go through downtown and lead to shopping centers and other commercial districts farther out.
The Bottom Line
Its tangible sense of history, small-town charm, and mellow, unpretentious locals are characteristics that have attracted residents to downtown Annapolis for decades. But if you're interested in buying a home in the center of Maryland's state capital, be prepared: most properties cost as much as they would in the nation's capital.
Amanda Abrams is a Washington, DC-based journalist who has written feature stories for The Washington Post, Christian Science Monitor, and Washington City Paper.
Zip code: 21401
Schools: Annapolis Elementary School, Bates Middle School, Annapolis High School
Annapolis real estate data from Redfin
Annapolis rental listings from Craigslist
This article originally published at https://dc.urbanturf.com/articles/blog/annapolis_small_town_living_in_the_state_capital/3291.
DC Real Estate Guides
Short guides to navigating the DC-area real estate market
We've collected all our helpful guides for buying, selling and renting in and around Washington, DC in one place. Visit guides.urbanturf.com or start browsing below!
First-Timer Primers
Intro guides for first-time home buyers