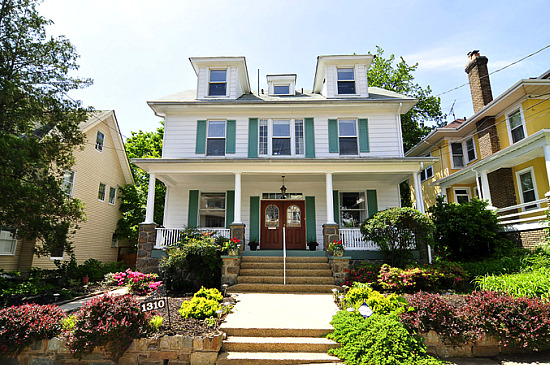 A Home for Sale in 16th Street Heights
16th Street Heights, the quiet residential neighborhood between 16th Street and Georgia Avenue, is perhaps the complete opposite of Columbia Heights, its neighbor to the south. While Columbia Heights has become a business and retail hub in recent years complemented by a slew of new residential developments, 16th Street Heights has virtually nothing in the way of restaurants, bars, stores or new condos. Instead it offers large stately homes in a quiet, green environment with short commutes to downtown. "It makes it a pretty neighborhood to walk around," Judy Keyserling, who bought her 1920s townhouse in the neighborhood's southwest corner in 2005, said. "The streets are broad and the houses are set back far from the street. It has a really open feeling." One similarity with Columbia Heights is that the neighborhood is attracting buyers. Realtor Daryl Laster of The Lance Horsley Team says that 55 homes have sold so far this year in the neighborhood, indicating that the sales pace is "very fast for the current DC real estate market."
Where It Is
The borders of 16th Street Heights are a hot topic of debate among neighborhood residents, but the area we're covering is bounded by 16th Street to the west and Georgia Avenue to the east, with approximate borders to the north of Military/Missouri Avenue and Arkansas Avenue/Webster Street to the south.
In the mid-19th century, the area that is now 16th Street Heights was occupied by the Maple Grove Farm owned by John Saul, who was responsible for improving the grounds around the Mall, Capitol and White House. In the 1920s and 30s, streetcars on 14th Street and Georgia Avenue spurred growth in the area. (The brick facility that housed the streetcars is now home to Metro's "bus barn.") The stretch of 16th Street in the neighborhood is known as "God's Boulevard" for the scores of churches and other religious institutions along the street.
Houses: Larger Space, Lower Cost
Early zoning rules required homes in 16th Street Heights to be fully detached, which sets the housing stock apart from downtown neighborhoods that are dominated by row houses. The homes in the area can be quite large, evidenced by the grand brick colonials and Tudors that line 16th Street. In the eastern section of the neighborhood, there are modest colonial, Victorian and cottage-style houses with front porches, and along the northern edge, you'll find several aging brick apartment buildings, some of which have been converted into condos. The hilly area around Decatur Street boasts several enormous Arts and Crafts and American Foursquare homes, some of which have been very well-maintained and others that could use a can of paint or two.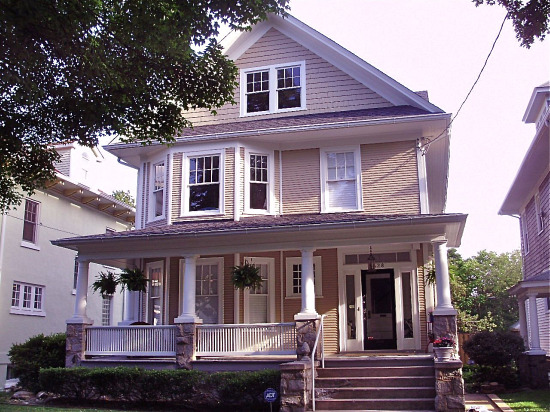 Arts and Crafts Home
The average price of detached homes that have sold in the past six months is $564,000, and $448,000 for row houses, according to realtor Kevin Wood. Finding any two-bedroom homes in the neighborhood will be difficult as most properties are in the three to seven bedroom range. There are 22 houses currently on the market, with asking prices from $351,900 to $1.1 million. Andrew Hamilton bought his three-bedroom home in the neighborhood for $315,000 in 2003. Though he bought near the top of the market, Hamilton still considers it a bargain, especially since he rents the basement. "There's so much more space for the money and it's perfectly located," says Hamilton, who'd moved from Logan Circle.
Condos – Scarce But Cheap
Unlike Columbia Heights, there has been little condo development in 16th Street Heights. Many of the complexes are modest conversions of 1930s apartment buildings like the Art Deco Madison Terrace co-op that was converted in 1980 and the more contemporary Warrenton West, an 18-unit condo development on the border of 16th Street Heights and the Brightwood neighborhood. The Lofts at Brightwood, a project with 32 one- and two-bedroom units in a renovated historic building at Missouri and Georgia Avenues (also straddling Brightwood and 16th Street Heights) is one of just a few projects that is currently selling.
Renting – Not for Luxury High-Rise Lovers
Renting options are limited to single-family homes, English basements and condos. Of the scant five properties rented through the multiple listing service this year, the average price for a three-bedroom/three-bath rental was $2,355/month. The smallest unit, two bedrooms/two baths, rented for $1,975, while the largest was a four-bedroom/four-bath for $3,200.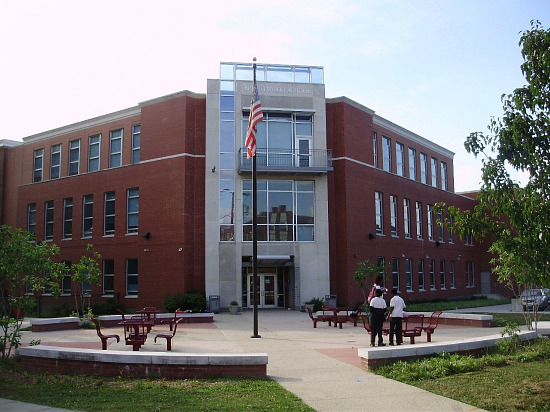 Renovated Brightwood Elementary School
Who Lives Here – Good Deals Drive Diversity
The most recent census figures estimate that 58 percent of the population is African American, 34 percent Hispanic and 5.4 percent white. Those numbers are changing, however, as young families and singles from all socio-economic-ethnic groups join residents who have lived here for most of their lives. (Both Keyserling and Hamilton note that most of the newcomers have young children.) Mayor Adrian Fenty has headquartered his re-election campaign at 5929 Georgia Avenue NW (just outside the borders of the neighborhood) and lives in the neighboring Crestwood area. Households have a median annual income of $53,525, and 27 percent have kids. The median age for residents is 36, and nearly half own their homes, according to The Washington Post. The environment is strikingly suburban (in a good way) compared to the nearby bustle. "You're only two miles from downtown, but people are so much more friendly here, it's more of a family atmosphere," says Hamilton.
Schools – Not the City's Best
Public school options in 16th Street Heights are pretty mediocre, however Brightwood Elementary School was recently renovated. The other public schools serving the area are Powell Elementary, West Elementary, MacFarland Middle and Roosevelt Senior High schools. Private schools include Parkmont, the British School of Washington and the Academy of Ideal Education, an African-American holistic primary, middle and high school. Kingsbury offers special needs education.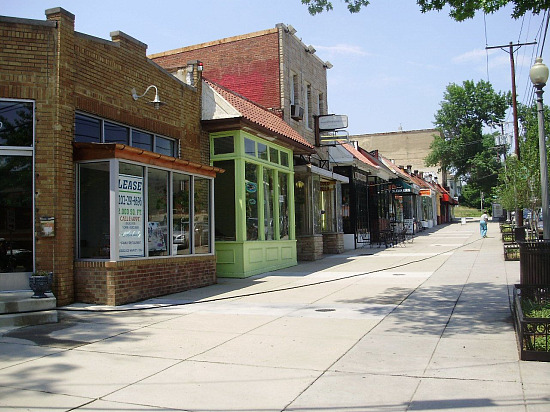 Slim Pickings: The Commercial Corridor of 16th Street Heights
Are You Safe Here?
Residents say they find the area relatively peaceful and DC police statistics show total crime rates have fallen nine percent in the past year, with burglaries plummeting 38 percent. Most of the crime involves property, particularly stolen cars and auto break-ins. Reggie Stroud, who lives next to the Lofts at Brightwood, says that rather gritty quarter has improved since the Ibex nightclub was shuttered. "There's no more drug-dealing, fighting and noise now," says Stroud, a 20-year neighborhood resident.
Business – A Commercial Void
As noted earlier, the neighborhood has little going on vis-á-vis shopping and eating. There are a smattering of take-out food spots and hair and nail shops along Georgia Avenue, but the neighborhood's two-block-long commercial strips on 14th Street -- one at Decatur Street and the other at Colorado Avenue -- offer little. In fact, with the closure of the jazz club Twins Lounge in 1999 and the widely-acclaimed restaurant Colorado Kitchen in 2008, it's going in the opposite direction from its burgeoning neighbors Columbia Heights and Petworth. There are no hints at any major development, but the popular Highlands Café on 14th Street recently applied for a liquor license and a consignment shop moved onto that same block. Still, Andrew Hamilton says he patronizes the corner stores for "emergency food" but like many here, he drives to Adams Morgan or Connecticut Avenue for weekly shopping trips.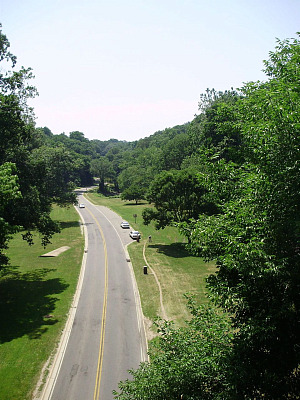 Rock Creek Park
Transportation – No Metro, but Plenty of Buses
Part of the reason that 16th Street Heights is not a wildly popular option for home buyers in DC is because it lacks a Metro station. The closest stations are the Georgia Avenue-Petworth Metro station and the Columbia Heights station. However, the lack of Metro is made up for by the ten bus lines that run through the area: the 70, 79, E2, E3, E4, S1, S2, S4, 52, 54. Silver Spring is a straight shot up 16th Street or Georgia Avenue, putting the amenities offered by that area's downtown within a ten-minute drive from most points in the neighborhood. Street parking is ample and some larger homes have garages. New two-hour parking restrictions near the busy Georgia/Missouri area have improved parking options for residents. A dedicated bike lane on 14th Street and the nearby Rock Creek Park trail make cycling another good option.
Recreation – Great Green Space Offers Urban Relief
Bordering 16th Street Heights are some of the prettiest stretches of Rock Creek Park, and the neighborhood is also home to the Carter Barron Amphitheater on 16th Street that hosts free summertime theater and music events. Those grounds also include the Fitzgerald tennis center and several sports fields. Additionally, the Upshur Park and the Emory and Hamilton recreation centers offer basketball courts and other athletic fields, swimming pools, playgrounds and dog parks. A community garden on Taylor Street provides 40 plots for cultivating flowers and vegetables.
The Bottom Line: Come to Flip, Stay to Live
"Huge." That is how Daryl Laster sums up the value of buying in 16th Street Heights. He says that, despite the low prices, it is such a great neighborhood that many investors come to flip and end up staying. "It's always going to lag because of the lack of a Metro stop and shopping, but it's a tradeoff because you get a quieter neighborhood." So, for those looking for a mostly residential neighborhood just a couple miles from downtown, 16th Street Heights is a charming, affordable enclave within the city borders. Gretchen Cook is a Washington, DC-based journalist whose work has appeared in The New York Times, The Washington Post and Washingtonian Magazine.
Real Estate Agents Serving 16th Street Heights
The following real estate agents are active in 16th Street Heights. Call or email them to get in touch.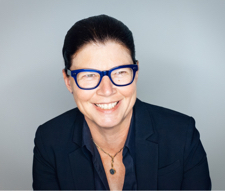 Beth Hughes
Compass
Phone: 202-277-7553
Website: View website
Listings: View listings

More Stuff about 16th Street Heights
ZIP code: 20011
16th Street Heights real estate data and profile from Redfin
This article originally published at https://dc.urbanturf.com/articles/blog/16th_street_heights/2189.
DC Real Estate Guides
Short guides to navigating the DC-area real estate market
We've collected all our helpful guides for buying, selling and renting in and around Washington, DC in one place. Visit guides.urbanturf.com or start browsing below!
First-Timer Primers
Intro guides for first-time home buyers