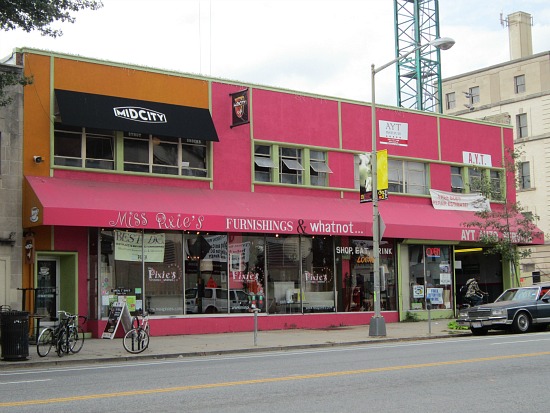 Mid City Caffe and Miss Pixie's
The past week brought news that a number of retail mainstays along a six-block stretch of 14th Street in Logan Circle are closing.
Mid City Caffe, Pulp, and Playbill Cafe all revealed that they would be shutting their doors or moving. This flurry of news came just a few weeks after Miss Pixie's Furniture & Whatnot announced that it would also be moving from its current space at 1626 14th Street NW, making it a somber month for Logan Circle retail.
The building boom along 14th Street over the last few years has been well-documented, and with that development, the area has seen a surge in nightlife-oriented establishments. Consequently, many businesses that aren't catering to a dinner and drinks crowd have struggled. In light of recent news, UrbanTurf spoke with some daytime-focused businesses along the strip to see whether or not they feel the pressure of the burgeoning bar and restaurant scene.
To adjust to the changing landscape, Danny Jean-Jacques, general manager of ACKC chocolate shop at 1529C 14th St. NW (map), said that the shop has shifted its focus to draw more nighttime business, with a more cafe-like set up, open mic nights on Mondays, and small shows on Saturdays. (He added that the chocolate-focused cafe is not closing, as was mistakenly reported earlier this month.)
"The mom and pop shops come and go, making way for bars," Jean-Jacques said. "We're definitely trying to take advantage of that."
A block away, Mia Worrell, co-owner of Timothy Paul Bedding at 1529A 14th St. NW (map), felt differently. Worrell said she knows that things like restaurants, banks and pharmacies are attractive to landlords, but she hears from clients all the time who want more basic businesses in the neighborhood. For example, one client lamented the lack of a place to buy things for a baby; Worrell has since co-opted a section of her store to carry baby clothes and bedding.
But Elsayed Monsour, co-owner of Playbill Cafe (map) — a business that has had a largely nighttime clientele since it opened more than 13 years ago — says the neighborhood doesn't support daytime-focused businesses very well.
"I don't think the area really needs more clothing stores as I don't think the ones that are here are doing well," Monsour says.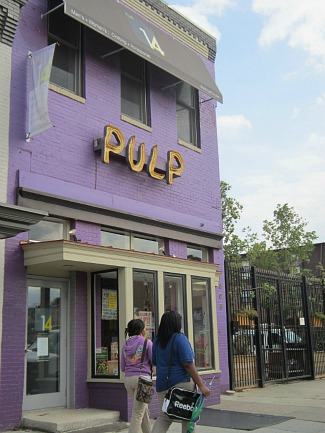 Pulp
Rather than a day versus night issue, Monsour sees the narrative of 14th Street as a far more familiar one: that of new versus old, and high rent versus low. "Our area is moving in the right direction, but unfortunately, the neighborhood joints, the old places, can't stay," he says. "It's very expensive, and I cannot pass that on to my customers."
Relocating within the neighborhood can be tough, given the rent. When Miss Pixie's Furniture & Whatnot found out it had to move, owner Pixie Windsor started looking at spaces north of Columbia Heights because the rents in those areas are much more in line with her business model.
"I can't find anything (in Logan Circle) that's not $50 to $75 per square foot, and I'm looking for more like $10," she told UrbanTurf. "It's such a double-edged sword. DC is prospering, and my business has just been explosive here. But now I might have to move to where that's not going to be the case."
Monsour and his partner, Jeffrey DeMontier, are optimistic about keeping Playbill near the Logan Circle neighborhood, however; they're looking at spaces around 9th, 10th, and 11th Streets NW — off the main 14th Street drag. "It's the nature of our business, of all business, really," he said. "When the time comes, you have to move."
And where those older businesses leave vacancies — such as the space that Go Mama Go! used to occupy a couple stores down from Pulp — there are also opportunities.
"In any neighborhood in transition, a lot of restaurants come in and it does push some people out, but it also attracts people like us," says Chris Davis of Current Boutique, the consignment clothing store that moved into that same space at 1809 14th St. NW (map).
Davis' wife and business partner, Carmen Lopez, disputes claims about the low weekday foot traffic in the area, saying they've been pleasantly surprised by the business at the new store. "It's actually exceeded my expectations, in terms of shoppers," she said, adding that she's had to increase staff during the week.
While surprised to hear about nearby businesses closing, she thinks that it is the restaurant-level rent, not the lack of patrons, that is the cause.
"Landlords have stars in their eyes when they see what a restaurant pays," she says. "It's a whole different ballgame than it was 10 years ago."
This article originally published at https://dc.urbanturf.com/articles/blog/14th_streets_growing_number_of_retail_casualties/4256.
DC Real Estate Guides
Short guides to navigating the DC-area real estate market
We've collected all our helpful guides for buying, selling and renting in and around Washington, DC in one place. Start browsing below!
First-Timer Primers
Intro guides for first-time home buyers