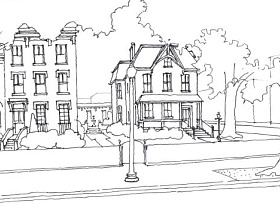 Sketch of 1922 3rd Street NW
LeDroit Park's housing stock is known primarily for the James McGill-designed, Victorian homes that the local developer built in the 1870s. Fifty of the original 64 McGill properties are still standing in the neighborhood, but one is about to get renovated, as well as a 21st century neighbor.
Greater Greater Washington is reporting that Community Three Development presented a concept at a recent ANC meeting to renovate the main house and carriage house at 1922 3rd Street NW and add a new, small residential development on the existing land. You may have seen Community Three's work around town as they are responsible for The Nine condos and the soon-to-be finished M Street Flats in Mount Vernon Triangle.
The new project will have 14 residential units, one of which will be set aside for affordable housing.
Here is how Community Three described the design for the project:
"…creates an addition to the existing main building that is smaller in scale and secondary to the main building, allowing the main structure to continue to read as the dominant form on the site. This addition terminates in a "carriage house court," designed to celebrate the existing carriage house, while maintaining the historic structure's existing view corridor from U Street. A new unsubdivided townhouse lot and structure is created to terminate the row of townhouses directly to the south of the site. The result of these interventions preserves and enhances the character and urban form associated with the main structure and corresponding carriage house."
This article originally published at http://dc.urbanturf.com/articles/blog/new_residential_project_for_ledroit_park/1850