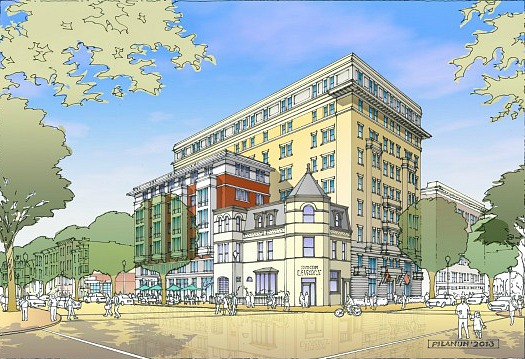 11th and M Streets NW. Courtesy of Torti Gallas
On Thursday, the Historic Preservation Review Board (HPRB) approved the concept for an 80-unit condo project that Community Three Development has planned for the corner of 11th Street and M Street NW.
As we reported in February, the project would wrap around an existing laundromat on the corner and consist of one structure that appears to be two buildings, one nine stories tall with yellow brick facing M Street NW, and the other six stories tall and composed of red brick, facing 11th Street NW.
The Historic Preservation staff had requested that Community Three reverse the two blocks, putting the taller, classical building on 11th Street NW and the shorter red building on M Street. Community Three presented both the original plan and the revised option to HPRB, pointing out what they believed were the main disadvantages of the latter: the new layout made it more difficult to bring light to certain units, and the main entry of the building would be on the shorter side, now on M Street, which Community Three found to be confusing.
The committee unanimously voted to approve the original plan, though several members requested that the developers work harder to make the transition from one building to the next look more like two separate buildings.
Vision McMillan Partners (VMP) also went before the Historic Preservation Review Board on Thursday to present their newest plans for the redevelopment of the McMillan sand filtration site. After listening to three hours of testimony, HPRB decided to hold off on a decision about the site until their next meeting. Though HRPB didn't make a decision, the Historic Preservation staff, who has been working closely with VMP, was able to present their recommendations.
"It is a substantial improvement" upon the last plan, said Steve Callcott of the Historic Preservation Office.
The most notable change in the newest plan is the park. Before, a central 3.4 acre park was joined by several other smaller green spaces distributed throughout the site; in the new plans, a 6.2 acre park sits at the southern edge, rather than in the center. "The park is no longer internal to the McMillan project, but becomes the common space of the neighborhood," Callcott said. "It is a far superior location and concept."
Other changes include building apartments on top of the planned grocery store. Callcott said some of the buildings now extend into the footprint of the Olmsted perimeter walk, necessitating some of the path to exist on publicly owned sidewalk. In the HPO staff report, he urged the developers to continue thinking about how to improve the walk in these areas.
In their final thoughts of the day, the developers urged HPRB to hold off on considering some of the more highly detailed elements of the plan, which would become clear in future meetings as the developers come forward with more targeted plans.
This article originally published at http://dc.urbanturf.com/articles/blog/80-unit_condo_at_11th_and_m_approved_more_details_on_mcmillan_redevelopment/6892