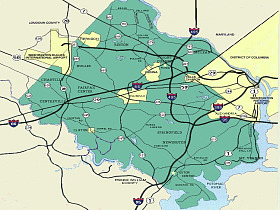 Fairfax County
In the continuing battle for who is DC's better neighbor — Fairfax County or Montgomery County — the Virginia county just hopped into the lead.
The Washington Post reported today on a comprehensive study of Fairfax County that was compiled by two Montgomery County government staffers over a period of several months last year. The results show that residents of Fairfax County are richer, taxed less, and have a better job economy and higher property values than their Montgomery County counterparts.
The Post alluded to the report as something of wake-up call for the Maryland county's future:
Montgomery officials described the effort as a friendly attempt to learn how the Washington region's biggest county manages its affairs. But the burb-on-burb statistical bake-off also represents something of a proxy in the struggle among Montgomery officials over the county's future growth.
Here are how the two counties lined up against one another in some key categories of the "burb-on-burb statistical bake-off."
| | Montgomery County | Fairfax County |
| --- | --- | --- |
| Median Income | $94,000 | $107,000 |
| Median Housing Value | $489,400 | $523,600 |
| Unemployment Rate | 5.2% | 4.7% |
| Median Housing Sales Price | $395,000 | $371,000 |
| Foreclosure Rate | 2.4% | 3.3% |
| Personal Income Tax | From 5.2 to 9.45% | From 2 to 5.75% |
This article originally published at http://dc.urbanturf.com/articles/blog/in_a_statistical_bake_off_fairfax_trumps_montgomery_county/1721