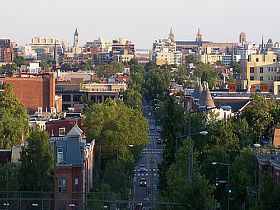 Columbia Heights
The Columbia Heights neighborhood is going to get more affordable condominiums in the coming months. DCmud is reporting that Manna Inc., a DC-based affordable housing provider will begin work later this summer/early fall on the Cardozo Court Condominiums, a 15-unit condo development that will offer units starting at $175,000.
The development, located at 1343 Clifton Street NW (see map here), will have one-bedroom units starting at 551 square feet and two-bedroom units up to 1,025 square feet. According to DCmud, eligibility is limited to local residents making less than 60 percent of the area median income.
While there is no word on the amenities that Cardozo Court will offer (if any), the project will be built in line with Enterprise Community Partners' "Green Communities Criteria" – a program aimed at certifying eco-friendly, affordable housing. If you would like more information about the project, call Manna's Griselda Martinez at 202-832-1845.
See other articles related to: dclofts
This article originally published at http://dc.urbanturf.com/articles/blog/columbia_heights_to_get_more_affordable_condos/904