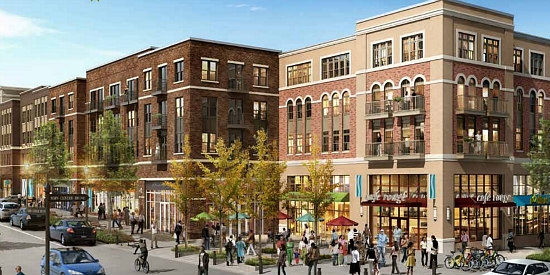 Skyland Town Center
Skyland
Skyland Town Center
Development of the 18.5-acre site where Naylor and Good Hope Roads SE intersect with Alabama Avenue SE. The project features 130,000 square feet of retail, hosting in part the city's first Lidl grocery store and a medical office building. The first phase of the W.C. Smith led development is expected to deliver 263 apartments and 84,500 square feet of retail. The rest of the development will include a four-story medical office building, 252 units above 7,140 square feet of retail, and an Arts Walk along Naylor Road curated by Building Bridges Across the River. The development is a partnership between W.C. Smith and Rappaport.
What?
Project type: Rental apartments
No. of units: 515
Types of units: TBD
Amenities: Community amenities including pool, 248 residential parking-spaces
Website: www.skylandtowncenter.com
Architect: Torti Gallas Urban
Last updated: December 6th, 2021
Where?
Address: Good Hope Road SE and Alabama Avenue SE
Washington, DC 20020
When?
Status:Delivered, Leasing Up
First move-ins: 2021