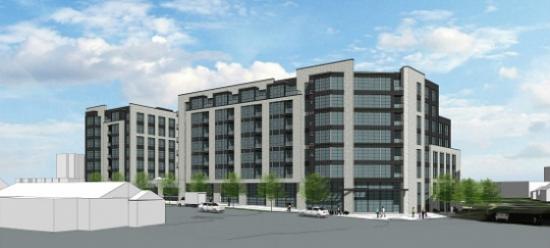 8015 Old Georgetown Road
Downtown Bethesda
8015 Old Georgetown Road
JLB Realty is working to replace the Christ Lutheran Church at 8015 Old Georgetown Road with a new church facility and a mixed-use development. The 90 foot-tall development would have 224 apartments, 73 live/work units, and up to 6,000 square feet of amenity indoor/outdoor co-working space to the 2.5-acre site. Thirty of the apartments and 15 of the live/work units would be MPDUs, and the overall unit mix will be one- and two-bedrooms. The development would also include up to 298 parking spaces and 95 bicycle storage spaces. SK+I Architecture is the designer.
What?
Project type: Rental apartments
No. of units: 297
Types of units: TBD
Architect: SK+I Architecture
Last updated: March 8th, 2023
Where?
Address: 8015 Old Georgetown Road
Bethesda, MD 20814
More Photos...