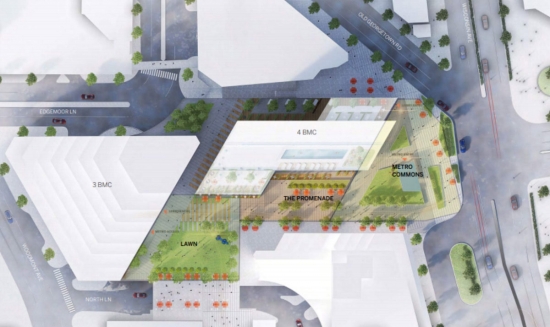 4 Bethesda Metro Center
Downtown Bethesda
4 Bethesda Metro Center
At the end of 2019, the planning board approved a preliminary plan application by Brookfield Properties to add a 290 foot-tall building with 479 apartments atop the Metro station at 4 Bethesda Metro Center. However, it may take a couple more years before much else happens. In 2022, the planning board passed a resolution granting the developer until October 2024 to submit a site plan application. As previously-approved, the building would also include up to 20,600 square feet of ground-floor commercial space, and at least 15% of the apartments will be MPDUs. The project will also include 107 resident bicycle spaces, a 42,000 square-foot public plaza, and improvements to the configuration of the station.
What?
Project type: Condo or Rental - TBD
No. of units: 479
Types of units: TBD
Last updated: April 6th, 2023
Where?
Address: 4 Bethesda Metro Center
Bethesda, MD 20814
More Photos...