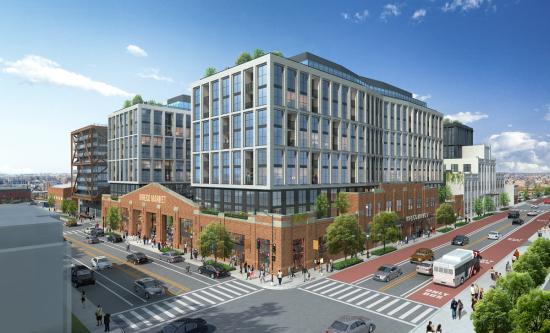 Bond Bread Redevelopment
Pleasant Plains
Bond Bread Redevelopment
The Bond Partnership, consisting of the Menkiti Group, Fivesquares Development, and EDENS, will transform the Bond Bread Factory and Washington Railway & Electric Company (WRECO) buildings into a 600,000 square-foot mixed-use destination. The development will include 472 residential units, 180 hotel rooms, 50,000 square feet of largely street-facing retail and a nearly 20,000 square-foot public plaza. The new development plans to incorporate several aspects of the existing buildings into the new project, including the trusses from the WRECO building that will sit thirty feet above the public plaza and the original columns from the Bond Bread building. The team also envisions several outdoor uses throughout the project, including dining space and seasonal markets along V Street, as well as film screening and performance space along W Street. The central public space will have a number of access points, including a "secret" passageway off Georgia Avenue, according to the development team.
What?
Project type: Condo or Rental - TBD
No. of units: 472
Types of units: TBD
Architect: STUDIOS Architecture
Last updated: February 17th, 2023
Where?
Address: 2112-2146 Georgia Avenue NW
Washington, DC 20001
More Photos...