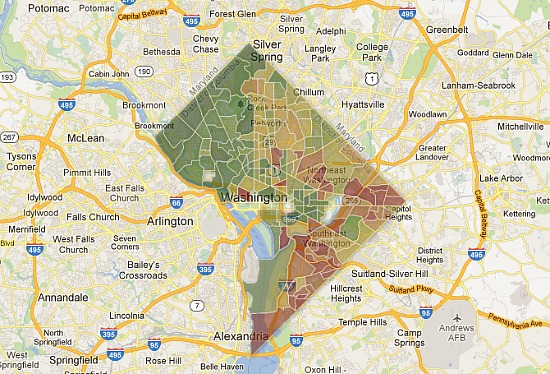 Courtesy of Rich Blocks, Poor Blocks.
Driving around DC, one can get a general sense of which blocks feel wealthier than others. Now, a new map provides a glimpse into the income breakdown of neighborhoods throughout the city.
Rich Blocks, Poor Blocks uses Census data from 2006-2010 to map out the median income of neighborhoods around the country. The scrollable, zoomable map fills in each area — bounded along Census tract lines — with a color scheme ranging from red to dark green to illustrate comparative wealth.
The greener an area, the higher its median income: the darkest green indicates a median income of at least $134,901, while the purest red means that the area is struggling with poverty, with a median income of $22,598 or less.
UrbanTurf spent quite a bit of time perusing DC's map, and wanted a share a few observations about the income breakdown of the city, many of which fall in line with the changing face of DC over the last decade.
On either side of 16th Street NW.
16th Street is a dividing line.
The Northwest quadrant is generally greener than the rest of the city (no surprise there), but the starkest dividing line is 16th Street NW. To the west of the avenue, the greens are quite deep; to the east, the areas are often yellow, sometimes even tinged with red, indicating a lower median income.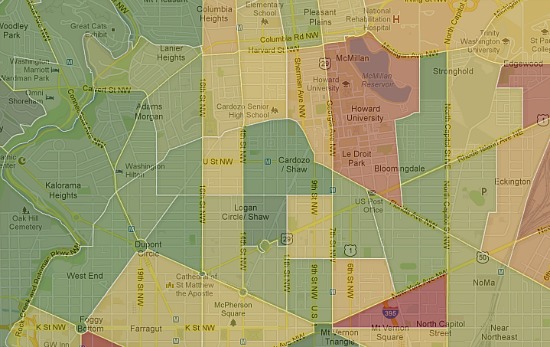 Logan Circle stands out.
Logan Circle and the U Street Corridor stand out.
Zooming into the center of DC, the greenness of two areas pops out: Logan Circle and the U Street Corridor. People often talk about how development is moving east, but the increasing wealth in the two hip neighborhood make them stand out. All the surrounding tracts are lighter in color.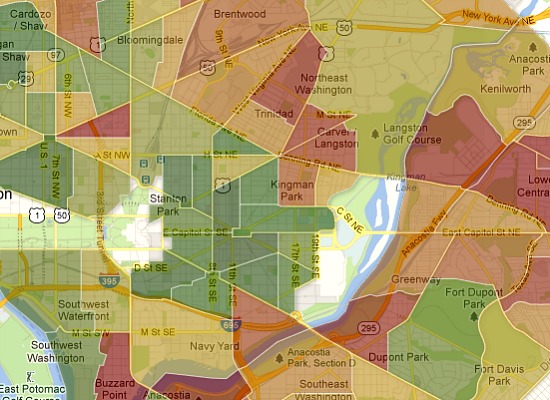 Capitol Hill's wealth is spreading.
While the expected areas on Capitol Hill are solidly green, it's interesting to note that even sections to the east and north of Capitol Hill proper are full of wealthy residents. Hill East, all the way to 19th Street and the Armory, is almost as green as the area around Lincoln Park, and the wealth seeps north to the H Street Corridor and just beyond.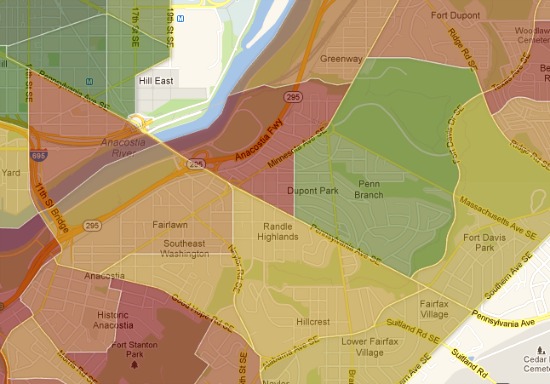 Both dark red and bright green in Wards 7 and 8.
East of the river neighborhoods range widely.
While Wards 7 and 8 have the most red areas on the map, there is some variability. Red covers areas near Anacostia and Congress Heights, but Hillcrest is yellow, tinged towards the green, and Dupont Park is quite a bright green.
A few anomalous areas pop up on the map: the blocks surrounding universities, like Howard and George Washington, show up as starkly red, likely due to the lack of income of the students living there. Some non-residential areas — the Mall, the Capitol — are whited out, but others, like parkland, are not. Still, the map is pretty fascinating.
This article originally published at http://dc.urbanturf.com/articles/blog/where_are_dcs_richest_and_poorest_neighborhoods/6478