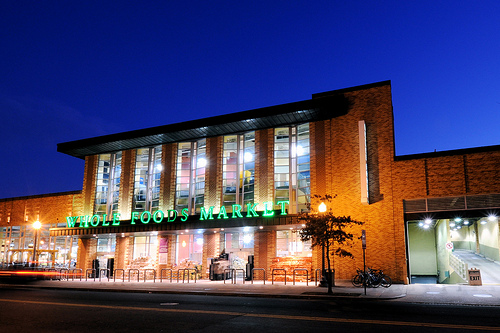 Whole Foods in Logan Circle. Photo courtesy
M.V. Jantzen
.
"The consumer really follows the shopping cart. When the grocery store happens, it just explodes."
So says David Mayhood, recognized in local real estate circles as the father of new condo marketing and sales. He was quoted by Housing Complex's Lydia DePillis in a post about how grocery stores in DC are better integrated within neighborhoods than their counterparts in Northern Virginia and Maryland, where grocery stores are typically the anchor of standalone strip malls.
Mayhood's point is that a grocery store is oxygen for new or resurgent areas, and causes the real estate to — pardon the pun — fly off the shelves. Recent examples abound: the "urban lifestyle" Safeway in the ground floor of CityVista at 5th and L Street NW is always one of the first amenities cited by residents of Mount Vernon Triangle. In rapidly changing but oft-overlooked Southwest, the neighborhood is abuzz over the sparkling new renovation of an existing Safeway that was long derided as sloppy and understocked. The Jenkins Row Harris Teeter on Pennsylvania Avenue in Capitol Hill helped sell the 250+ units in that condo project.
And of course, the most obvious example of all, Whole Foods on P Street in Logan Circle, which is widely credited with catalyzing the redevelopment of what has become one of DC's hottest neighborhoods.
At risk of stating the obvious, homebuyers currently shopping DC should keep Mayhood's observation in mind, especially those who will view their place not only as a home but as an investment. Buying in an area with a planned but not-yet-built grocery store would seem like a good strategy. (H Street, anyone?)
This article originally published at http://dc.urbanturf.com/articles/blog/grocery_stores_make_neighborhoods_explode/2020