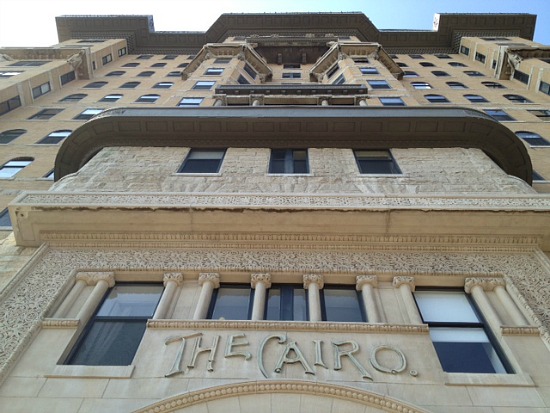 The Cairo, one of DC's tallest residential buildings.
Over the past year, the debate regarding the city's Height Act, a federal law that limits the height of buildings throughout the city, has heated up. Would taller buildings increase office and residential space and bring down rents? Would less of a height restriction allow builders more creativity, and would we see fewer boxy structures that maximize square footage?
While the city's comprehensive plan and zoning regulations governing height will not be changing anytime in the near future, the city has launched a study to investigate just how appropriate the Height Act still is to the city. In the fall, the National Capitol Planning Commission and DC's Office of Planning announced the start of the Height Master Plan study. Tonight, they will hold their first public meeting at the Petworth Library.
Ultimately, the group is interested in figuring out of if DC's Height Act, which is 100 years old, is still working. The first goal of the study, said NCPC project manager David Zaidain, is to determine if there are areas of the city where adjusting the height act wouldn't impact federal interests.
"We have this federal law that is right now applied District-wide," said Zaidain. "It's applied the same way in Friendship Heights as it is next to the National Mall as it is in outer SE or NE." If there are portions of the city that don't have an effect on what is considered a national interest, perhaps those areas could be relieved from the federal Height Act and left to the discretion of local zoning regulations, thinks Zaidain.
Researchers involved with the study will also be modelling various possibilities, virtually adjusting height levels in various parts of the city and looking at perspectives from different vantage points. The results of this modelling will be released to the public in the summer.
Another aspect of the study is cross cultural: they will be looking at how different cities around the world manage the issue of height. "Whether it is a city like Paris, which has some similarities to DC, or a city like Vancouver, which has very tall buildings, or London which has clusters of high-rises, each city has taken a different approach to managing height," said Zaidain.
Tonight, the NCPC will be discussing the larger goals of the plan with the public and soliciting feedback at this early stage. They have posted a few initial questions on their website with the hope that attendees will take a look and come to the meeting with thoughts. UrbanTurf will follow up with an account of the meeting tomorrow.
This article originally published at http://dc.urbanturf.com/articles/blog/could_the_height_act_be_modified_a_study_launches/7055