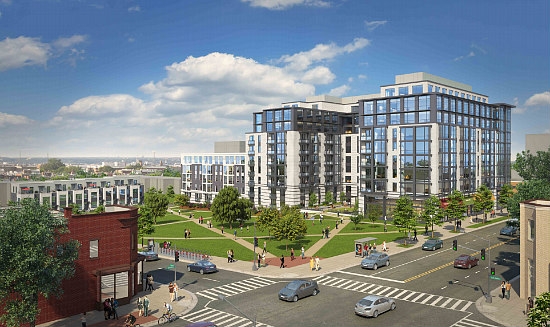 Park Morton Phase I
Park View
Park Morton Phase I
Park Morton, led by Park View Community Partners (The Community Builders and Dantes Partners), involves two sites along Georgia Avenue. The three-part project originated with the New Communities initiative and intends to replace the Park Morton public housing complex with a mixed-income community, designed by Torti Gallas Urban. The first phase will redevelop the site of Bruce Monroe Community Park with an 189-unit apartment building facing Georgia Avenue, a 76-unit senior citizen apartment building on Irving Street, and 8 three-bedroom rowhouses.
What?
Project type:Rental apartments
No. of units:265
Website:No website available.
Last updated:September 22nd, 2016
Where?
Address:Irving St NW & Georgia Ave NW
Washington, DC 20010
More Photos...