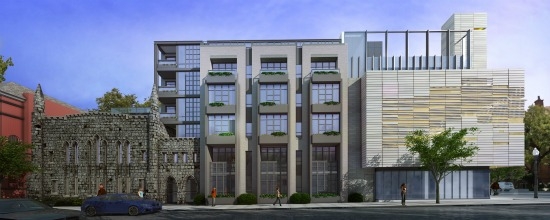 St. Thomasí Parish Church Redevelopment
Dupont Circle
St. Thomasí Parish Church Redevelopment
St. Thomas' primary building burned down decades ago, and since then, the church has allowed the public to use much of the vacated space as a park. A new building, designed by CAS Riegler and architect Hickok Cole, is being constructed on the site where the old one used to stand, and the church is selling off part of their land to pay for it. The building will be 70-feet tall and include 56 residential units.
What?
Project type:Condos
No. of units:56
Amenities:36 parking spaces
Website:No website available.
Last updated:December 23rd, 2015
Where?
Address:1772 Church Street NW
Washington, DC 20036
When?
Status:Planned
Delivery:TBD
Sales begin:TBD
More Photos...