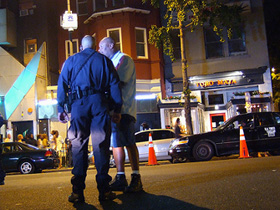 Police in Adams Morgan by Neel Cooler
Back in September, we wrote a piece about the alarming increase in robberies and assaults in Adams Morgan. As it seems like the situation has gotten noticeably better in recent months, we thought it would be a good idea to revisit the issue and see if things had improved. Do you think things have gotten better? Let us know in the comments section.
(Originally published on September 29, 2008)
In the early morning hours of August 30th, a close friend of UrbanTurf was at the corner of 18th Street and Columbia Road in Adams Morgan when he felt someone jump on his back with force far heavier than a friendly piggy-back. The next thing he remembers is regaining consciousness and being helped to his feet by several concerned onlookers who told him he had just been knocked unconscious by a group of young men. Despite his injuries (a busted lip and a few bruises), the assailants had rifled through his pockets but taken nothing.
On September 21st at 10pm, another friend of UrbanTurf was watching a movie at an apartment on 19th Street and Kalorama Road when he heard some noise outside. Thinking it was just the usual drunk rabble that Adams Morgan is known for, he ignored it. Then it became clear that one voice was desperately crying for mercy. When he looked out the window, he saw four men pummeling a man on the hood of a car. The beating would've continued had it not been for the headlights of an SUV that caused the group to scurry away. As the victim was carted off in an ambulance, a group of angry neighbors voiced their frustration at how frequent this type of violence has become in the neighborhood.
This is not the Adams Morgan that most people know. Unless you live in the neighborhood or have been a victim of one of these assaults, your vision of Adams Morgan is probably that of draft beer and late-night pizza not unsafe streets and late-night beatings. However, the area has seen an alarming increase in crime, particularly assault and robbery, over the past year.
Earlier this summer, a 25 year-old political blogger was shot in Adams Morgan during an attempted robbery. In late August, a man was severely beaten by a group of men in an apparent hate crime. It remains unclear whether these incidents are the result of the area's growing gang culture, excessive alcohol consumption on weekend nights or just a new culture of violence. What is clear is that a neighborhood that has long been considered one of DC's premier nightlife destinations could be garnering a new reputation as a dangerous place to live.
In August, the Washington Business Journal published an article entitled "The Hunt for the Next Hot Spots." In it, the author notes that the violent crime rate in Adams Morgan was actually higher in 2007 than in downtown Anacostia, a zip code that has historically been associated with crime. In 2007, DC police recorded 22 violent crimes and 58 property crimes in downtown Anacostia compared to 60 violent crimes and 267 property crimes in Adams Morgan.
This trend seems to be continuing. In the last thirty days, there have been ten robberies and five assaults in downtown Anacostia, according to CrimeReports.com. In that same period, there have been 15 robberies and six assaults in Adams Morgan. To put those numbers in perspective, there was just one robbery reported in the Georgetown and Foxhall neighborhoods during the last thirty days.
Because of their code of ethics, real estate agents cannot talk about how dangerous a certain neighborhood might be, and therefore none were willing to talk on the record about safety in Adams Morgan. However, the stats above are telling, as are recent numbers regarding home sale prices in the area. For the quarter ending in August, the median sales price for homes in Adams Morgan was down almost 25 percent to $429,450 from the previous quarter. It is impossible to know if there is a correlation between the decrease in sale prices and the increase in crime, but it seems plausible.
Calls to Jim Graham, the city councilman for Adams Morgan, to see if any measures were being taken to curb the violence were not immediately returned. However, a message from police commander George Kucik in late July indicated that the police presence was being increased in the Adams Morgan neighborhood and that a "Crime Suppression Team that concentrates on robberies and other violent crimes throughout the Third District" was being implemented.
If you are having trouble getting a read on the safety level in neighborhoods where you are interested in buying a home, here are some things to keep in mind.
Look at websites that track crime statistics in various zip codes. Sites like CrimeReports.com regularly update statistics in a variety of crime-related categories.
Scan the neighborhood weblogs. DC has some amazing local blogs (RenewShaw, Prince of Petworth) that serve as mini-AP wire services for all types of neighborhood news. When crime increases, these blogs serve as great forums for discussion.
Walk around the neighborhood. While research is certainly important, nothing will give you a better feel for an area than walking through it at various times during the day, and especially at night.
Update — 9/29: Two men were shot late last night at the popular Ethiopian restaurant Meskerem in Adams Morgan, and two other men were shot in the area a few hours earlier, according to the Washington Post.
Update — 9/30: An arrest has been made in the attack of a gay man in Adams Morgan this summer, according to DCist.

Update — 10/7: A witness to one of the assaults above was contacted by DC Councilman Jim Graham and invited to attend a community meeting recently with police present.
The police gave her statistics on crime in the Adams Morgan area which is designated "PSA 303." The stats showed a 123% increase in violent crime over last month (and a 500% increase in gun assaults), as well as a 71% increase in violent crime over one year ago.
The police listened to her concerns and are going to take the following measures to increase safety in the neighborhood:
1. Increase patrols in the immediate area.
2. Position a car in the Ontario alley.
3. Add undercover vice coverage.

DC Real Estate Guides
Short guides to navigating the DC-area real estate market
We've collected all our helpful guides for buying, selling and renting in and around Washington, DC in one place. Visit guides.urbanturf.com or start browsing below!
First-Timer Primers
Intro guides for first-time home buyers