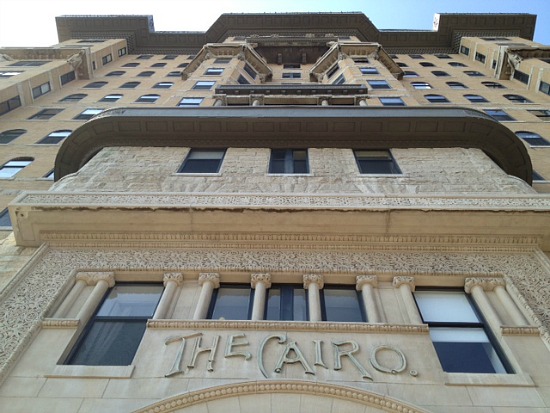 The Cairo, one of DC's tallest residential buildings.
This afternoon, DC got some attention on Capitol Hill as the House Oversight and Government Reform Committee held a hearing about the future of the 1910 Height Act, which restricts building heights in DC to 130 feet. (The act was installed after area residents reacted in horror to The Cairo, a Dupont Circle building that, when built in the late 19th century, rose higher than the fire hoses of the day could reach.)
Earlier this spring, Slate's Matt Yglesias reported that Rep. Darrell Issa, Rep. Eleanor Holmes Norton and Mayor Vincent Gray were working on possibly revising the Height Act to allow downtown buildings to add another floor or two, and areas further out to have much taller buildings. Yglesias encouraged them to consider dropping the restrictions even more dramatically and to allow skyscrapers in the downtown core. Other journalists have also chimed in to question the wisdom of the Height Act in our rapidly developing city.
The representatives opened Thursday's hearing with an open mind to lessening restrictions, but stressed that it will be important to look at every possible ramification — economic, planning and neighborhood – before making a decision.
Natwar M. Gandhi, DC's CFO, stated that the city's economic growth has been constrained by the limited space, leading to the second highest commercial office rental rates in the country and a low vacancy rate. Gandhi argued that relaxed restrictions are important to the city's continued growth.
"By allowing the District to support more residential units and office space, this change would afford more flexibility to the District in accommodating growing jobs and population," Gandhi said in his testimony.
Roger Lewis, architect and author of the Washington Post's "Shaping the City" column, spoke to the historic considerations that initially led to the Height Act and areas where those considerations no longer apply.
"There are specific sites — such as the Southwest and Anacostia waterfronts — where upward adjustment of height limits would be beneficial without jeopardizing the city's historic profile," Lewis said. Lewis also mentioned the McMillan Reservoir redevelopment, where residents want more park space but developers and the city want a certain density of office and residences. A less restrictive height limit could allow for a plan that would make both parties happy, thought Lewis.
The discussion also focused on some less dramatic restrictions.
Director of DC's Office of Planning Harriet Tregoning spoke before the committee to make the modest request of altering the rules regarding rooftop use. Currently, roof structures are limited to mechanical purposes; Tregoning requested that the rule be extended to allow recreational and office uses, like enclosed rooftop pools, gyms and restaurants.
"As you may know, rooftop structures are already permitted under the Height Act," Tregoning said in her testimony. "While allowed, these roof structures have been limited in their use to mechanical purposes (elevator overrides, building mechanicals) and are currently prohibited from uses that qualify as 'human occupancy' such as recreation rooms or office space. Allowing their use for more active purposes will have no real impact on the overall maximum heights of buildings as permitted by the 1910 Height Act and will not impact the District's recognizable and historic skyline."
One of the biggest concerns on the other side of the debate is that taller buildings will obscure DC's carefully designed historic core, and are not necessary to stimulate economic development in the city. A section of testimony from Laura M. Richards of the Committee of 100 on the Federal City:
"The proposal risks the creation of visual clutter. One building may develop its rooftop space while an adjacent building elects not to, creating a "pop-up" effect. Also, during task force meetings held in conjunction with the District's ongoing work of rewriting its zoning regulations, rooftop pools and party rooms were mentioned frequently as desirable uses of roof space. These ends may be achieved in new construction by providing for these uses within the permissible height, but are party rooms a sufficient reason to disturb the Height Act?"
It may be instructive to take a look at the other world-class city with a height restriction: Paris. The French city recently decided to lift the restriction in an outer, southwest section of the city, which will soon see several very tall buildings, including one 590-feet tall tower, while protecting landmarks like The Eiffel Tower and The Champs-Elysees.
Keep in mind that even if Congress loosens the Height Act, DC's Zoning Commission will need to hold their own hearings before the ban would be lifted. In fact, towards the end of the session, Rep. Issa wondered about the possibility of empowering the city to question the Height Act without having to go through Congress. Stay tuned.
This article originally published at https://dc.urbanturf.com/articles/blog/will_dcs_buildings_grow_taller/5787.
DC Real Estate Guides
Short guides to navigating the DC-area real estate market
We've collected all our helpful guides for buying, selling and renting in and around Washington, DC in one place. Visit guides.urbanturf.com or start browsing below!
First-Timer Primers
Intro guides for first-time home buyers