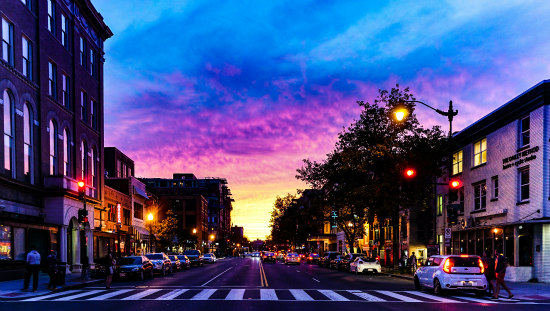 Looking down U Street NW. Photo by
Ted Eytan
.
UrbanTurf has profiled more than 50 neighborhoods in the DC area. We are now revisiting each of those neighborhoods to update our profiles and see how they've changed over the years.
---
The crush of bodies along sidewalks. The packed restaurant patios and rooftop bars. The distant thump from the closed doors of music halls. The floppy slices of pizza the size of a human head. Welcome to your average Saturday night in the U Street Corridor. And yet, for all its whirl and excitement, that's only half the story of this DC neighborhood sandwiched between Logan Circle and Columbia Heights. The other half belongs to residents like Roshan Rodriguez –who don't think of the area as just a place to have a good time, but a place to call home. "When I first moved here in 2008 with my husband, going out on the weekend meant you would probably only see other U Street residents," Rodriguez recalls. "In the years since, this has become a trendy weekend spot. When the weather's nice, the revelers come out in full force." While the intervening years have seen the U Street Corridor evolve into one of northwest D.C.'s most eclectic urban strips, it hasn't soured Rodriguez on the area. "My husband and I first moved here as a childless professional couple, and we enjoyed all of the nightlife," she says. "We've since had a baby, and I thought that would be a tough adjustment. But I was pleasantly surprised to find that U Street could also be family friendly." While the competing neighborhood dynamics might normally be a recipe for disaster, Jen Angotti, a real estate agent and 10-year resident of a condo in the neighborhood, says that there isn't much tension between the neighborhood's everyday residents and its weekend crowds. "Because I don't live directly on U Street, I don't get as much of the hubbub," she told UrbanTurf. "Yes, the weekends get crazy, but it's all good for the neighborhood. It's making U Street what it is."

The Name Says It All
The eastern and western borders of the U Street Corridor are fairly defined, because they cover the entire stretch of U Street, between 8th Street NW to the east (where it intersects with Florida Avenue) and 18th Street NW to the west (where it again intersects with Florida Avenue).
As for the northern and southern boundaries, these tend to be a little more up in the air based on who you speak with. Most people find the neighborhood extends north to W Street NW and south to T Street NW.
A Story of Music and Chili
For the first half of the 20th century, the U Street neighborhood was the nexus of DC's African-American community, a site of thriving business and culture. This was the period that saw the rise of the neighborhood's vibrant music and theater scene, earning it the moniker "Black Broadway". During the second half of the 20th century, after the 1968 riots and the subsequent migration of people and businesses to other parts of the city, the neighborhood declined into relative squalor. Only a few historical institutions remained in operation, including the Lincoln Theatre (first opened in 1921) and Ben's Chili Bowl (which started serving its iconic, chili-slathered half smokes in 1958). The late 1990s and early 2000s saw a turnaround, as more people and businesses, inspired by the revitalization of nearby Logan Circle, Dupont Circle, and Adams Morgan, returned to resurrect what had been considered lost. The music, the food, the culture – it's back (however, with less concrete ties to the neighborhood's distinct African-American past).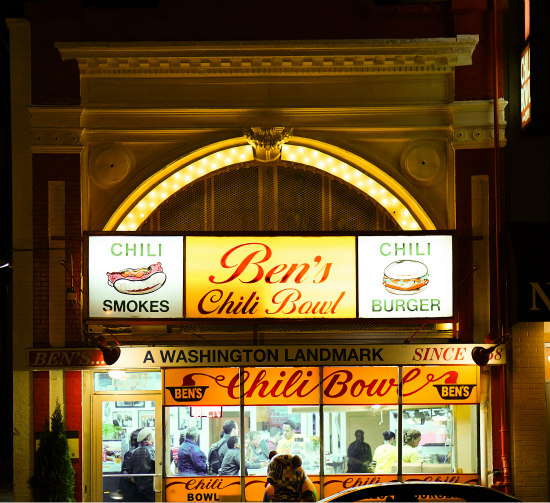 Ben's Chili Bowl. Photo by
Ted Eytan
.
From Condos to "Baby Town Homes"
Off of U Street, the neighborhood is filled with relatively new condo buildings that have sprouted up in recent years. Homes in these buildings range from $399,000 to $525,000 for a one-bedroom and $550,000 to over $1 million for a two-bedroom. Where you live in the U Street Corridor has an effect on what you pay, according to Angotti. Condos on the western side of the neighborhood tend to lean toward the higher end of the price spectrum. Then there are what Angotti calls the "baby town homes" that line the neighborhood's northern and southern streets, handsome and historic – but certainly smaller than their cousins in Logan and Dupont Circles. "Depending on how much it's been updated, these rowhomes can go for $550,000 to almost $1 million," Angotti says. "One row of homes on 13th Street between W Street and Florida Avenue go for between $1.5 to $1.7 million." Like other areas of the city, rental prices have softened somewhat as new product comes online. Still, at new buildings in the neighborhood, one-bedroom apartments start at around $2,000 a month.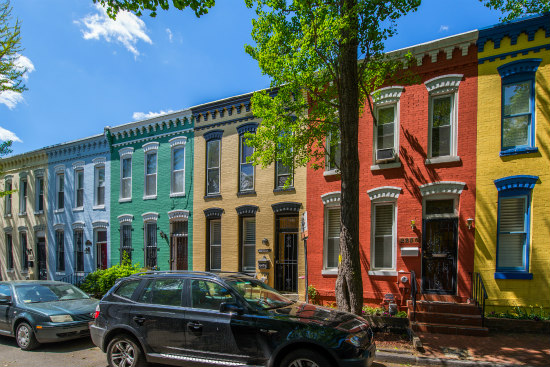 Homes on 12th Place NW. Courtesy of HomeVisit.
Lots of Business, But No BID
For such a relatively narrow stretch of the city, the U Street Corridor is packed with current and future development. Some of the neighborhood's most eye-catching projects in recent years include, on the corridor's eastern limits, The Shay apartment building at 9th and U Streets NW, and the Atlantic Plumbing building on 8th Street NW. New development on the horizon includes a Whole Foods-anchored development at 965 Florida Avenue NW, and a 23-unit condo development right on U Street. The bumper crop of new restaurants and bars include Dirty Goose, Colada Shop, and Hazel. "I'm probably one of the only commissioners to have multiple cranes in my single-member district," says John Green, commissioner for ANC 1B12. Green calls home a 100-year-old, two-bedroom/2.5 bathroom rowhouse in the neighborhood. Ensuring that the continued development of the corridor keeps all residents in mind is important for Green. One glaring need he sees for the neighborhood: a business improvement district. "I'm disappointed that we don't have a BID on U Street, which would help with public safety and street pollution, and would promote small business owners," he says. "I think it would definitely help the neighborhood. We're over-saturated with bars and need more retail space to promote day-time traffic." As with any neighborhood in downtown DC, some new developments on the horizon have incited debate. The redevelopment of the Grimke School is one such development in the U Street Corridor. Residents were quite vocal in recent years about the future plans for the site of the African American Civil War Museum. In recent weeks, the city approved plans for the school which will include a new home for the museum, along with office and retail space, and, yes, more residential units.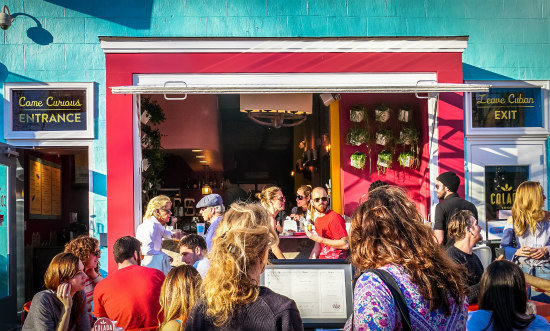 Colada Shop. Photo by
Ted Eytan
.
Five Things to Do
Grab (only) a beer at The Saloon -- The no-cell phone, no-martini prohibitions of this U Street bar may turn off some. For those it doesn't, you've found a place that focuses on good beer and good conversation.
See a great show...well, anywhere. -- U Street Music Hall. The 9:30 Club. The Velvet Lounge. Lincoln Theatre. There's a plethora of sounds and scenes here, from big names to local bands.
Eat inside a shipping container. -- Any time of the year is a good time for tacos and margaritas at El Rey, a taqueria located inside shipping containers. Your best bet is to come during great weather (when the roof retracts).
Learn something new at the African American Civil War Museum -- It's not just the name of a Metro stop. It's an eye-opening museum that includes permanent exhibits and special events.
Head into Good Wood -- A nice contrast to Room and Board, this store at 14th and U Street offers everything from mid-century furniture to eclectic clothing.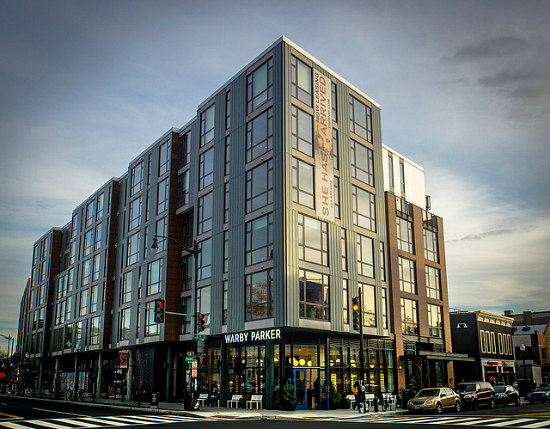 The Shay. Photo by
Ted Eytan
.
Getting Around the Corridor
Bus travel in the U Street Corridor is plentiful, with east and west Metrobus routes including the 90, 96, and X3. North and south routes include the 52, 53, 54, 63, and 64. The neighborhood's dedicated Metro station is the U Street/African American Civil War Memorial/Cardozo station, which offers access to the Green and Yellow Lines. Parking – as you'd expect in a popular area adjacent to other popular neighborhoods – is a chore. Some apartment buildings include parking spaces for additional fees, which might be worth the price to avoid having to desperately hunt for street parking (especially on weekends).
The Bottom Line
Living in the U Street Corridor, says Rodriguez, is a customizable experience. You take what you want from the scene, and you can always leave it behind for a quieter evening at home with the family. As intense as the area gets on Friday and Saturday, it's not as difficult for residents to adapt to (or avoid) as you'd imagine. The crowds, the noise consuming U Street itself – they don't overwhelm the entire neighborhood. And for all its vibrancy, it's not constant.
---
Zak M. Salih is a freelance writer based in Washington, D.C. His work has appeared in publications including Washington City Paper, the Richmond Times Dispatch, Baltimore City Paper, the Chicago Tribune, and the Christian Science Monitor.
Real Estate Agents Serving U Street Corridor
The following real estate agents are active in U Street Corridor. Call or email them to get in touch.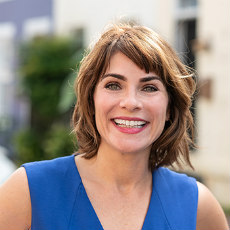 Jen Angotti
Compass
Phone: 202.285.4238
Website: View website
Listings: View listings

Recent Neighborhood Profiles:
This article originally published at https://dc.urbanturf.com/articles/blog/u_street_corridor_weekday_strollers_weekend_warriors/12392.
DC Real Estate Guides
Short guides to navigating the DC-area real estate market
We've collected all our helpful guides for buying, selling and renting in and around Washington, DC in one place. Start browsing below!
First-Timer Primers
Intro guides for first-time home buyers