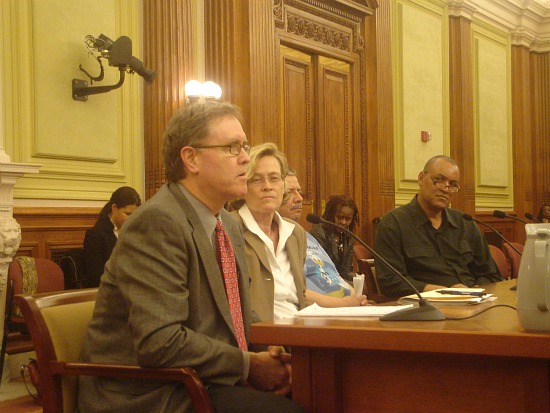 Arnold and Porter's Blake Biles at the Council hearing on funding for
TOPA
.
In September 2006, residents of Pleasant Park, a rental development of sixty townhouses near northeast DC's Capitol View section, were informed that their homes were up for sale.
"We knew right away that we really couldn't do condominiums and we did not want to continue renting from a new management company," co-op President Brenda Jordan says in the new short film "We Own This."
Instead, residents of Pleasant Park decided to buy the development themselves, receiving $4.7 million in funding from the city in order to do so. Pleasant Park has since become a cooperative owned by residents. "If we hadn't managed to get the money from [the Department of Housing and Community Development], we wouldn't have been here," Jordan said.
"We Own This" was screened yesterday at a hearing of the Council's Committee on Housing and Workforce Development. Produced by Anna Duncan of the Latino Economic Development Corporation, it set the tone for a discussion on the Tenant Opportunity to Purchase Act (TOPA), funding for which is now on the budget chopping block.
In short, TOPA gives residents the right of first refusal if their landlord puts their building on the market. In buildings with five or more units, tenants must form an association in order to take advantage of TOPA. Once that happens, the association has a maximum of 360 days to negotiate a contract, go to settlement and close. (As UrbanTurf has reported, TOPA can also lead to lucrative payouts for residents in buildings that are up for sale.)
In previous years, the Housing Production Trust Fund (HPTF) has bridged the gap to give private lenders more of an incentive to lend to low-income renters looking to buy. The HPTF is funded by taxes paid to the city when property is bought or sold, and was essential to making sure that the rights granted under TOPA actually extended to the District's poorest residents. But in the belt-tightening budget climate, the fund's wealth and utility for TOPA-hopefuls is in limbo.
For people like Angelica Lopez, who spoke at the hearing representing tenants of the rent-controlled Norwood Apartments at 14th and N Street NW, a lack of funds in the HPTF could mean that their efforts to buy the building will be very difficult.
"Most of us have low wages, and can't pay very much for our housing," Lopez said. "This is why we would like to make our building a limited equity cooperative, so that everybody can stay and no one has to be displaced."
"[TOPA] is not actually a reality for many people in the District," Blake Biles, an attorney at Arnold & Porter, said yesterday. "With respect to low income residents, it's basically an illusion, unless there are funds available for residents to actually be able to exercise their rights."
The sluggish real estate market of the past few years has resulted in the fund losing money since it gets money primarily from deed transfer taxes. The budget being proposed for fiscal year 2012 would take $18 million away from the HPTF in order to replace funds cut from Local Rent Supplement Program vouchers. This would leave the fund with just about $9 million in its coffers, and that would be reduced to $5 million by 2015. To put those numbers in perspective, Duncan told UrbanTurf that it would cost the tenants in Lopez's 84-unit building $9 million to purchase it, not including needed repairs and maintenance.
At the hearing, Councilmember Jim Graham announced that an extra $25 million has now been found for the HPTF, but this money would need to be allocated for projects already in the pipeline. That leaves the future of 72 buildings (with 2,566 total units) that have been put up for sale since last September uncertain. "Unless we have resources to fund TOPA, it becomes a dead letter," Graham said.
Others testifying at the hearing spoke of what the funding means for lenders who work with low-income tenants. "It's the early infusion of capital that preserves this opportunity to purchase for the tenants, and makes additional private investment possible," Renee Jacobs, a community development lender with PNC Bank, said. "It buys time for tenants to get control of the property, to see additional funds for private revenues, and try to become seasoned real estate owners with demonstrated capacity to own and manage a building, and that's something that most private lenders look for."
"When there are no city funds, there are no private funds, because we have to have that leverage," Oramenta Newsome, director of the Local Initiative Support Corporation's DC office, said. "It allows us to go out and get dollars from all over the country that we link to DC."
Juan Pablo of Mi Casa, another nonprofit that assists potential homeowners, argued that it's in the city's financial interest to continue the funding. "In the long term, homeowners' loans come back to the city," he said, adding that it also reduces the burden of the city to provide social services to potentially homeless families.
It remains to be seen what will happen with TOPA. The Council will hold hearings on the housing budget on May 3rd, and has until the last week in May to act on Mayor Vincent Gray's proposed budget.
This article originally published at https://dc.urbanturf.com/articles/blog/the_uncertain_future_of_topa/3357.
DC Real Estate Guides
Short guides to navigating the DC-area real estate market
We've collected all our helpful guides for buying, selling and renting in and around Washington, DC in one place. Start browsing below!
First-Timer Primers
Intro guides for first-time home buyers