Today, UrbanTurf catches up with the residential pipeline in two East of the River neighborhoods that have received a lot of attention lately: Deanwood and Congress Heights. Deanwood has recently earned a reputation for being hot among home-flippers, while Congress Heights is benefiting from its proximity to higher-priced Anacostia and the buzz surrounding the redevelopment of the St. Elizabeths campus.
While much of the residential development in these neighborhoods is disproportionately subsidized, these two areas are beginning to see a greater level of investment and endeavors to bring amenities to those residents.
In case you missed them, here are the other neighborhoods we have covered thus far this year:
---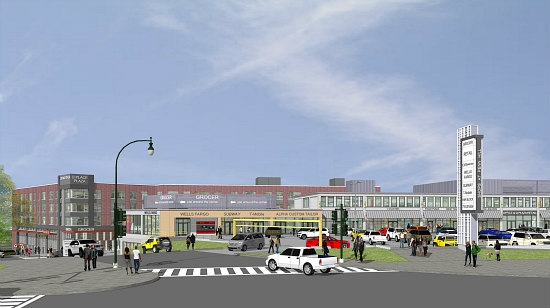 Following months of negotiations between developer Jair Lynch and the surrounding community, the Zoning Commission in July approved a unique zoning designation for the property behind the Penn Branch Shopping Center, upzoning it from R-1-B to MU-3B. This designation allows for a maximum permitted height of 50 feet or four stories with 15 feet of total penthouse space, while mandating a 20 foot "transition setback" with a 6 foot-wide tree buffer where the site abuts the adjacent residential neighborhood.
The map amendment will enable the developer to realize a version of the redevelopment vision that has been circulating over the past year. Located at the intersection of Pennsylvania and Branch Avenues SE (map), the existing shopping center will get a face-lift and a 20,000 square-foot Planet Fitness, along with a grocery anchor tenant. Although 100-150 senior apartments were previously planned for the upzoned portion of the site, the community is hoping for market-rate for-sale housing.
---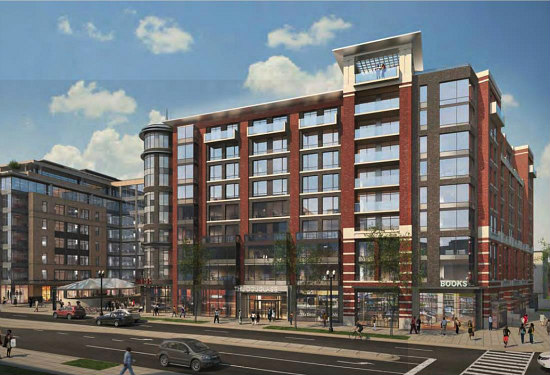 Congress Heights Town Center
The saga of the Congress Heights Town Center development continues, as the ownership status of the buildings at Alabama Avenue SE and 13th Street SE (map) remains tied up in Superior Court. The Attorney General is currently fighting for tenants of the apartment buildings there to enact their rights under the Tenant Opportunity to Purchase Act (TOPA) while CityPartners aims to go under contract on the property with previous development partner Sanford Capital.
The latter company previously owned the properties before being sued for slumlord practices, filing for bankruptcy and being ordered to relinquish all property held in the District. CityPartners most recently planned to break ground next May on a 215-unit apartment building with ground-floor retail designed by Maurice Walters Architects; a second phase would deliver a 280,000 square-foot office building. In the meantime, a third-party property manager was assigned to improve living conditions at the existing apartment buildings.
---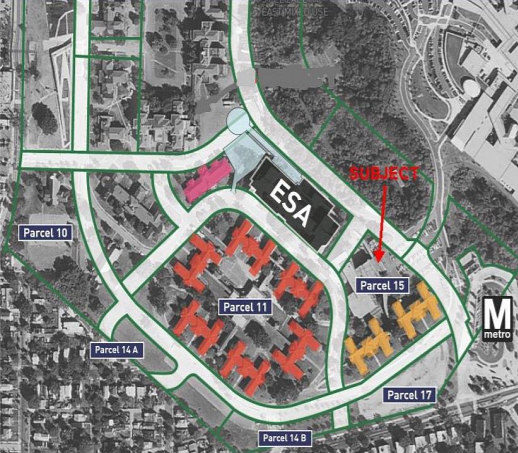 Following last month's opening of the Entertainment and Sports Arena on the St. Elizabeths campus at 1100 Alabama Avenue SE (map), a lot of additional development is still in the pipeline. The eventual build-out will deliver over 1,000 residential units, 700,000 square feet of commercial space, two hotels and a 275,000-300,000 square-foot hospital in partnership with George Washington University Hospital in 2023. Redbrick LMD and Gragg Cardona Partners are leading the development team.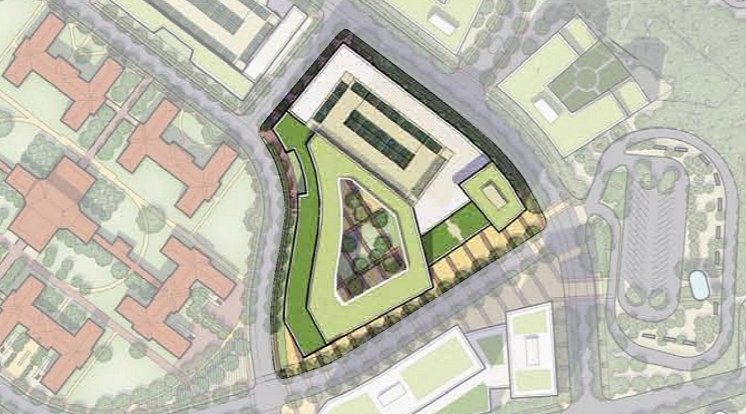 This July, the Office of the Deputy Mayor for Planning and Economic Development (DMPED) issued a request for proposals (RFP) for this 4.29-acre site just to the south of the sports complex and to the northwest of the Congress Heights Metro station. The site can accommodate just under 375,000 square feet of by-right mixed-use development.
This lot could accommodate one of the hotels, although a residential component is required and the city is hoping for Class A office above retail. The site will also have an underground level of parking; two non-contributing historic buildings on the site can either be retrofit or demolished. A development team is expected to be selected this month.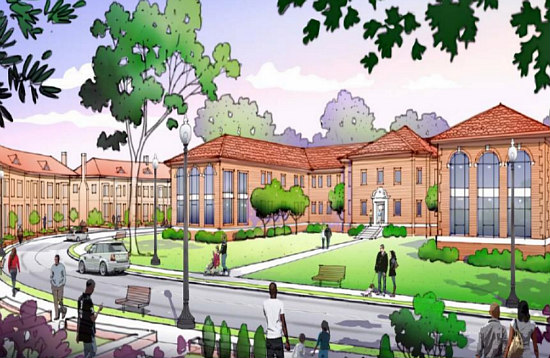 The Anacostia Economic Development Corporation is restoring seven historic buildings in order to deliver 252 apartments. Eighty percent of the apartments will be affordable to households earning up to 60 percent of area median income (AMI).
Redbrick broke ground this year on 60-100 townhouses; 30 percent of these will be affordable.
---

Another former Sanford Capital property is on the road to redevelopment. In April, the Board of Zoning Adjustment approved an application to replace the 11 vacant buildings that comprise Terrace Manor at 2270-2272 and 2276 Savannah Street SE and 3341-3353 23rd Street SE (map) with a new 120-unit building.
The L-shaped building would contain 56 one-bedrooms, 55 two-bedrooms and 9 three-bedrooms, all of which would be for households earning no more than 60 percent of the median family income (MFI). There would be a garage with 77 vehicular and 48 long-term bicycle spaces. Stoiber and Associates is the architect.
---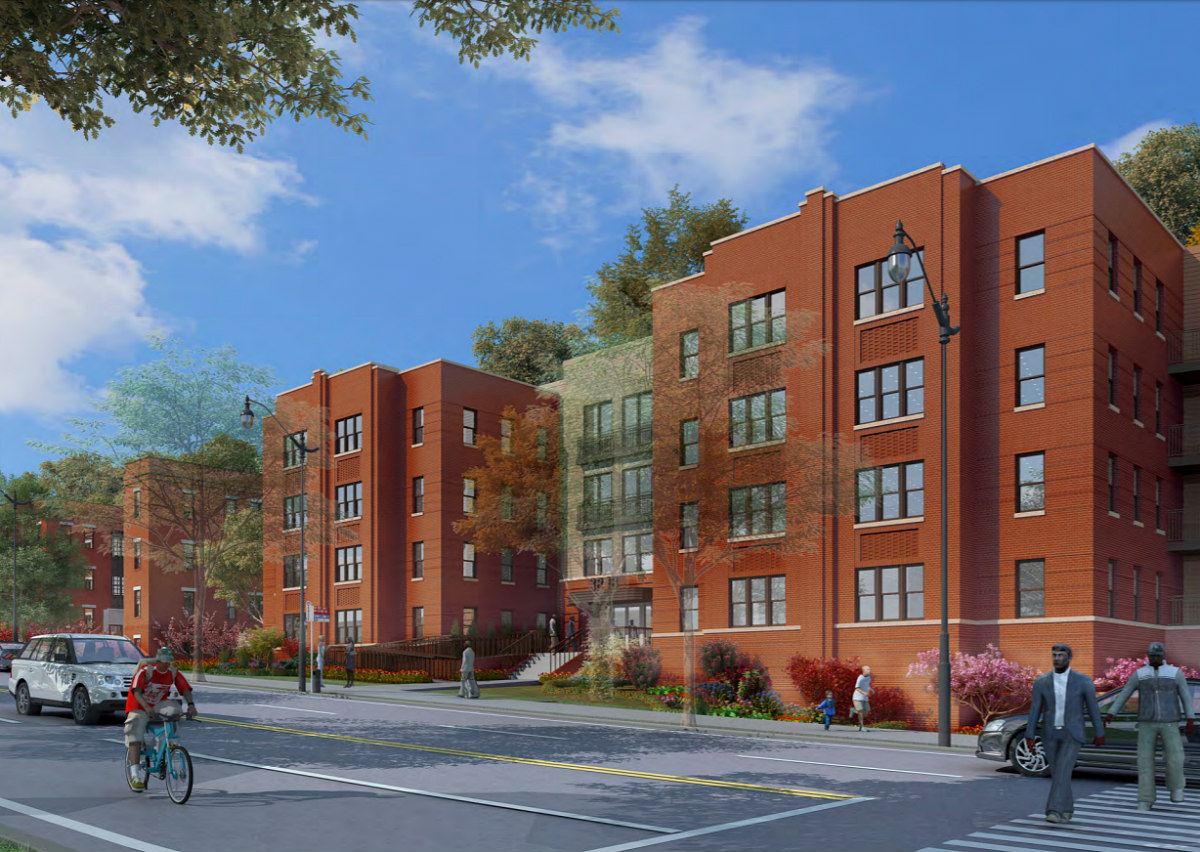 3836-3848 South Capitol Street SE
Another all-affordable development on the Congress Heights-Bellevue border is still awaiting a zoning hearing. Kaye Stern Properties has applied for a PUD to replace two residential buildings at 3836-3848 South Capitol Street SE (map) with a 51 foot-tall, 106-unit development.
Eighty percent of the units will be for households earning up to 50 percent MFI and the remainder will be for households earning up to 30 percent MFI. The unit mix will include 20 studios, 34 one-bedrooms, 20 two-bedrooms and 32 three-bedrooms. Residents of the existing 30 apartments on the site will be able return to the development once completed.
The development is designed by Torti Gallas Urban. The developer is aiming to break ground in the fourth quarter of 2019, completing the project in 2021.
---

Last month, DMPED hosted a ribbon-cutting at the Deanwood Hills development at 5201 Hayes Street NE (map). The 150-unit affordable development is a partnership between Pennrose Properties and the Warrenton Group and includes 50 replacement units for the Lincoln Heights/Richardson Dwellings communities. The building also has 75 surface parking spaces and amenities including a fitness center, playground, and game room. Torti Gallas Urban is the project architect.
---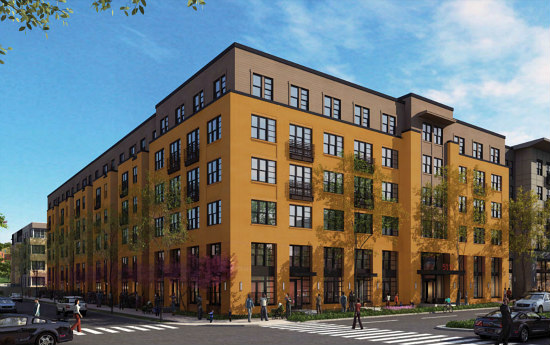 Another development which received zoning approval this year (in June) is Deanwood Town Center, a two-building planned-unit development at 5110-5140 Nannie Helen Burroughs Avenue NE (map). The first building will contain 151 apartments above 10,000 square feet of retail, including eight two-story units (2 five-bedrooms, 5 four-bedrooms and a three-bedroom) fronting 51st Street and wrapping around the corner at Nannie Helen Burroughs Avenue. The second building will contain 32 apartments above 6,000 square feet of retail.
Of the apartments, 61 will be replacement units for the Lincoln Heights/Richardson Dwellings complex; a two-story garage beneath the 24,600 square-foot second-floor courtyard of the first building will provide 143 parking spaces. The Warrenton Group is leading the development team; Torti Gallas Urban is the architect.
---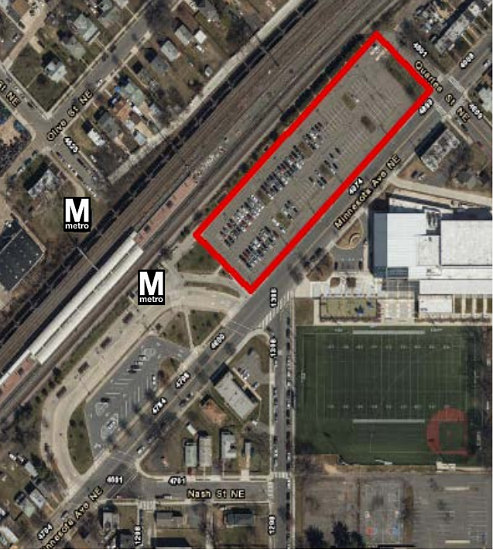 Although a potential redevelopment on the site of the 1.6-acre Park and Ride surface lot at Deanwood Metro station (map) is still in the very preliminary stages, it is highly likely that WMATA will begin soliciting developers early next year. If a development team is selected next July, the project could deliver as early as 2024.
Two redevelopment scenarios have been circulating: the first would deliver a four-story replacement parking garage appended to a 3-4 story mixed-use building with 138 apartments above 10,000 square feet of retail. The second, recommended by Metro staff, would deliver 160 apartments above 10,000 square feet of retail sans parking garage. Either would be done via the planned-unit development process.
---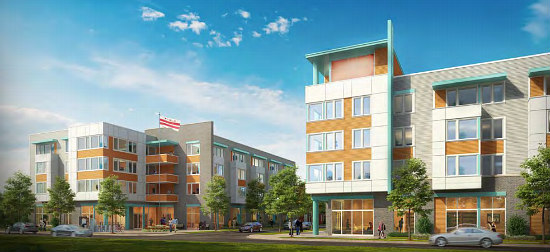 Kenilworth Courts
Work is underway on the Kenilworth Courts redevelopment, located between Kenilworth Aquatic Gardens and Kenilworth Avenue NE (map). The first phase will replace 88 existing units with two four-story buildings containing 167 apartments, 15 stacked flats, 44 townhouses, a 42-unit senior building at Ponds Street and Kenilworth Avenue, and a 67-unit multi-family building directly across the street. This phase will also include 118 replacement units for former residents of Kenilworth Courts and 48 additional units for households earning no more than 60 percent AMI.
In its entirety, the development will deliver 530 new rental and for-sale residential units, including 290 replacement units. The DC Housing Authority and the Warrenton Group are helming this project in partnership with the Michaels Development Company; Torti Gallas Urban is the architect.
---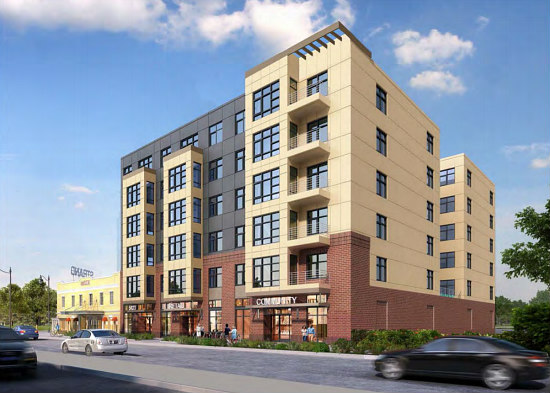 Across the street from Deanwood Town Center, The Warrenton Group is also commencing a redevelopment that will restore the historic Strand Theater and build 86 affordable apartments above a new 1,389 square-foot outpost of Ivy City Smokehouse next door at 5119-5123 and 5127 Nannie Helen Burroughs Avenue NE and at 612 Division Avenue NE (map).
Designed by PGN Architects, the development will also include a 1,223 square-foot community space on the ground floor. The one- and two-bedroom apartments will be affordable to households earning up to 60 percent of area median income; 28 of the units would be replacement apartments for the Lincoln Heights and Richardson Dwellings. Work is currently underway to restore the theater.
This article originally published at https://dc.urbanturf.com/articles/blog/the-deanwood-and-congress-heights-rundown/14514.
DC Real Estate Guides
Short guides to navigating the DC-area real estate market
We've collected all our helpful guides for buying, selling and renting in and around Washington, DC in one place. Start browsing below!
First-Timer Primers
Intro guides for first-time home buyers