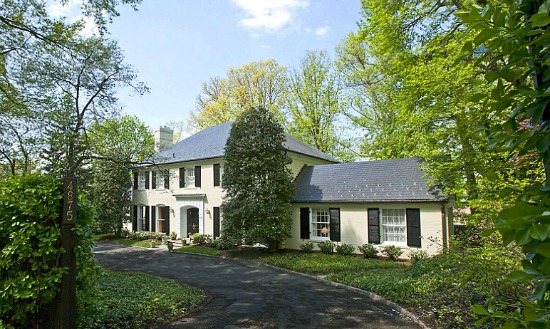 Home for sale in Spring Valley
Spring Valley probably isn't a familiar name to the majority of District residents, but it's considered one of the city's more prestigious neighborhoods. Unlike Georgetown, though -- a similarly pricey address where homes are packed into city blocks -- Spring Valley in far upper northwest feels very much like a suburb. It just happens to have a DC zip code.
Unexploded Ordinances? No Problem
Spring Valley is located at the far western edge of the District. Bounded by Massachusetts Avenue to the northeast, Dalecarlia Parkway to the west, and Loughboro Road and Nebraska Avenue to the south, the area is an oddly-shaped semicircle, with American University's main campus taking up the southeast corner.
Prior to World War I, back when the city's land was a lot less valuable, Spring Valley was used by the military as a munitions testing site. After the war, developers W.C. & A.N. Miller built homes throughout the area, many of which wound up sitting on top of unexploded ordinances. Since 1993, the Army Corps of Engineers has been working on getting those explosives out, but residents don't seem particularly worried about their home being blown to smithereens.
Under $1 Million is a Bargain
Spring Valley's winding, hilly streets are lined with old oak trees and large homes, just about all of which are brick Colonials, with a smattering of Tudors and a few others thrown in for good measure. The houses get bigger the farther south they are from Massachusetts Avenue. By the time one gets to Rockwood Parkway, the neighborhood's southernmost street that parallels Loughboro Road, most properties are decent-sized mansions sitting on small estates.
The munitions issue doesn't seem to have affected housing values: the area's prices are some of the city's steepest, and homes selling for under a million dollars are pretty rare. Hill Slowinski, a real estate agent with W.C. & A.N. Miller (a real estate brokerage that, since 2007, has been entirely separate from the developer who built up much of Spring Valley) said that 20 homes in the neighborhood are currently on the market, ranging in price from $879,000 to $3 million. So far this year, 29 homes have sold.
Presidents and Politicos
Supposedly Lyndon Johnson, Richard Nixon, and George H.W. Bush all lived in Spring Valley before they became president, and U.S. Attorney General Eric Holder and Senator Dianne Feinstein reside there now. However, the neighborhood is not all high-powered politicos. "My next door neighbor is a restaurateur, and my neighbor across the street runs a title company," said John B. Anderson, 88, a lawyer and a retired member of Congress. "It's hard to categorize." Probably the main reason some of the city's most successful residents choose to live in Spring Valley over, say, Georgetown, is for its suburban feel. Within its boundaries, the area is almost completely noncommercial: nothing but homes, trees, wide green lawns, and the odd park, with a few cars passing by from time to time on quiet streets.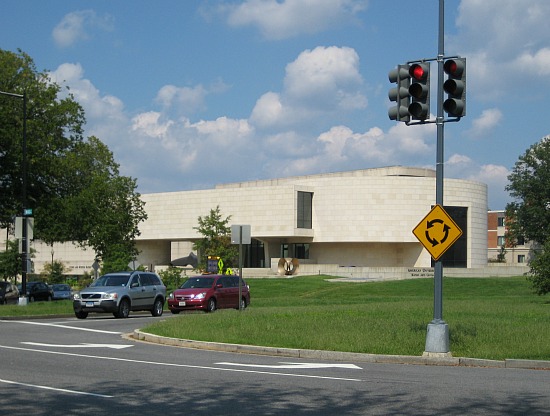 Arts Center at American University
Melissa Hall moved to the area in 1998 and said she's noticed a real trend of younger families moving into the area. "When we first moved here, people were having high school graduation parties," she remembered. "Since then, empty nesters have left, and new families have come in." Katharine Reishman and her family are some of those newcomers. They moved to the neighborhood this past June seeking an area with outdoor space for their two kids and a commercial district within walking distance. The very best part, she added, is that children all over the neighborhood tend to play in the streets on their bicycles or scooters without having to be constantly watched. "It's a bit of an era gone by," she said.
Two Coffee Shops?
Spring Valley Shopping Center is located on Massachusetts Avenue, just next to American University's Washington College of Law. It's essentially just a strip mall, but the basics are there: a couple of coffee shops, a few banks, a CVS, a Crate & Barrel, a Thai restaurant, and—most important—the much-loved Wagshal's market and deli, which have been serving the neighborhood since 1925. For more dining options, residents have to leave the area. MacArthur Boulevard, with its handful of restaurants, and Tenleytown, are only a few minutes' drive away. Cleveland Park, Glover Park or Georgetown aren't too much farther away.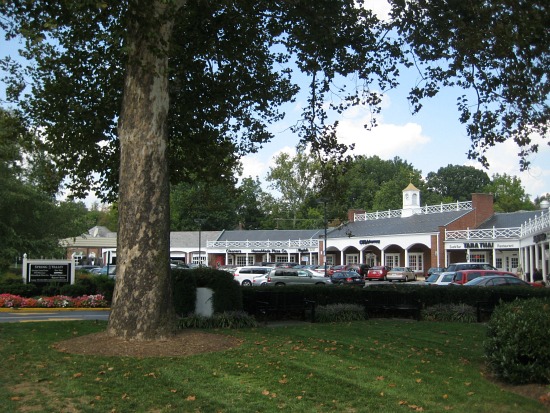 Spring Valley shopping center
It Just Feels Far Away
Though Spring Valley isn't well served by Metro—the closest connection is the Tenleytown-AU station on the Red line, about a mile and a half away—buses run straight down Massachusetts Avenue to downtown. And the Capital Crescent Trail, for cycling fans, has nearby access points. However, a lot of residents get around by car. "The commute for my husband is great," said Reishman. "He works in Dupont, and it's only 15 to 20 minutes away." For those heading farther afield, Spring Valley isn't far from the Chain Bridge, which leads to the George Washington Parkway and northern Virginia, and the Beltway is five miles away along a relatively uncomplicated route.
Crime That Low Within the District's Borders?
The good thing about being a fairly unknown neighborhood located far from the city's center is that crime is remarkably low. It's not zero -- "There have been some thefts from cars," said Melissa Hall, "and there was a burglary on Rockwood [Parkway] about a month ago while the people were sleeping." -- but by District standards, it's very safe. According to the Metropolitan Police Department's online crime map, the community hasn't experienced a violent crime in the last two years, and very few property crimes have occurred. Still, the community has a well-organized community watch group, and an email list alerting neighbors to any irregularities.
The Bottom Line
In Spring Valley, community cohesiveness is high, crime is low, children can play unfettered in the streets, commercial offerings are within walking distance, and the rest of the city isn't too far away. But like other idyllic neighborhoods in DC, the high prices attached to most of Spring Valley's homes means it's largely out of reach for the average Washingtonian.
Zip Code: 20016
Schools: Horace Mann Elementary School, Hardy Middle School, Wilson High school
Spring Valley real estate data from Redfin
This article originally published at https://dc.urbanturf.com/articles/blog/spring_valley_a_suburb_with_a_dc_zip_code/4162.
DC Real Estate Guides
Short guides to navigating the DC-area real estate market
We've collected all our helpful guides for buying, selling and renting in and around Washington, DC in one place. Start browsing below!
First-Timer Primers
Intro guides for first-time home buyers