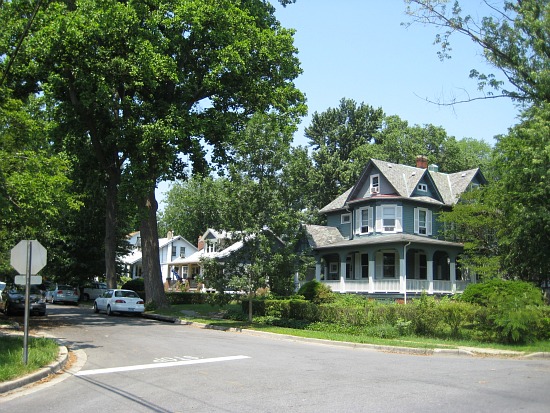 Victorian home in Riverdale Park
Somehow, Riverdale Park in Prince George's County has slipped under the radar of public attention. The community—a fully established town, with its own mayor and police force—is rarely mentioned in local media like its slightly larger neighbor to the southwest, Hyattsville. Maybe that's because the town is a quiet place without an overwhelming sense of personality—or at least, one that's currently in a state of flux
The Middle of P.G. County
Riverdale Park straddles East-West Highway and runs from just west of U.S. Route 1 to Kenilworth Avenue. Riversdale, the large mansion used as the headquarters for those who developed Riverdale Park in the late 19th century, still sits in the middle of town and is open twice a week for tours.
While it is bordered and bisected by busy roads, the town's atmosphere changes completely once drivers get off the main avenues. Most of Riverdale Park feels sleepy and serene, punctuated by streets shaded by good-sized trees and lined with green lawns. The housing stock consists of a diverse array of detached homes that were built in different eras. They include ornate Victorians, bungalows, kit homes, simple Cape Cods, and ranch houses, most of which are fairly small.
Like in Hyattsville, there are definitely some deals to be found: in April, the median sales price for a three-bedroom home in Riverdale Park was $180,000, shockingly low for the region. But as Laura Bowman Pimentel of Keller Williams Realty pointed out, the area has been hit relatively hard by the foreclosure crisis, and a number of homes are bank-owned.
The Upsides and Downsides of New Residents
Just a few years ago, the Riverdale Park population primarily consisted of black and white residents. But as long-timers have sold their homes and moved on, a younger set has moved in. According to Gerard Sanchez, who's been in the area for nine years, the population increase has been led by Hispanic residents and young families.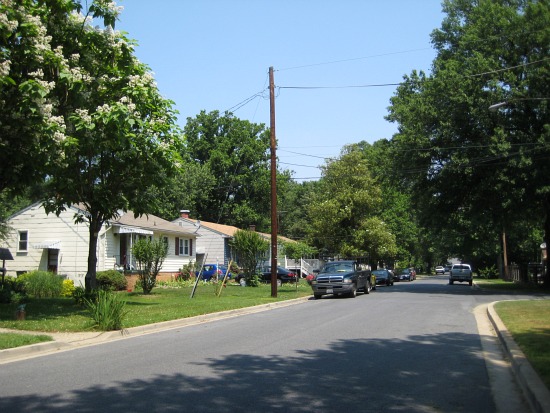 A street in Riverdale Park
The influx has been good for the town's vitality, but for some residents, the noise and related nuisances have been too much. UrbanTurf caught Peter and Mary Saavedra as they were moving out of their home recently.
"In our first year, it was nice and quiet, but now there are too many people in each house," Mary Saavedra said, adding that the new residents seem to have more kids and more cars, making on-street parking on the weekends a challenge.
For others, though, the new population has been a welcome change. Laurie Lynch, who's lived in a large Victorian since 1996, said that she now has neighbors from Nigeria and Vietnam, and added that residents work for a range of employers, including the University of Maryland, the federal government, local schools, or themselves.
The occupations of those in the town are illustrative of its location. The University of Maryland at College Park and its affiliated Metro station on the Green Line are about a mile to the north, and the Prince George's Plaza station, also on the Green Line, is a mile away in the other direction. The MARC station is located in the center of town, and the non-stop trip to Union Station takes ten minutes. For drivers, there are Route 1 and Route 50 that go directly into DC and the Beltway, which is just a few miles to the northeast.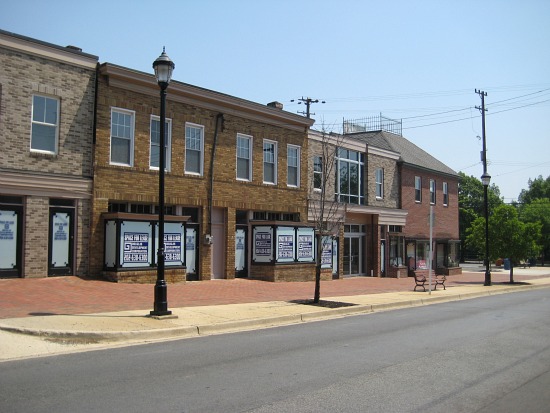 The empty storefronts of downtown Riverdale Park
Cute, But Empty
With small, newly renovated storefronts lining the street and a tiny train station, Riverdale Park's downtown is fairly picturesque — except that almost all of the stores are currently empty. "I don't know what the plans are," said Lynch, pointing out that Douglas Development, one of the biggest developers in the region, owns the buildings.
A town of less than 7,000 people whose center isn't visible from main roads isn't going to be a huge draw for small businesses and entrepreneurs, but Riverdale Park is also missing many walkable dining options. There is a popular dive, S&J Bar and Restaurant, as well as Dumm's Pizza, but that's about it. Route 1 and Kenilworth Avenue have a selection of restaurants, but the trendy eateries of Hyattsville a few minutes away are probably the main options for residents looking to grab a bite on Friday or Saturday night.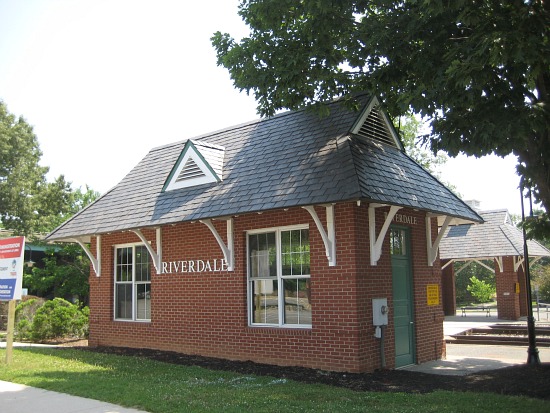 Riverdale Park train station
Community Pros and Cons
While the big lawns, quiet streets, affordable houses and small-town amenities like a Thursday farmer's market are all pluses, the main downside for the area is its schools.
Lynch conceded that the schools are not particularly good, but the Saavedras had a much harsher assessment. "They are horrible," Peter Saavedra told UrbanTurf, adding that they found the middle schools to be particularly bad.
The Saavedras also felt that crime had become much worse during their tenure in the neighborhood. "We've had bikes stolen from our backyard, skateboards—you can't leave anything out." (Other residents UrbanTurf spoke with said that, despite loud neighbors, they felt safe.)
The Bottom Line
Unlike Hyattsville, Riverdale Park can't be characterized as up-and-coming—at least, not until it gets a few more independently-owned businesses. On the other hand, the town has some serious upsides, like its serene environment and interesting housing stock. Unlike many DC area neighborhoods that have already "transitioned", Riverdale Park's identity is still developing, and won't become apparent for a few more years.
Amanda Abrams is a Washington, DC-based journalist who has written feature stories for The Washington Post, Christian Science Monitor, and Washington City Paper.
Zip Code: 20737
Schools: Templeton, Riverdale, and Beacon Heights elementary schools; Hyattsville and William Wirt middle schools; and Bladensburg, Northwestern, and Parkdale high schools.
Town listserv, reprinted as a blog
Riverdale Park real estate data from Redfin
This article originally published at https://dc.urbanturf.com/articles/blog/riverdale_park_a_town_looking_for_its_identity/3586.
DC Real Estate Guides
Short guides to navigating the DC-area real estate market
We've collected all our helpful guides for buying, selling and renting in and around Washington, DC in one place. Visit guides.urbanturf.com or start browsing below!
First-Timer Primers
Intro guides for first-time home buyers