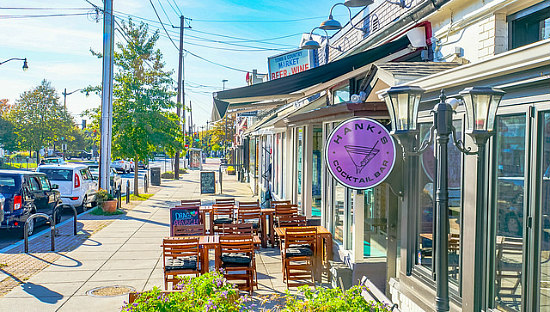 Upshur Street in Petworth. Photo by Ted Eytan.
UrbanTurf has profiled more than 50 neighborhoods in the DC area. We are now revisiting each of those neighborhoods to update our profiles and see how they've changed over the years.
---
Monica Jilling remembers a different Petworth.
"I moved there in 2007 and was lucky enough to find a one-bedroom apartment with big windows and hardwood floors that was close to the Metro for $850 a month," Jilling recalls recently. "The area had a neighborhood feel that was a nice contrast to U Street, where I had previously lived. For the first time, DC started to feel like a home."
In 2018, Jilling finds herself living in a Petworth that, in some respects, is more like the U Street she left behind. The popular northwest DC neighborhood now has a fairly trendy commercial strip, public spaces, community events drawing people from across the city—and the attendant concerns about skyrocketing housing prices and rampant development.
An entire article would be needed to profile the new additions to Petworth that have come (and some of which have already disappeared) in the eight years since UrbanTurf last profiled the neighborhood. The Scandinavian restaurant Domku, which opened in 2005 and then closed its doors in 2016, was considered one of the first of a new wave of commercial establishments in the neighborhood. Now, the list of places to eat in Petworth includes some of the city's most respected restaurants, like Timber Pizza Company and Himitsu. There's also a crop of new apartment and condo buildings, a 60,000-square-foot Safeway, as well as mainstays like Upshur Street Books, an independent bookstore where President Barack Obama once shopped.
Eddie Kryschtal is another long-term Petworth resident astounded by, and excited for, the changing neighborhood. Along with his father and sister, he purchased a three-bedroom/2.5-bathroom row house in the neighborhood in 2007.
"I have roommates who lived here five years ago who come back and barely recognize the neighborhood," he told UrbanTurf. "Not just all the renovated homes, but Georgia Avenue, too."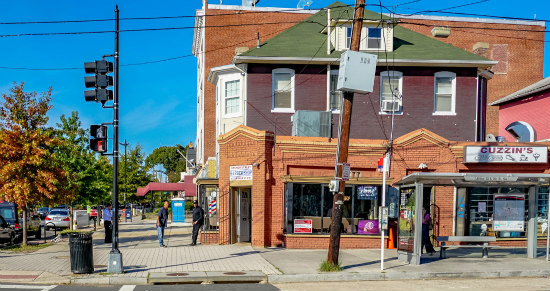 Intersection of Georgia Avenue and Upshur Street NW. Photo by Ted Eytan.
Kryschtal's concerns about overzealous development and the rising costs in the neighborhood are shared by other residents. Drew Schneider, who started the local news site Petworth News and has lived in the neighborhood since 2005, is keeping his eye on rising home values.
"It's something that active residents, the Advisory Neighborhood Commission, and local business owners are aware of," Schneider said. "They're constantly looking to balance development and change with equity and accessibility," Schneider said.
Every time Jilling sees news of another high-end building coming onto the scene, she gets a little sad. "I think about the people who can't afford to live in those places," she told UrbanTurf. "And the people moving into them are not interested in getting to know their neighbors or be a part of the community."
Schneider, however, is more optimistic. "We have many different monthly 'socials', such as the Grant Circle Social and the Southwest Petworth Lemonade Social," he told UrbanTurf. "All these events are designed to bring neighbors together."

A Massive Neighborhood
Petworth's origins start with Colonel John Tayloe III, owner of a massive, 200-plus-acre country estate (near Rock Creek Church Road NW and Georgia Avenue NW) that would be combined with other estates, sold to developers in 1889, and incorporated into the District of Columbia. Many of the homes built in the intervening decades are still lived in today.
The boundaries of the neighborhood are up for debate, but are generally considered to be Rock Creek Cemetery and Rock Creek Church Road NW on the east, Spring Road NW on the south, Arkansas Avenue NW and a small stretch of 16th Street NW on the west, and Emerson Street NW to the north.
Petworth is one of the city's largest neighborhoods and includes a buoyant mix of single-family homes, old and new apartment buildings, two commercial strips (Georgia Avenue NW and Upshur Street), several schools and Sherman Circle Park and Grant Circle Park where you can often find everything from casual weekend picnics to community events and festivals.

Flips and Tweeners
The Wardman rowhouse is the dominant property type in Petworth, and while many of these homes have been purchased, renovated and sold at a hefty profit in recent years, there is another type of home that's been getting market attention recently: "Tweeners."
"Tweeners are homes that have been gradually renovated by the homeowner over a period of time with upgrades such as central A/C, new kitchens, and bathrooms," says Petworth resident and Compass real estate agent Ryan DaSilva. "There was a time you could get a nice 'tweener' for around $400,000. Now you can't even buy a vacant run-down property for that price."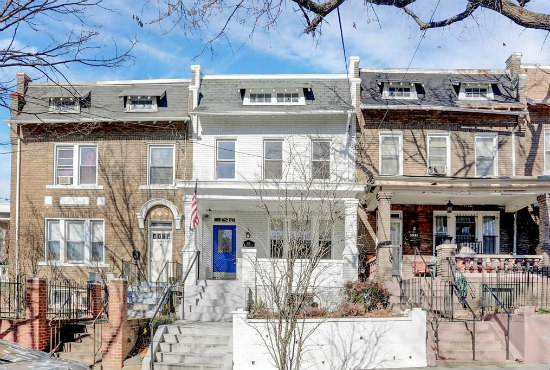 A Petworth rowhome on the market.
Today's tweeners are typically in the $600,000 to $700,000 range. If you're looking for a brand-new renovated home, they're selling from the mid $700,000s to the low $900,000s. Condos in the neighborhood range from $300,000 to $700,000.
The Importance of
ADU

s

One citywide concern that's also top of mind for some Petworth residents is affordable housing.

As new condos and apartments emerge, residents like Schneider are asking developers to include affordable dwelling units (ADUs) so that old residents (and potential new ones) aren't priced out of the neighborhood.

A recent battle on this issue involved the redevelopment of the Hebrew Home at 1125 Spring Road NW. Thanks to efforts from Petworth residents, the property will include 88 units of affordable senior housing, as well as additional ADUs.

"Some landlords realize they can flip rental or older single-family homes into multi-unit condos that can sell for over $600,000 each," Schneider told UrbanTurf. "Redevelopment of older and vacant properties is great, but there needs to be a balance."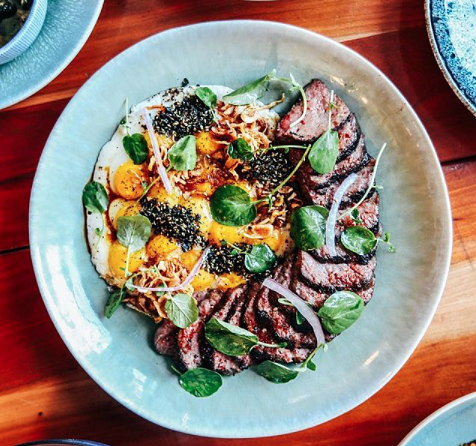 A dish at Himitsu. Photo by Himitsu.
Five Things to Do
Literary Cocktails at The Reading Room. On weekends, Chantal Tseng constructs an imaginative list of literary-inspired cocktails that you can sample in this intimate space ringed with books.
Good Reads at Upshur Street Books. This quaint independent bookstore is the perfect antidote to another trip to Barnes & Noble, as well as a great place to browse for your next great read from a carefully curated selection of books.
Splashy Fun at Petworth Playground. Amid the hip and happening spots, there are still tot-friendly activities in the neighborhood, this spot among them. During swampy summers, let the little ones cool off in the Spray Park.
Trendy Dining at Himitsu. A blend of Japanese, Latin American and South American flavors, this walk-in-only restaurant is a tiny, much-loved spot for which you'll likely have to wait, thanks to its inclusion on Bon Appetit's list of the country best new restaurants. The dishes are as spectacular to look at as they are to taste.
Lazy Afternoons at Grant Circle Park. From drum circles to parent meetups to neighborhood socials, this Petworth green space is one of the places where residents go when they're looking for casual, community-oriented events.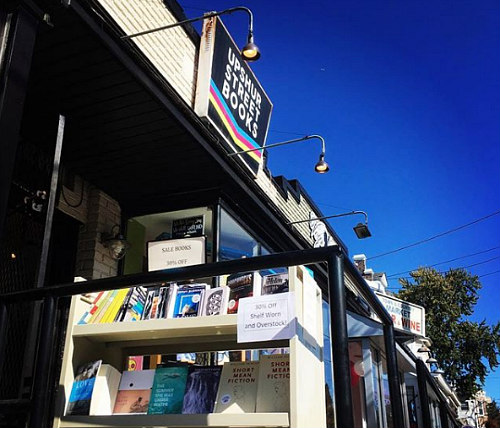 Upshur Street Books. Photo by Upshur Street Books.
Easy to Get Around
Petworth has its own Metro station at the intersection of Georgia Avenue NW and New Hampshire Avenue NW that serves the Green and Yellow Lines.
Parking (especially on the weekends) can be a bit tricky if you want to get close to where everyone's hanging out. Buses make a reliable option, as there are plenty that run along the neighborhood's main streets, including the 60 series.

The Bottom Line
In 2008, an UrbanTurf profile of Petworth mentioned the special moniker Washington City Paper had for the neighborhood: "Not-yet-worthy."
Ten years later, it seems that moniker is far out-of-date. With booming real estate development, happening social scenes, and residents determined to retain the neighborhood's charm and friendliness, Petworth is, to the contrary, very much worthy.
Zak M. Salih is a freelance writer based in Washington, D.C. His work has appeared in publications including Washington City Paper, the Richmond Times Dispatch, Baltimore City Paper, the Chicago Tribune, and the Christian Science Monitor.
Recent Neighborhood Profiles:
Real Estate Agents Serving Petworth
The following real estate agents are active in Petworth. Call or email them to get in touch.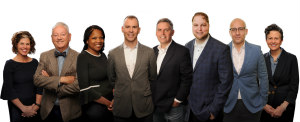 Joel Nelson Group
KW Capital Properties
Phone: 202-243-7707
Website: View website
Listings: View listings

This article originally published at https://dc.urbanturf.com/articles/blog/petworth_a_decade_later_much_has_changed/13548.
DC Real Estate Guides
Short guides to navigating the DC-area real estate market
We've collected all our helpful guides for buying, selling and renting in and around Washington, DC in one place. Start browsing below!
First-Timer Primers
Intro guides for first-time home buyers