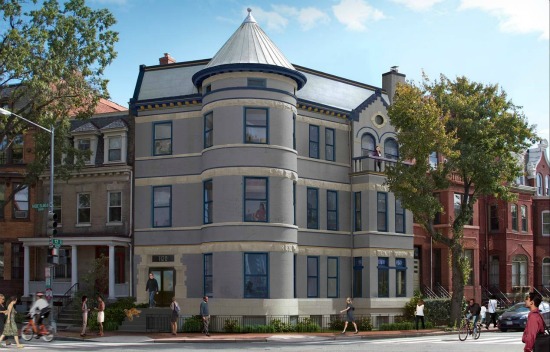 Rendering of The Newport Tower
For this week's One on One, we chatted with the principals at Lock 7 Development, a firm that specializes in converting dilapidated DC housing stock into boutique condo projects.
Dave Gorman and Patrick Conway have been working together since early 2007 and still maintain a two-man operation (with a team of regular subcontractors). They got their start in Baltimore renovating single-family homes and have worked their way up to bigger projects in DC, now focusing on condo conversions that range from four to ten units. Recently, they delivered The Thompson on the U Street Corridor, and are currently finishing up The Newport Tower in Shaw and Harvard Row in Columbia Heights, two condo projects that are set to deliver next month.
When you are searching for a new project, what makes a property an appealing candidate for redevelopment?
Dave Gorman: We look for something near a Metro with historic features that we can preserve or restore. We also want to be in an area where people are excited to live.
Patrick Conway: When we started, we were looking for great prices. We purchased one of our first buildings, The Grayson in Shaw, at a phenomenal price.
DG: That was a short sale. It had been bought by an investor who started the work but couldn't finish it. It was gutted. We built it into 4-unit condo project.
With so many new projects out there, what should buyers look for as they try to judge the quality?
DG: Look for level floors, trim and windows — by examining those things, you can tell if the project was done with care. Photos can look incredible for any new project, but when you actually go into the building, and the floors are creaking or things squeak when they shouldn't, those are indicators. Always look in the basement, at the foundation and for water issues. Those are the most expensive parts to fix.
PC: We tend to really gut our buildings. We want to preserve old character, but if the floors are not salvageable, we'd rather replace them, so that they're completely level.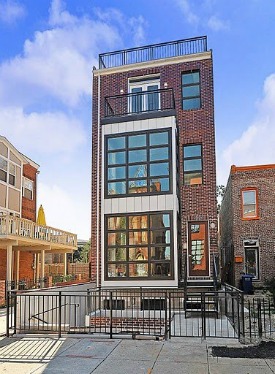 The Thompson Flats
What neighborhoods are you looking at now?
DG: I really like Hill East. It's sandwiched in between several Metro stops, and Capitol Hill has gotten so expensive: prices have gone up 16 percent in the last year. Those who have been priced out of the neighborhood are willing to venture a little further. Pretty much all our deals have been in areas like that: adjacent to a very popular area and close to a Metro.
Besides Hill East, are there other areas you have your eye on?
DG: I think there is still a lot of opportunity in Columbia Heights. Also, Adams Morgan. One of the benefits of Adams Morgan is that most of it is not historic (requiring developers to seek approval from the Historic Preservation Office), and the zoning is high density, so there's a lot of opportunity for development.
DG: Glover Park, too. It has really sizable lots (7,000 square feet), the size you might find in the suburbs, and it isn't historic. A lot of the condos are outdated and old with low ceilings, which makes for some good opportunities.
Say a person owns a dilapidated home in DC. Would you recommend that they fix it up themselves or sell it to a developer?
PC: It depends on the home.
DG: Also on the zoning — the value is really in the land. If you live on a small lot and it's not going to attract a developer, you're better off fixing it up yourself.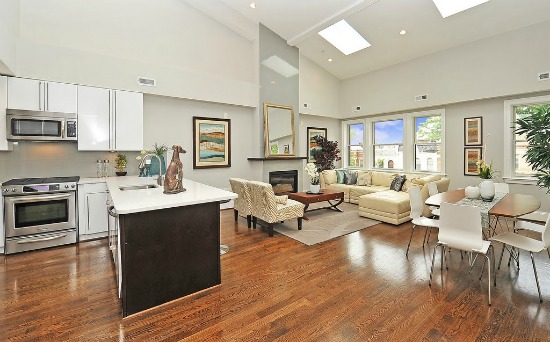 Inside a unit at The Thompson
How do you find properties?
PC: We're both agents and we look at the multiple listing service (MLS), but that's really not where we find projects. As developers, there's too much competition for the properties that are already listed. It's really through other agents [that we find properties].
DG: We typically buy homes that might not be a normal transaction. Maybe the seller wants several months to look for their new home or maybe they are an investor. In many cases, we've bought houses that are in such bad shape that the owner didn't want to do the work of putting it on the market, so an agent will call us and say, "I have a special situation."
PC: In general, the market is tough. There's a lot of competition out there for the properties that we are interested in.
On your website you talk about sustainability. How does that play into your design?
DG: When we were starting out, we found that people wanted something efficient, but there's a fine line. In our first projects, we were doing spray foam insulation, for example, but buyers didn't really care. We still use low-VOC paint, sustainable flooring, and recycled content, but still wonder if buyers really value it.
You guys have a very candid blog that outlines every step of the project process. Why did you decide to have a blog? Was it strategic or do you just like blogging?
DG: My friends, parents and family always asked what I did, so I started the blog so they could see it. It has since turned into a good marketing tool. It's also useful for us to go back and see what we could do better or differently. Buyers tell me all the time that they enjoy following the process on the blog.
PC: There are no secrets there. They know exactly what's behind the walls.
How does your model differ from that of other development firms?
PC: Unlike some of our competitors, we don't have big time equity investors who tend to add to the bottom line. We also move with very little overhead and that can be seen in our prices. We sell out quickly as a result.
DG: It's easy to make decisions when it's only two people. We don't need approval from anyone else.
DG: Generally, we try to create a product that is a little different. All of our projects have finished-in-place hardwood floors. We do extensive soundproofing. We pick high-end appliances and silestone or quartz counter tops instead of granite. So far, none of the units in our projects have resold. One or two have rented out, but none have resold. I like to think that the buyers are so happy, they don't want to move.
This interview has been condensed and edited for publication.
Similar Posts:
This article originally published at https://dc.urbanturf.com/articles/blog/one_on_one_lock_7_development/5571.
DC Real Estate Guides
Short guides to navigating the DC-area real estate market
We've collected all our helpful guides for buying, selling and renting in and around Washington, DC in one place. Visit guides.urbanturf.com or start browsing below!
First-Timer Primers
Intro guides for first-time home buyers