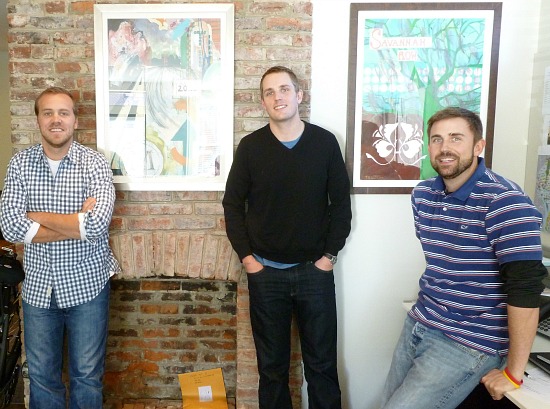 From left,
CAS
Riegler's Adam Stifel, Kevin Riegler, and Chris Heisey
Starting this week, UrbanTurf will be sitting down with all types of folks who have their fingers in some aspect of the DC residential real estate world to learn a little bit more about what they do. Today, we interview Kevin Riegler and Adam Stifel, co-founders of real estate development firm CAS Riegler, and Chris Heisey, whose SNEAD Construction works exclusively with the firm.
The CAS Riegler headquarters on S Street, which the company has occupied for just over 6 months, has a casual, frenetic, start-up feel appropriate for the three-year-old firm's young principals: poster-sized art, inspired by CAS Riegler devleopments and created by Stifel's sister, adorns the walls, bicycles lean, a huge whiteboard hangs above a conference table, and the three desks are covered in paperwork.
The firm currently has four projects in the works, including one at 1324 14th Street NW. Their boutique condos have popped up in previously blighted buildings in Columbia Heights, Logan Circle and Bloomingdale.
When and why did you decide to start CAS Riegler?
Adam Stifel: Kevin and I went to college in Colorado, and both happened to be from this area. I was a commercial real estate broker after college, and Kevin got into development with Heffner and Weber before he was at PN Hoffman. Through kayaking, we meet a guy who was trying to do a real estate deal in Potomac.
Kevin Riegler: This guy hit a roadblock with Montgomery County on the real estate part, and we helped him out for a good 6 to 8 months. That deal didn't work out, but it allowed us to realize that we enjoy working together. After the market crashed in 07-08, there were still a bunch of people in DC who wanted to buy a place at recessed prices. Big projects from the PN Hoffmans and the Abdos of the world were not going to happen in the near future. What we saw was an opportunity to take advantage of the sales market. There was no new supply and very little competition, except for 'mom and pops' who might flip a row house.
Adam Stifel: Our collective expertise led us to urban infill development. [Our projects] were smaller than anything that the big shops were interested in.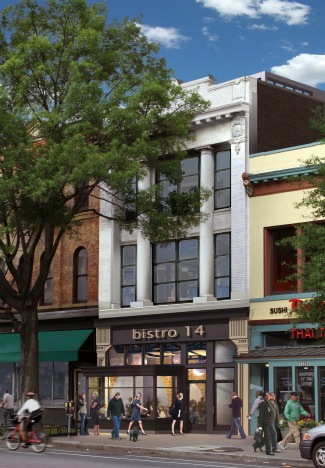 Rendering of 1324 14th Street NW
Where did your initial investment funding come from?
AS: We hit the friends and familiy circuit to start.
KR: For the first year, we were working on projects while we had day jobs. We weren't going to go completely full-time until we had a second deal purchased.
KR: These days, investors are affiliates and other people we've met. Some are real estate folks that have bigger fish to fry and for them, this is a smaller investment. Our average deal size is $3 to 4 million dollars.
AS: We have a strategic partnership with a group that is trying to help us get to a place where we can get maybe 7 to 10 projects going each year.
What was your first project?
AS: The Matheson at 1451 Harvard Street NW.
KR: We hired UIP general contracting and Chris was our project manager, so we got to know him really well.
AS: That project floated us for a year while we got the business together.
What came next?
KR: In 2011, we did The Flatiron and Savannah Row, both 8 units. We knew that that would sustain the company. Savannah Row delivered right before the holidays, and 5 out of 8 units have sold. It's at a higher price point than The Flatiron in Bloomingdale (which sold out in 6 days). We try to do high quality projects with good style and character, but not ones where you have to charge an arm and a leg to make money.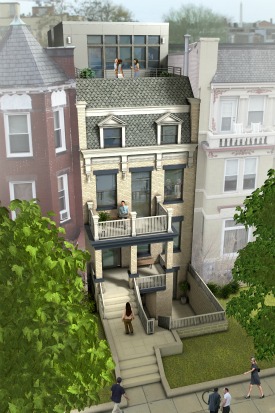 Crimson House at 1442 Harvard St NW
How do you manage the wants and complaints of citizens and community groups in the areas where your projects will be?
KR: A lot of times, people don't think to engage the community. For most of our projects, we need approvals, variances, and historic preservation approval, so we sit at a lot of kitchen tables. Ultimately, if the neighborhood is happy, your reputation will grow and you get more credibility and more projects.
Chris Heisey: At 1324 14th Street NW, we pulled back the pop-up and kept the historic facade based on feedback from the community. The building keeps its character, but we still get to put a 21st century spin on it.
KR: Neighbors were worried about shadowing and privacy. We added a green screen because some were concerned about windows looking in on the nursery of someone who just had a baby.
Do you ever push back on the wants/complaints from the community?
KR: With 14th Street, they wanted us to set it back 32 feet, but we ended up settling at 18 feet.
AS: There has to be a certain scale to our projects for them to be successful. The argument to the neighbors is: 'If this deal doesn't get done, it's just going to be a blighted old building and be another eyesore.'
Where do you guys see DC going, development-wise, and how do you fit in?
KR: In places where there are block-changing projects like the 125-unit project at 14th and S Street, we see an opportunity in the little holes that still exist in the neighborhood. Now that 14th Street is kind of done and Dupont is kind of done, the big developers have moved on to the Southwst Waterfront and NoMa, places where there's land. We are now coming back to neighborhoods like 14th Street and Dupont, and filling in all the forgotten little spots.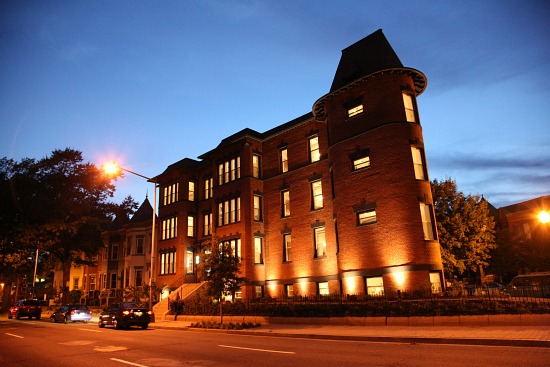 The Flatiron of Bloomingdale
What does a typical day look like?
AS: On Wednesday, the three of us come in at 7am and have a meeting to catch up. Yesterday, Chris ran to a construction site, I ran to an existing job site, and Kevin was on the phone for a good chunk of the day. Then we met with one of the project architects.
KR: Then we had a meeting with the general contractor to close out Savannah Row, to talk about the final budget and get that settled. Then we had a meeting with a potential retail tenant for our 14th Street project and their architecture team.
AS: On another day, we may actually have to put on a suit and go meet with investors.
KR: And there is meeting with underwriters about new deals, reviewing budgets, value engineering, and purchasing.
What are your biggest obstacles as a young developer?
KR: Finding new, good quality deals is really difficult. As is the financing: How much do you give to investors? What makes it worth your while? And you can't rely on others to have the same interest in a project as you have; that's a lesson we've learned tenfold. It's a double-edged sword: you need a huge team to pull it off, engineers and architects and lawyers and a sales team. But they don't have the same stake in the project that you do, so you've got to keep tabs on them, and push and pull. Real estate development, especially in DC, is an old guard kind of business. There are old school landowners and old school businesses that have been around for years. The fact that we're tech savvy, we live in urban environments, we want to live downtown, gives us a unique approach.
This interview has been edited and condensed.
This article originally published at https://dc.urbanturf.com/articles/blog/one_on_one_cas_riegler/4948.
DC Real Estate Guides
Short guides to navigating the DC-area real estate market
We've collected all our helpful guides for buying, selling and renting in and around Washington, DC in one place. Visit guides.urbanturf.com or start browsing below!
First-Timer Primers
Intro guides for first-time home buyers