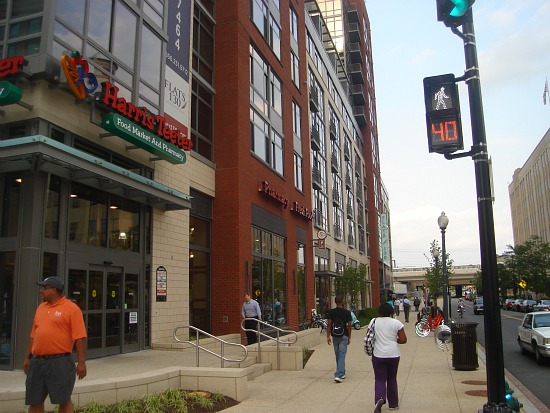 Outside the NoMa Harris Teeter
In a 2010 UrbanTurf profile on NoMa, the northeast DC neighborhood was referred to as a place where pioneers with vision might "take a chance" living. While still many years from being fully built-out – fenced-off lots, cranes and construction sites are very common sights these days – the office and apartment buildings that have opened over the past year have made it a place teeming with life (at least during the day), and anyone who thinks that they can take advantage of buying in an emerging neighborhood might be a few years too late.
NoMa, however, is still terra incognito to those who don't have a reason to set foot there, but given its proximity to downtown and the development on the horizon, that could change in the years to come.
Where It Is (And How It Got There)
Understanding NoMa's boundaries requires an understanding of the neighborhood's name — short for "North of Massachusetts Avenue" — which might also be called a brand.
In the 1850s, the area that is now NoMa was populated by refugees of the Irish potato famine, and by the early 1900s, construction of Union Station, its rail lines and other infrastructure required the razing of a number of the area's buildings. The current name only dates back to the late 1990s, when a small area north of Massachusetts Avenue was dubbed NoMa to signify the new construction in the area.
At the time, however, NoMa mostly referred to the area west of North Capitol Street, which is now more commonly considered part of the Mt. Vernon Triangle neighborhood. Plans to revitalize this area by bringing in high-tech jobs waned after the dot-com bust.
The NoMa brand's shift east started in the early 2000s. The XM Satellite Radio headquarters opened at the intersection of New York Avenue and Florida Avenue NE in 2000, and by this time, construction had already begun on the building that now houses the Bureau of Alcohol, Tobacco, Firearms and Explosives. In November 2004, the intersection's eponymous Metro station opened, easing the way for more development in the areas north of Union Station and east of North Capitol Street.
In March 2007, the City Council created the NoMa Business Improvement District, in effect cementing the neighborhood's geography around First Street NE and the Metro. The boundaries now, as defined by the BID, are approximately North Capitol Street to the west, 3rd Street NE to the east, Union Station to the south, and the business elements of Eckington south of Q and R Streets to the north. These boundaries are subject to a small amount of creative gerrymandering, with lumps jutting out of the rectangle to include some specific residential and future construction sites, like the planned Wal-Mart on New Jersey Avenue NW south of Eye Street.
For the purposes of this profile, we also include NoMa's neighbors living east of the BID borders. This area has benefited tremendously from the retail amenities that started opening last year, and NoMa's Metro-centric development is reflected in rents and home values of "Near Northeast."
NoMa Living
"NoMa residents" is a fairly new term given the early stages of the neighborhood's most recent life cycle. However, its location as a place to call home is particularly advantageous if you're one of the approximately 40,000 employees working in one of the area's office buildings.
Among those filling the area's busy streets during the day are employees from the Department of Justice and the General Services Administration, both of which lease offices at Constitution Square, a massive mixed-use complex that anchors the neighborhood and is home to a Harris Teeter grocery store and across the street from a CVS Pharmacy. The anticipation of everyday services like these is what got some people to start buying in NoMa years ago.
"We were really excited about the amenities coming in, and we liked the fact that we could get a house for the price we paid for a condo in upper northwest DC," Tony Goodman, who bought his house at 4th and M Streets NE in 2007, told UrbanTurf.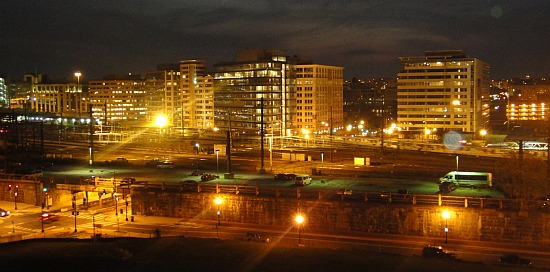 The view at night from the top of Loree Grand
Compared to the daytime population, NoMa's residential element is fairly small, if you don't include the single-family rowhomes to the east. By the BID-defined boundaries, there are about 1,400 residents, many of whom began moving in last year when several new buildings opened. While renters started arriving in 2007 when the Senate Square Towers on 2nd and I Streets NE began leasing, last year's opening of Loree Grand at 3rd and K Street NE and the Flats at 130 M Street resulted in an influx of new renters.
NoMa's rental units are filling up at a decent rate. Senate Square is 97 percent occupied; Loree Grand, which opened in June 2010, is 95 percent leased; and residents started moving into the Flats at 130 M last October, and it is 50 percent leased.
With its new residents in mind, the NoMa Business Improvement District has taken pains to make sure the neighborhood actually feels like one. It organizes weekly outdoor movie screenings that have been drawing around 300 viewers to an open parcel next to Loree Grand each week. A farmer's market is held Wednesday afternoons at the corner of 1st and M Streets NE, and a series of lunchtime musical performances for local office workers runs for 20 weeks out of the year.
Speaking of lunch, until recently, NoMa's food scene might not have turned any heads: Five Guys, Potbelly, Roti and Au Bon Pain are ubiquitous wherever you have office buildings. But in April, NoMa's first sit-down restaurant and bar, Todd Gray's Watershed, opened its doors, and sometime in July, Gillian Clark of Colorado Kitchen-fame, will open The Kitchen on K Street on the ground floor of Loree Grand, with a menu featuring American classics in a neighborhood bar and grill setting.
The Pipeline of All Pipelines
If the neighborhood's Northwest One project, where site work has begun, is included, ground has already broken or is expected to break on projects that are aiming to deliver almost 1,600 rental units to NoMa over the next two to three years.
Among those projects are the 469-unit Archstone NoMa, which is under construction at 1st and M Streets NE and slated for delivery next spring; another phase of Constitution Square under construction at 140 M Street that will add 203 units onto the Flats 130 project; and on what is now a small parking lot at North Capitol and M Streets NE, the first phase of William C. Smith & Co.'s Northwest One project, which will include 314 residential units and 4,100 square feet of retail.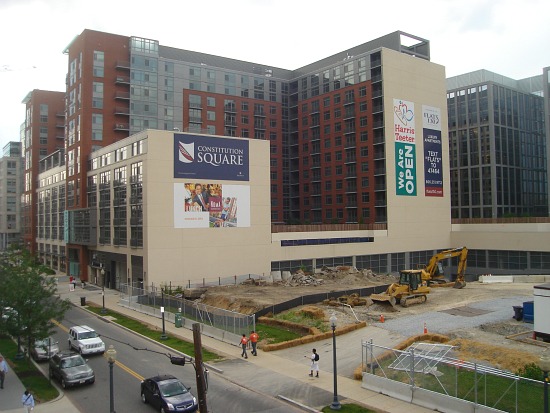 Future site of 140 M Street NE
In the northern part of the neighborhood – technically Eckington – Mill Creek Residential Trust's NoMa West complex will see 603 units rise up from the block bounded by Eckington Place and Harry Thomas Way. The project will be split into three buildings, and Q Street will be extended through the property to create what Mill Creek's Sam Simone described as a "a very pedestrian friendly – neighborhood within a neighborhood." In addition to the housing, which will include 48 affordable units, there will be 1,500 square feet of retail space that's envisioned as a small grocery and convenience store.
While most buildings coming in the near-term to NoMa are rentals, buyers do have some options. A new 49-unit condo project at 3rd and L Streets NE was recently announced. Valor Development and Ellisdale Construction's project will have 5,000 square feet of retail, including a restaurant. Groundbreaking is planned for later this year, and should deliver in spring 2013.
And the buildings above only represent a portion of what's to come. There are about 6,500 more units planned for the area, although most don't have public timelines attached to them yet. One of the largest is Burnham Place, a three-million square-foot project with office, retail and residential elements that will be built above the rail yards north of Union Station. The DC Zoning Commission recently approved the creation of a new district that will allow the height of the Burnham Place buildings to be measured from the H Street bridge that rises over the tracks. (One part of the new zoning regulation will require the streetscape around the bridge to be more pedestrian-friendly, with street-fronting dining and retail options.) Burnham Place is an Akridge project, and the design and plans for the 14-acre concrete platform as well as the buildings that will rise out of it are coming from architect Shalom Baranes. Akridge said infrastructure construction is not expected to begin until 2014.
With all this development on the horizon, it begs the question of what retail mix will be coming to NoMa. Residents have a laundry list of things they would like to see, including a gym, an office and copy store, a bike shop, a barber shop and beauty salon, and more restaurants. Neighbors are also clamoring for more green space, but getting some public parks might be easier said than done.
"There's very little public land within NoMa that can be turned into a park, so it's going to have to be purchased from a developer," Tony Goodman told UrbanTurf.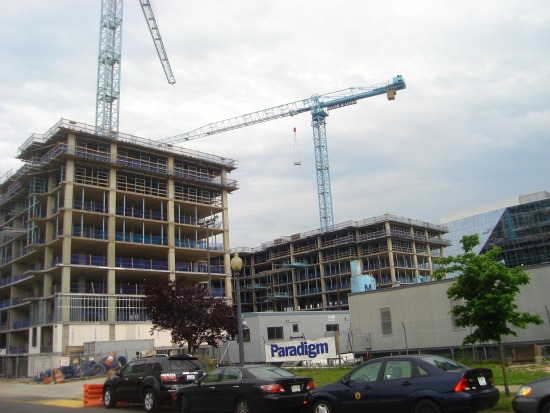 Construction of Archstone NoMa
A Lot of Rentals
For now, the majority of the housing available in NoMa is of the rental variety, and the units that will deliver in 2012 will also be geared toward renters. One reason for this is that it's easier to get financing to build rental buildings right now. Other reasons are high demand and the city's low apartment vacancy rate.
Monthly rent for a 648 square-foot studio at Loree Grand starts at $1,695; a 1,040 square-foot one-bedroom with a den starts at $2,395. The closer one gets to the Metro and NoMa's retail, the higher the rents. At the Flats at 130 M Street, a 504-square-foot studio starts at $1,855 a month, while a 1,069-square-foot two-bedroom goes for $3,035.
Conventional economics would suggest that once more housing stock is available, the high price of renting in NoMa could come down. But that probably won't be the case. According to Coldwell Banker's JT Powell, more residents and retail amenities will likely buoy the neighborhood's high rents, even as new apartments are built.
"We're seeing a lot of people moving to the neighborhood because the rental options are now there," Powell said.
Those interested in buying might look to the single-family housing stock east of the New York Avenue Metro, but should know that prices have risen in the years since the station opened. Powell, who lives in the neighborhood, bought a four-bedroom house for $215,000 in 2001. In 2004, he sold it for $435,000, and conducted a sale for the subsequent owners last year, when it sold for $629,000.
"For a very nice, livable home that may need some cosmetic work, it will probably be in the high $300s to low $400,000," Powell said. "There are larger homes with rental units in the basement that go for $800,000." He also said that while prices on single-family homes have risen, one-bedroom condos in converted buildings can still be found for less than $300,000.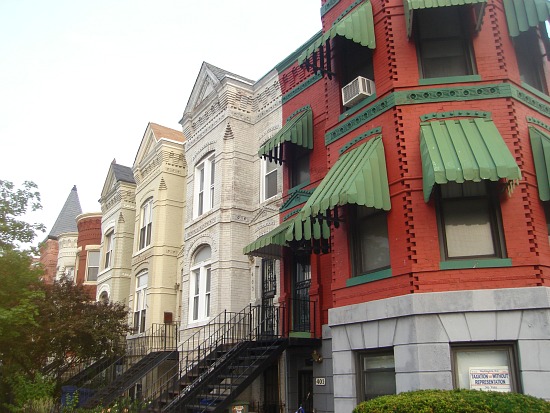 Houses on the 400 block of M Street NE
The G-Word
When shiny new office buildings, luxury apartments and new retail are built in areas once considered blight, the word gentrification, and the implications that it carries, start getting tossed around.
But in NoMa, for the most part, the sites where new buildings were or are being erected weren't inhabited. And not many of the residents in the houses to the east of the Metro were renting, meaning that fewer are subject to displacement by the area's rising costs.
"Most of the longer-term residents in the neighborhood own their property, and are very excited about things that are coming in," Goodman said. "I see all of our neighbors, newcomers and old-timers, in the Harris Teeter."
Brian Chamowitz, 27, bought his house on 3rd Street NE between L and M last March.
"There are people my age and people who have been here for 50 or 60 years," he told UrbanTurf. "It's a great mix of those who have been around the block for a while, and people who are just moving in and getting started. In my experience, the people who have been there longer have been very welcoming and really nice."
But despite the positive experiences of many residents, safety still remains a concern for potential buyers and renters. Even with the influx of residents and office workers over the past year, statistics from the Metropolitan Police Department suggest that crime in the neighborhood has remained a problem. An MPD tool that tracks crime statistics based on address shows that there were 121 instances of violent crime within 1,500 feet of First & M Streets in 2010; that number is down slightly from 126 instances in the same area in 2007. Property crime, however, has declined by 43 percent compared to four years ago.
The Bottom Line
It will likely be some time before NoMa is widely considered a distinctive neighborhood rather than a brand. But, the BID's efforts at branding have zeroed-in on what the neighborhood has going for it.
What once was considered a hard-to-get-to area is now within spitting distance of the Red Line, Union Station, the Greyhound Terminal, several Metrobus lines, two Capital Bikeshare stations, and the Metropolitan Branch Trail for pedestrians and cyclists (running between Silver Spring and Union Station).
So, while there are some doubts about NoMa's future and the many projects planned for the area, there's one valuable thing about NoMa that can't really change. Location.
"That's what everybody wants when they live in the city," Powell said. "They want to live as close to work as they possibly can, and for many, NoMa is the place to do that."
This article originally published at https://dc.urbanturf.com/articles/blog/noma_evolving_from_a_brand_to_a_neighborhood/3709.
DC Real Estate Guides
Short guides to navigating the DC-area real estate market
We've collected all our helpful guides for buying, selling and renting in and around Washington, DC in one place. Start browsing below!
First-Timer Primers
Intro guides for first-time home buyers