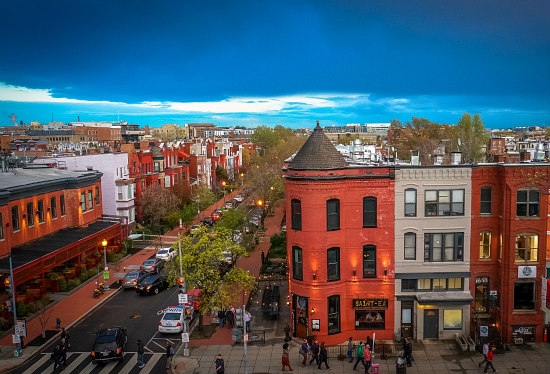 Looking down on 14th Street in Logan Circle.
Photo by Ted Eytan
.
UrbanTurf has profiled more than 50 neighborhoods in the DC area. We are now revisiting each of those neighborhoods to update our profiles and see how they've changed over the years.
---
Though they live just a couple blocks from one another, Greg Tavormina and Tim Christensen have two very different impressions of Logan Circle. A 34-year-old archives technician at the U.S. National Archives, Tavormina bought a two-bedroom condo on N Street in Logan Circle in April 2013, right around the corner from 14th Street, the crowded spine of the neighborhood that's home to a swell of bars, shops, and restaurants. Tavormina's purchase came at the height of the neighborhood's booming popularity, and he competed with nine other potential buyers for his new home. "I wanted to be centrally located in the city," he said of his decision to move from a basement apartment in Columbia Heights. "In seven blocks, I'm right downtown." Christensen's introduction to Logan Circle was markedly different. He bought his first home on 13th and Corcoran Street NW with his husband, Walter, back in 1989. They paid $250,000 for the rowhouse and didn't compete with anyone. "I remember cooking dinner one night and looking out my kitchen window watching guys in the alley shoot crack," Christensen recalls. "I thought, oh, Lord, what have we gotten into?"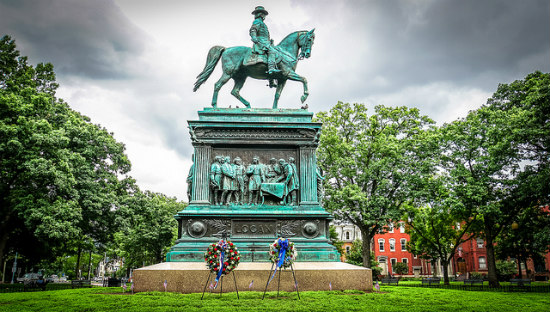 Logan Circle.
Photo by Ted Eytan
.
Beginning in the early 1990s, homeowners like Christensen, taking advantage of low prices, moved into a neighborhood ravaged by the 1968 riots and rampant crime. The subsequent decades saw the arrival of rehabilitated Victorian houses, a neighborhood Whole Foods (seen by many as a key turning point), trendy new watering holes and eateries, and a new influx of younger renters and homeowners. "I don't think new residents are aware of just how hard people worked to make this a destination neighborhood," Christensen said. He and his husband now live in a newer, two-bedroom/two-bathroom condo that includes garage parking and views of the neighborhood's eponymous traffic circle.
The popularity and liveliness in the neighborhood now come with a pretty hefty price tag. Logan Circle is now synonymous with high prices for everything from housing to yoga classes, which can make settling in the neighborhood a daunting prospect for those without deep pockets. "The neighborhood's great, but you have to pay for it," Tavormina said. For Christensen, the change of the last several years has come quickly. "I'm hoping we'll eventually slow down growth a little bit," Christensen said. "Some people have been priced out of the neighborhood, and I'd hate to see more people displaced. Logan Circle is a beautiful place to live, and it's just the way I love it right now."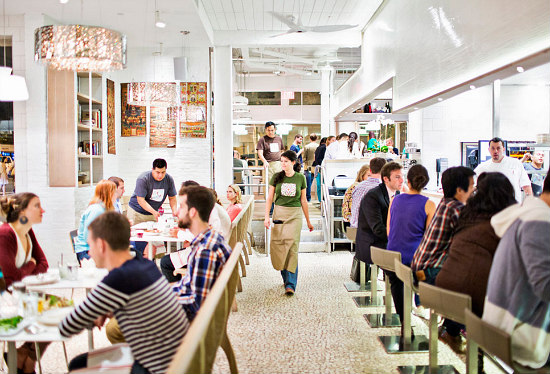 Inside Doi Moi. Photo courtesy of Doi Moi.
---
From Wild Farmland to Urban Playground
While the exact boundaries of Logan Circle vary depending on whom you speak with, the neighborhood is commonly considered to be between Thomas Circle (to the south), S or T Street NW (to the north) and 15th and 10th Streets NW (to the west and east, respectively). The neighborhood's high walkability and heavy saturation make it almost self-contained. "Daily living is the best single thing about Logan Circle," said Darrel Rippeteau, an architect who works out of the building he owns on 14th Street (and shares with an art gallery and two apartments). "You walk around, and you've got everything you could possibly want."
In the mid-1800s, before the Civil War, Logan Circle was mostly farmland and was officially known as Iowa Circle (unofficially: "Blodget's Wilderness"). During the Civil War, the circle itself was infamous as a place of public execution for deserters and spies. In a blend of styles including Gothic and Romanesque Revival, the Victorian houses that still line the neighborhood's streets first appeared in the closing decades of the 19th century. In the opening decades of the 20th century, the neighborhood developed its reputation as "Automobile Row" for the car garages and showrooms that lined 14th Street. The circle officially changed its name in 1930 to Logan Circle, after the Union commander John A. Logan. Nearly 40 years later, the riots in the late 1960s tore apart much of the city, Logan Circle included; for the 25 years that followed, the neighborhood was rife with prostitution, drug abuse, and homelessness. The last twenty years have been a renaissance period driven by development.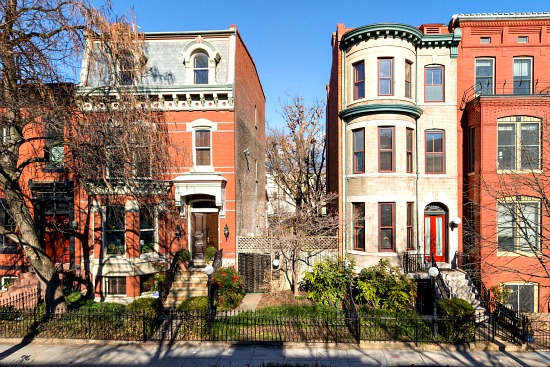 Homes on R Street in Logan Circle.
Paying the Price
Logan Circle is an increasingly expensive place to live. In recent years, high-end rental buildings, like The Mission, a 51-apartment complex inside the shell of the old Central Union Mission homeless shelter, have popped up around the neighborhood with asking rents ranging from $1,900 a month for a studio to upwards of $5,500 a month for a two-bedroom. Real estate for sale in the area is equally pricey and in high demand. One of the neighborhood's signature draws is the historic Victorian-style townhomes that fan out from the circle itself, as well as the smaller townhomes along the neighborhood's quiet side streets. In 2016, the average price for a house in Logan Circle was $1.34 million (a steady increase from $1.25 million in 2014). The average sale price for a condo in the neighborhood last year came in at almost $680,000.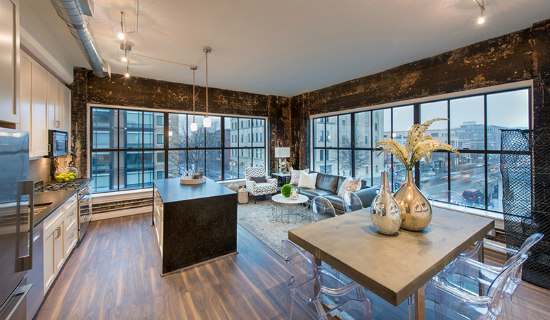 An apartment at The Mission.
"I don't think prices are going to go up exponentially in the future, but growth will remain steady," said Daryl Judy, an associate broker with Washington Fine Properties and 15-year Logan Circle resident. "In a sense, we're a little insulated here from larger market changes." New neighborhood additions in the coming months and years include a seven-story residential development in the spot once owned by Barrel House Liquors (whose iconic barrel-shaped entrance will remain a part of the new building) and a 32-unit luxury condo development along Rhode Island Avenue NW.
Five Things to Do
* Get a history lesson on the Heritage Trail. Run by the community, the Logan Circle Heritage Trail offers a 1.5 mile walking tour through the neighborhood's storied past, including famous homes, Civil War camps, and the Vermont Avenue Baptist Church (which dates back to 1866). On pleasant days, it's a great way to put the neighborhood's progress into perspective. * Have dinner at Doi Moi or Estadio. For a time, there wasn't a month that went by without a new restaurant or bar opening in Logan Circle. While options are plentiful, our recommendations for a dinner out would be Doi Moi, a restaurant focusing on Southeast Asian cuisine, or Estadio, a Spanish eatery that screens old soccer matches at the bar. * See a show at Studio Theatre. With so many places to have dinner in Logan Circle, Studio Theatre fills out the "show" side of the equation. Since 1980, the theatre has been putting on a diverse range of eclectic, groundbreaking productions in their current space—an old hot dog warehouse.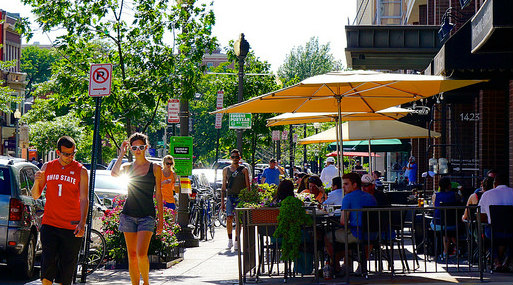 P Street in Logan Circle.
Photo by Ted Eytan
.
* People-watch at Logan Circle. Stop by the namesake circle on a nice day and you'll see an eclectic neighborhood picnicking, walking dogs, playing music, and suffering through fitness boot camps. It's quieter people-watching than what you'll get right on 14th Street. * Find an obscure treasure at Miss Pixie's. Packed with hidden treasures, this colorful consignment shop has been on 14th Street since 2008. New shipments arrive weekly, so just when you think you don't need another clothes mannequin, pop-art-style painting, or old photograph, you're always coming back for a look.
Walkable But Not Parkable
While there's no dedicated Metro stop, Logan Circle affords walkable access to the Yellow and Green Metro lines (U Street/African American Civil War Memorial/Cardozo or Shaw/Howard University), as well as Blue and Orange lines (McPherson Square). The 52, 53, and 54 bus lines run in a straight shot up 14th Street, through U Street and Columbia Heights, and into the neighborhoods of upper Northwest. Another bus line that carries you through Logan Circle (along P Street) is the G2. If you have a car, you might be in trouble. Street parking is frequently a chore, especially on the weekends, when visitors snag spots normally reserved for residents. As such, you'll likely have to fork over money for a designated parking garage, or plan on parking several extra blocks from where you need to be.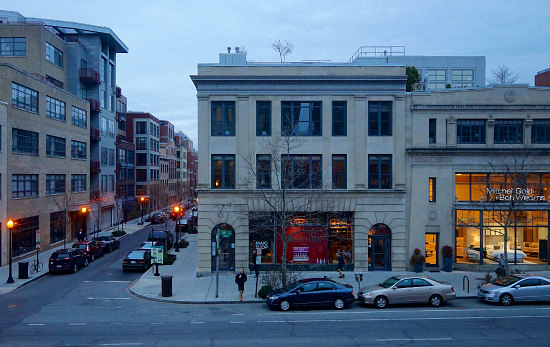 Looking out at Church Street NW in Logan Circle.
Photo by Ted Eytan
.
The Bottom Line
Old and new, glossy and gritty, classy and casual, quaint and crowded; Logan Circle is a prime example of DC's urban redevelopment surge—the same one that has spread to the neighborhoods east and north of Logan Circle, and other quadrants of the city. Once rife with prostitution, drug abuse and homelessness, the neighborhood is now home to trendy eateries, brand name shops and $2,000-a-month studio apartments.
---
Zak M. Salih is a freelance writer based in Washington, D.C. His work has appeared in publications including Washington City Paper, the Richmond Times Dispatch, Baltimore City Paper, the Chicago Tribune, and the Christian Science Monitor.
Real Estate Agents Serving Logan Circle
The following real estate agents are active in Logan Circle. Call or email them to get in touch.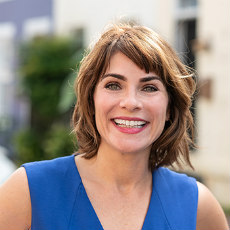 Jen Angotti
Compass
Phone: 202.285.4238
Website: View website
Listings: View listings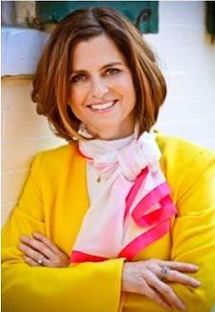 Abi Paulsen
Coldwell Banker Realty - Dupont Logan Office
Phone: 202.339.2230
Website: View website
Listings: View listings

This article originally published at https://dc.urbanturf.com/articles/blog/logan_circle_a_tale_of_two_eras/12040.
DC Real Estate Guides
Short guides to navigating the DC-area real estate market
We've collected all our helpful guides for buying, selling and renting in and around Washington, DC in one place. Start browsing below!
First-Timer Primers
Intro guides for first-time home buyers