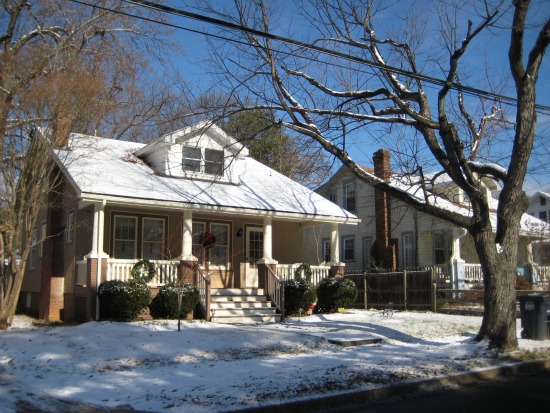 Characterizing Hyattsville depends on where you stand on the glass-half-full versus glass-half-empty spectrum. A pessimist might look at the Prince George's County town near the District's northern border and see a community scarred by foreclosures, one where home values have taken a dive and independent businesses struggle to survive.
But someone with a rosier outlook would likely focus on the positives: the area's wide range of attractive, affordable homes; its proximity to downtown DC; and its burgeoning Route 1 corridor, which is about to bloom with new restaurants and retail.
In truth, the town—a relatively large community that includes a few disparate neighborhoods—is all of the above. An area that was hit very hard by the economic crisis, it nonetheless retains substantial potential for the DC region's still-expanding housing market.
Not Just a Neighborhood
Hyattsville is an actual municipality that encompasses several zip codes and has its own city council. The area is irregularly shaped; the bulk of the town lies south of East-West Highway and west of Route 1, straddling Queens Chapel Road, but a narrow panhandle runs north along Adelphi Road to University Boulevard.
Commercial areas include the strip of businesses near the West Hyattsville Metro station, in the town's southwest corner; a busy cluster of stores at the intersection of East-West Highway and Belcrest Road, where the Prince George's Plaza Metro station is located; and a long commercial zone along Route 1, near the town's eastern border.
Housing of All Sizes For All Types (Even Artists)
In between the commercial areas are vast, quiet residential areas fringed with tall hardwoods. Hyattsville's historic district lies to the southeast and the homes there—1920s and '30s-era Victorians, bungalows, and quirky Italianate-style houses—are relatively large and well-preserved. But the majority of the town's detached homes are modest, boxy postwar structures on decent-sized plots of land; a few have obviously been well-maintained or even renovated, but most are unpretentious and many seem to be in pretty basic condition.
There are also a number of large apartment and condo buildings near the main roads and commercial areas. Most of these are older structures, but a few newer complexes are located near Prince George's Plaza.
Then there's the Arts District development along Route 1, which belongs in a category by itself. An ambitious project launched by developer EYA in 2006, the area currently includes 132 townhouses with a variety of funky facades that are finished and fully occupied, as well as a community center. Yet to come are another 183 townhouses currently under construction, and roughly 300 units in multi-family buildings that will be either condos or apartments.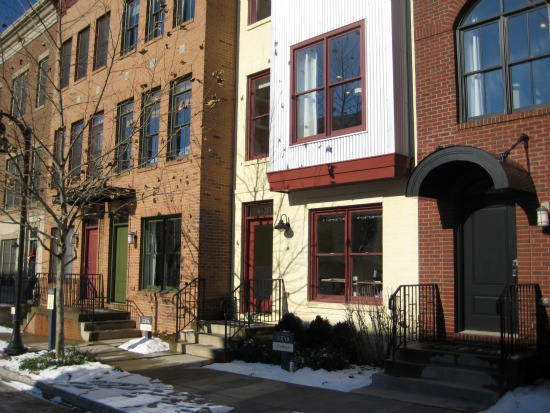 EYA
Townhomes
The development has gotten a lot of press in the past few years, not only because it adds new homes to an area that hasn't seen much development in the past decade, but also because it provides live-work spaces for artists and aims to revitalize the Route 1 corridor—though for now, the majority of the storefronts bear "Coming Soon" signs. Also sited near that strip but unrelated to the EYA project is Renaissance Square, a 44-unit building targeted specifically to artists.
All Across the Board
Given the mixture of the housing stock, it's not surprising that Hyattsville's residents are pretty diverse. There are federal employees, residents who've lived in their homes for decades, newcomers lured by lower housing prices, and immigrants looking to establish a foothold in the area.
"There's black, white, Hispanic, islanders, Africans, everyone," said Albert Thomas, 58, who's lived in the town for fifteen years and was shoveling snow on his walk recently. "People get along okay, but everybody seems to mind their own business."
Elizabeth Arnold has lived in the area since 1992 and agreed with Thomas about the mix of residents.
"Take my block, for example," Arnold said. "My next door neighbor has been here since she was a child, and is now in her 80s and two families across the street have been here as long as I have. But my other neighbors just moved away and there'll be a new family coming in. It's not like a small town in the Midwest where everybody knows everybody, but I think people feel like they belong."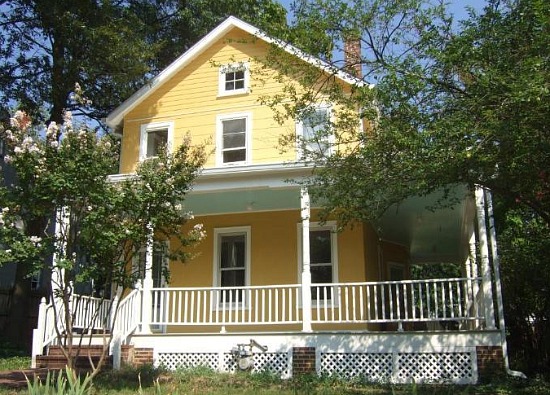 Home currently for sale in Hyattsville
Average Prices Are A Little Misleading
Hyattsville was one of the communities hit hardest by the foreclosure crisis in Prince George's County.
"There are still a lot of foreclosures," Andy Werner, a real estate broker affiliated with RE/MAX who works in the area said, nothing that the foreclosed homes are selling at low prices, and the glut of distressed properties for sale has pushed housing prices down.
For example, according to Werner, the average sales price for a two-bedroom detached home is just under $100,000, but that number is skewed because it includes bank-owned properties; the average sales price for a four-bedroom home is $181,000. Those average figures make it difficult to get a sense for the home prices in the town. For example, some four-bedroom Hyattsville homes are selling for just above $100,000, while others are going for over $300,000. Condos are similar. A one-bedroom unit in a big 1960s-era building could cost as little as $50,000, or as much as $215,000. Two-bedrooms run from $70,000 all the way to $300,000.
In the Arts District, though, prices are pretty consistent. EYA is selling its three bedroom townhomes for between $360,000 and $390,000, and four-bedroom homes range from $450,000 to $500,000.
Three Commercial Districts
Each of Hyattsville's three main commercial districts has a different flavor. The area near the West Hyattsville Metro station features a strip of small restaurants and stores, many catering to the region's Latino population. Prince George's Plaza, in contrast, feels like a sprawling suburban shopping center and has a number of chain stores, including Macy's and Target. Finally, Route 1 is home to the area's few funky, independently owned businesses like the yarn shop A Tangled Skein, and Franklin's, a two-story brewery and family restaurant. According to Elizabeth Arnold, the three areas (combined) finally have enough restaurants to satisfy Hyattsville residents.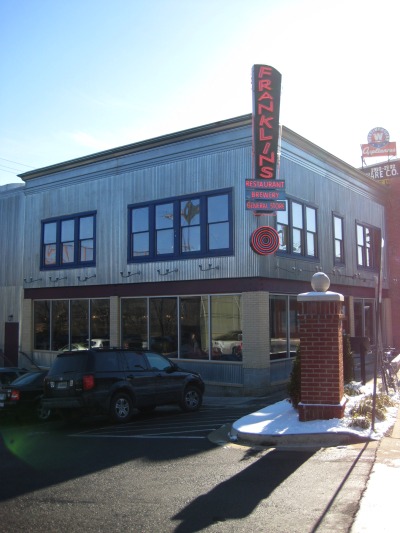 "We frequently go to Rhode Island Reds; it's got the best pizza in town," Arnold said of the Route 1 restaurant that offers live music on Thursday nights and movies on Fridays.
Other restaurants of note include Shagga Coffee & Restaurant, an Ethiopian restaurant along Route 1; Kitchen Near You, an African restaurant near the West Hyattsville Metro; and Hanks Tavern and Eats, a somewhat upscale American restaurant under the same management as DC's Chef Geoff's.
More household-name establishments are planning to open in the coming months. This spring, the EYA development will welcome several new businesses including Busboys and Poets, Tara Thai, Elevation Burger, Chipotle, and Yes! Organic Market.
Crime Headlines
If you have read the local section of the newspaper in 2011, you know that there has been a bit of a crime wave hitting Prince George's County. However, most of the incidents have happened outside the Hyattsville borders and the town is, by and large, considered safe by its residents.
Albert Thomas told UrbanTurf that he feels the town is very safe, noting that he hasn't seen any crime since he moved to the area in 1995. Elizabeth Arnold, however, hedged a little bit more. "I feel safe, but that's partly because I'm usually with my dog when I walk around," she said, adding that some of her neighbors have had their cars broken into or have been mugged.
Hyattsville is certainly not crime free. A map depicting crimes in the town over the past month show a rash of car thefts, assaults, and burglaries. But according to a report released by the Hyattsville police department at the end of last year, crime decreased by five percent between 2009 and 2010 due to new law enforcement tactics and the use of new technologies.
The Purple Line
The big transportation news in Hyattsville is that, if it comes to fruition, the proposed Purple Line light rail that will connect Bethesda and New Carrolton would run right through the town. A number of hurdles still need to be overcome before the plan moves forward and completion would be years away, but the 16-mile line would certainly make the area more attractive.
As far as transportation options currently, Hyattsville is relatively convenient. For those with cars, the town is located on or near a number of major outlets going into DC, like Route 1, the Baltimore-Washington Parkway, and Route 50, and with two Metro stations, the area's also accessible to public transportation patrons. However, because the town is relatively large, not all residents are within walking distance of the Metro.
The Bottom Line
With the foreclosure situation and empty storefronts along Route 1, it is relatively easy to not speak very highly of Hyattsville right now. But with the current affordability of homes, the budding development and the retail that is coming to the area, it is also not hard to see this area shaking off its current troubles in the next few years and blossoming.
Amanda Abrams is a Washington, DC-based journalist who has written feature stories for The Washington Post, Christian Science Monitor, and Washington City Paper.
More Info on Hyattsville
Zip codes: 20781, 20782, 20786, 20788
Schools: Hyattsville Elementary School, Rosa Parks Elementary, or University Park Elementary; Hyattsville Middle School or Nicolas Orem Middle School; Northwestern High School
Hyattsville real estate data and profile from Redfin
Hyattsville rental listings from Craigslist
This article originally published at https://dc.urbanturf.com/articles/blog/hyattsville_glass_half_full_or_half_empty/2833.
DC Real Estate Guides
Short guides to navigating the DC-area real estate market
We've collected all our helpful guides for buying, selling and renting in and around Washington, DC in one place. Visit guides.urbanturf.com or start browsing below!
First-Timer Primers
Intro guides for first-time home buyers