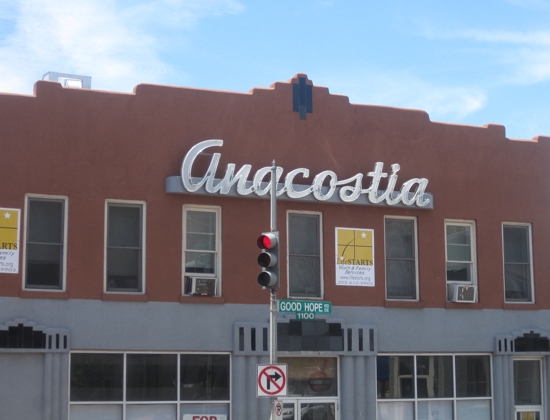 Good Hope and Martin Luther King, Jr. Avenue SE
On almost every block in Anacostia there are both beautiful homes and vacant houses. The neighborhood's main streets are a similar mix: fresh new businesses next to forlorn facades. Blight? Maybe. But to many, this contrast signals something much more hopeful: opportunity. "I can see the Capitol dome from my front porch!" Jeff Herrell says as he tends the huge yard surrounding the house he renovated with a historic homeowners grant. Those funds have recently rehabbed more than 60 other houses here, where relatively low prices have launched a home-buying surge. "Historic Anacostia is an amazing place in terms history and architecture. Plus, we're only a five minute drive from downtown DC," Herrell, an International Monetary Fund staffer, told UrbanTurf. Herrell says he's made lots of friends with other newcomers, mostly gay couples in their mid-30s like him and his partner. That influx represents yet another seismic demographic shift in Historic Anacostia. Established in 1854 as Uniontown, a home for the white workers at the Navy Yard across the river, Anacostia got its current name from the Nacochtank Native American settlement along the river. In 1877, abolitionist Frederick Douglass became the first African-American allowed to own land in the neighborhood. His stately home perches on one of the hills that give the area its great views, as well as the strategic advantage that sprouted civil war fortresses. The rich history and geography bequeathed to Anacostia some great landmarks, such as Douglass's home, Fort Stanton, the Carver Theater and the Birney school, as well as its biggest economic advantage -- historic district classification. But like what comes with most exciting pasts, the neighborhood has suffered -- and earned a bad reputation. White flight in the 1950s left a vacuum soon filled with public housing projects and their inherent drug and crime problems. The schools have been among the nation's lowest performers and many businesses, like Safeway and McDonalds, have decamped. Promises to realize the area's potential have constantly been broken, with fingers often pointed at Council Member Marion Barry, the former city mayor currently dogged by corruption charges.
Where It (Actually) Is
Something of an identity crisis is also to blame for the neighborhood's bad rap. "Anacostia" is often a misnomer used to refer to the entire area of Washington east of the Anacostia River, which is correctly called East of the River or River East. In fact, Anacostia applies only to Historic Anacostia, a relatively small section with its own distinct identity. Because of this confusion, many people associate Anacostia with all poverty and crime that occurs East of the River. The neighborhood's reputation has suffered unduly as a result. Martin Luther King, Jr. Avenue and Good Hope Road make up the north and east boundaries of Anacostia, and serve as the neighborhood's commercial arteries. The residential Howard Road is the boundary to the west and Fort Stanton Park the boundary to the south.
Change Brings Hopes for A New Identity
Many Historic Anacostia residents resent being associated with the entirety of River East -- where many cab drivers refuse to venture -- and the new life pulsing through the neighborhood may help their cause. Most visible are the cutting-edge contemporary new public library, the sleek Spirit Health and Wellness center and the Grandview condo building designed by Division One architects. New headquarters for the US Coast Guard and DC's housing department, and the proximity of the new Department of Homeland Security site at St. Elizabeth's are expected to provide a boost to the area.
Newly-built Grandview Estates at 1300 Talbert Court SE (
map
)
But even more significant are the huge economic benefits that will likely result from some major coming attractions. The $4 billion Anacostia Riverfront initiative will transform that barren stretch with a gym, swimming pool, bike and pedestrian trails, tennis and basketball courts, an amphitheater and boating facilities. Funds from DC's new bag tax are also going toward cleaning up the toxic river. The 11th Street Bridge renovation, a new streetcar system and the Four Points developers' plans for a 1.5 million-foot mixed-use complex in the neighborhood's center round out the initiatives that hold considerable potential for Anacostia's prosperity. The decision by the DC Office of Cable Television and Verizon to make Anacostia the first DC area to receive FiOS (fiber optic cable, internet and phone service) is another sign that this quarter is starting to get some real attention.
Longtime Residents Make Way for Newcomers
The transformation of Historic Anacostia will almost certainly change the face of the neighborhood, now home to a predominately single, African-American, working and middle class population. The median age of the some 8,000 residents is 30, the median income $30,000 and just 40 percent of the households have children, according to The Washington Post. Most rent and the median overall residency is 3.4 years. Newcomers include single young professionals and families, attracted to the area thanks to the low home prices and the park and school improvements. Stan Voudrie, a Four Points principal, says he understands the concerns about gentrification he frequently hears from long-time residents. But he says they shouldn't worry they'll suffer the way others have in places like Shaw, where dense populations have people competing for high-priced properties. "Folks that live here now aren't going to be displaced. There's so much space here that we're going to be filling up apartments and empty houses," says Voudrie, who has renovated several row homes on W Street. "I truly believe that the change over the next decade will benefit all the residents; it will continue to be an economically improving neighborhood."
Low Priced, Fast Moving Housing Stock
Italianate, Victorian, Cottage and Queen Anne frame houses are the dominant property types in the area. Interspersed among these homes are brick public housing projects, row houses, a few contemporary homes and one- to four-story new condo buildings. The average cost of a single-family home is around $260,000, one-bedroom condos average about $170,000 and two-bedroom condos $190,000. The latest condo developments include the Grandview Estates and Fendall Heights Condominiums (both priced from the low- to mid-$200,000's).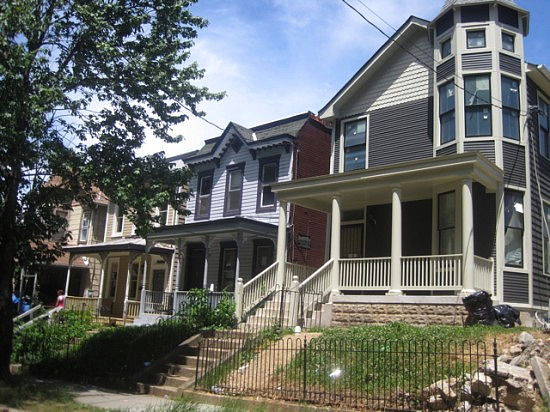 Renovated Victorian in Anacostia
Currently, 15 single-family homes and 31 condos are on the market. Home sales are brisk, according to neighborhood Realtor Darrin Davis, who said investors are snapping up a lot of the available inventory. "Investment potential is at its best since 2002," Davis said. "The prices are still low compared to other areas of the city. Six of my seven sales last month were all-cash deals with investors who bought homes that needed renovations."
Renting
Just 28 percent of residents own their homes, and the rental stock (mostly investor-owned single-family homes or apartments) is tight. Renters are generally on government-assisted vouchers that pay $1,200/month for one-bedroom apartments, $1,400 for two-bedrooms and $2,000 for three-bedrooms.
The Schools Are Getting Better
As noted earlier, the schools in Anacostia have historically been some of the lowest performing in not only the city, but the entire country. However, efforts are being made to remedy that. Friendship Public Charter took over Anacostia Senior High Scool last year in an effort to turn the monumentally troubled school around. The Thurgood Marshall Academy charter is DC's highest performing non-selective public high school, and the shiny new public Savoy Elementary School boasts a state-of-the-art computer lab. Private schools include the secular Naylor Road School, the St. Francis Xavier Catholic School and the Islamic Clara Muhammad elementary school.
Big Chair Leads the Restaurant Influx
The Big Chair Coffee 'N Grill, named after the World's Largest Chair, a major Anacostia landmark erected in 1959, created a lot of of buzz when it opened on Martin Luther King, Jr. Avenue in January. The advent of a coffee shop was hailed as a harbinger in Anacostia, where sit-down restaurants are scarce. The Uniontown Bar & Grill will open later this summer. In the meantime, the Fireside (Caribbean) and Morgan's Fish 'N Fry offer decent, affordable eats. Another restaurant, still un-named, is moving into the 1300 block of Good Hope Road with a projected October opening.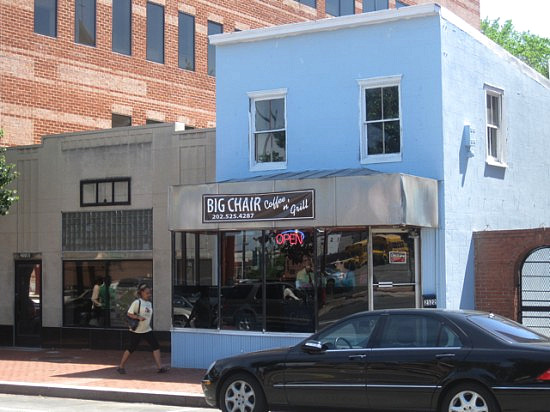 Big Chair Coffee at 2122 MLK Jr. Avenue (
map
)
The Douglass home and the Smithsonian's Anacostia Community Museum are the neighborhood's cultural heavyweights. The Honfleur and Vivid Solutions galleries, the American Poetry Museum and the African Heritage Dancers and Drummers studio are adding to Anacostia's arts community. Several parks, including the Fort Stanton woodlands and Anacostia Park on the waterfront, provide outdoor recreation. An unpaved hiker-biker trail runs east from Good Hope Road and the Suitland Parkway bike path is easily accessible.
A Shopping Desert
The Anacostia Art Gallery and Boutique carries African artifacts and home accessories, and American Shotta's offers music and apparel, but otherwise it's a shopping desert with just a few corner shops, a florist, and a small clothing store. The Anacostia Warehouse Supermarket carries standard quality groceries in a quirky retro setting and the opening of a Yes! Organic Market near the Souza Bridge is close enough to give Anacostians something to cheer about.
Getting Around
The Anacostia Metro station on the Green Line sits on Howard Road in the western corner of the neighborhood. Metrobus lines A2, A4, A6, A8, B2 and U2 serve the area and bike paths run across both the Souza and 11th Street bridges. The Anacostia Freeway easily connects with the Frederick Douglass bridge to the west and other major DC area freeways. The 11th Street bridge replacement project will create two bridges to improve Anacostia's accessibility. But, as it is in many neighborhoods, the new streetcar system is the best coming transportation news for the area. Its first phase, half of which is already complete, will begin operations in Anacostia in 2012 and will connect the neighborhood with H Street NE and Union Station.
Historically High Crime Rate Still Plagues Area
Crime is what many DC residents associate with Historic Anacostia, particularly homicides and other violent crimes. In March, The Washington Post reported that 11 of the 20 killings in the city since January were in communities like Historic Anacostia and Congress Heights. Muggings are also a problem, but not necessarily worse than in trendier quarters like Adams Morgan and Georgetown, where late-night partiers and the well-heeled are targeted. Though many hope Anacostia's upward mobility will reduce the often drug-related crimes, resident Jeff Herrell says the opposite has been the case recently. "We've had a lot of break-ins since the beginning of the year," Herrell told UrbanTurf. "It's kids and they're after electronics, TVs, stereos and stuff like that." He adds, however, that he doesn't worry about violent crime. "It's Southeast, so you get the homicides, but it's mostly retaliation stuff, you know, like 'You insulted my sister.'"
If You Build It Out, Will They Come?
For all the optimism, the pain of broken promises lingers along the blighted stretches of Martin Luther King, Jr. Avenue. Many a business has canceled plans to open, such as an upscale dining and dancing club, either because of onerous red tape or some financial complication. Others are adopting a wait-and-see attitude. Affinity Lab, which offers collective office space for independent entrepreneurs, raised hopes with talks about opening one of its "business incubators" in the neighborhood. The lab's CEO Charles Planck says the lab is focusing now on its new U Street Corridor location, though, and has no immediate plans for Anacostia. David Garber, author of the neighborhood blog And Now, Anacostia, told UrbanTurf that a team consisting of Four Points and ARCH Development Corporation has picked up where Affinity Lab left off, and hopes to open a similarly-focused venture on Martin Luther King, Jr. Avenue in the next year. Still, Planck echoes many who recognize Anacostia's huge potential -- for both good and bad. "Anacostia does have some unique opportunities -- and challenges -- that aren't available in other communities." Gretchen Cook is a Washington, DC-based journalist whose work has appeared in The New York Times, The Washington Post and Washingtonian Magazine. * Photos taken by Glenn Hennessey.
More stuff about Anacostia
More Photos
Below are more photos of the streets and buildings of Historic Anacostia. Click on any photo to enlarge into a slideshow.
| | |
| --- | --- |
| Jeff Herrell's renovated home | More home renovations |
| Valley Place SE | Home on Valley Place SE |
| W Street SE | Abandoned home on MLK Ave |
| Anacostia's first green condos | Salvation Army Building |
| The 'Big Chair' on MLK | Frederick Douglass National Historic Site |
| Savoy Elementary | Birney School |
| Spirit Fitness | Public library |
This article originally published at https://dc.urbanturf.com/articles/blog/historic_anacostias_future_promise_breeds_cautious_optimism/2095.
DC Real Estate Guides
Short guides to navigating the DC-area real estate market
We've collected all our helpful guides for buying, selling and renting in and around Washington, DC in one place. Start browsing below!
First-Timer Primers
Intro guides for first-time home buyers