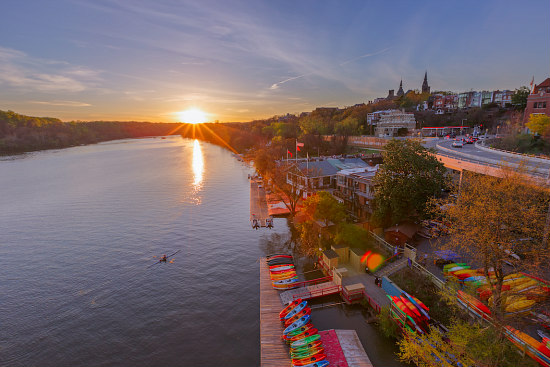 Sunset over the Potomac River in Georgetown. Photo by
Mark Alan Andre
.
UrbanTurf has profiled more than 50 neighborhoods in the DC area. We are now revisiting each of those neighborhoods to update our profiles and see how they've changed over the years.
---
Apple-red gondolas that carry you across the Potomac River. Streetcars that slide under the Whitehurst Freeway and along the waterfront. Parks, markets and historic boat tours along the C&O Canal.
Welcome to the new Georgetown.
There's just one problem. It doesn't exist yet.
Rather, the lofty concepts above are what many of the neighborhood's residents and public officials hope to make a reality in the coming years. In doing so, the aim is to renew Georgetown's reputation as one of Washington DC's premier neighborhoods – a neighborhood that, for all its rich history, is finding itself more and more in competition with redeveloped neighborhoods to the east.
Let's be clear: Georgetown is still one of the city's most sought-after neighborhoods and remains home to the city's elite and their multi-milion dollar abodes.
However, the shifting attention from Georgetown to other areas of the city means that plans like Georgetown 2028 – with its new transportation methods, revitalized public spaces, expansive public parks, and other potential developments – are more important than ever. As stores and restaurants decamp, the neighborhood is on a mission to prove that it's still as unique, vital, and eye-catching as it has been in past.
"It's changed a lot since 2003," Georgetown resident and author of the blog The Georgetown Metropolitan Topher Matthews said, referring to the year in which he moved to the neighborhood. "There have definitely been more retail and restaurant losses over the years than there have been gains. I'd love to have Nathan's or Furin's of Georgetown back." Other recent restaurant, boutique, and high-end chain losses on the scene include The Sea Catch Restaurant & Raw Bar, Sherman Pickey, United Colors of Benetton, and American Apparel.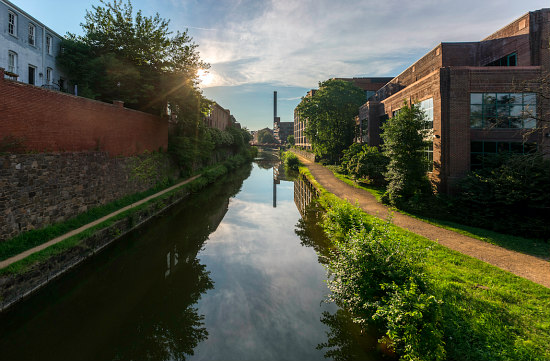 The C&O Canal. Photo by
Mark Alan Andre
.
Jennifer Romm, whose long-term relationship with the neighborhood began during her time as a student at Georgetown University, currently lives in a 2,500-square-foot condo along the waterfront. A far cry from her tiny dorm room, Romm's private terrace puts her near the front lines of one of the many new development projects coming Georgetown's way: the proposed re-design of the one-mile section of the C&O Canal (possibly in the style of New York City's High Line).
As vice president of the Citizens Association of Georgetown, Romm's mission to help bring the buzz back to Georgetown will keep her busy in the coming years.
"There are regulations in place that limit what can be changed," she said. "For that reason, there isn't a lot of opportunity for growth. Right now, at the top of my list, is the project to restore the canal, replace the canal boat, and revitalize the tow path. It's in desperate need for some TLC and, unfortunately, the Park Service doesn't have the funds necessary to keep it maintained."
Other projects that could transform Georgetown include the potential gondola taking commuters and visitors between Georgetown and Rosslyn (currently moving forward on Georgetown's end, despite pushback from Arlington County); wider streetscapes for pedestrians who know all too well the pain of walking along M Street on weekends; the restoration of old buildings and the development of new shops and restaurants along Wisconsin Avenue; and the grand expansion of the city's nascent streetcar system from H Street all the way into Georgetown.
As exciting as these and other expected changes are, they're not here just yet. In the meantime, Georgetown continues to navigate this mild identity crisis, while residents like Matthews and Romm wait to see what comes next.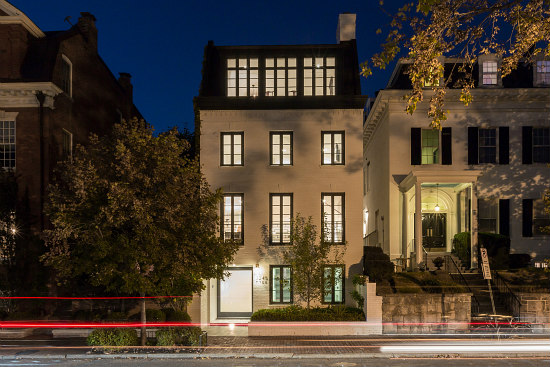 A home on the market on N Street.

More Than M Street
It's easy to think of Georgetown as just M Street, the center of the neighborhood that attracts tourists and casual shoppers to its blocks of stores and restaurants. But it's much more than that.
The neighborhood is situated next to Rock Creek Parkway, on topography that rises from the banks of the Potomac River up through hills to the foot of the United States Naval Observatory.
The eastern end of the neighborhood follows the gentle curves of Rock Creek, while the northern end is bounded by Whitehaven Street NW, 35th Street NW, and Reservoir Road NW. To the west, Georgetown ends with the outer territory of the eponymous university; to the south, it stops along the banks of the Potomac River.

From Center of Industry to Center of Commerce
"Georgetown differs from other historic neighborhoods in its rich industrial past and its long, storied transportation history," says Will Handsfield, transportation director for the Georgetown BID. "Most of the buildings along the canal were used for industrial purposes at some point. Complementing that history, Georgetown is also DC's first – and most well-developed – post-industrial neighborhood. It's an aesthetic with seemingly durable popularity."
In its past, Georgetown played the role of colonial seaport and railroad terminus; it also was the site of massive lumber and flour mills. But Georgetown is perhaps most noted for the historic C&O Canal – originally designed to connect Washington to Harpers Ferry and aid in the transportation of coal.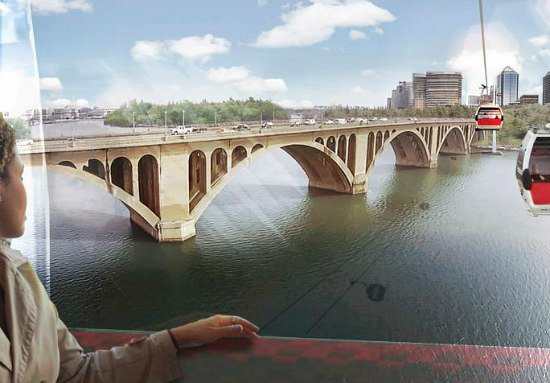 An imagined view from the gondola traveling to Georgetown.
Much of Georgetown's industrial strength ran fallow in the first half of the 20th century, after which its historical ties and its dawning commercial strips along M Street and Wisconsin Avenues drew an entirely new strata of society to its streets.
One cannot neglect the neighborhood's connection to Washington power players and celebrities, which is still as strong as ever. The beautiful mansions and estates that dominate the upper sections of the neighborhood have been home to the upper crust of Washington society, including former First Lady Jackie Kennedy (whose mansion at 3017 N Street NW recently sold for $6.5 million).
But the thinking that Georgetown is only a place where the wealthy, old guard of the city live is incorrect.
"That's really only a superficial observation," says Matthews. "Georgetown has a lot of professionals, sure, but I don't find myself taking about people's jobs very much. I definitely found people to be friendly and outgoing, particularly once I started getting involved with different groups around the neighborhood."

Still Exclusive and Still Expensive
Georgetown real estate, with its unique location and storied past, will always come with a hefty price tag.
Price points, according to Michael Brennan Jr. of TTR Sotheby's International Realty, are pushing upward, especially when it comes to single-family homes.
"I've never seen a single-family market quite as hot as it right now," he says. "There are only so many single-family homes here. Everything is going under contract soon after we touch it." As of the end of March, the median home value for the neighborhood was $1.65 million dollars.
When Matthews first arrived in Georgetown in 2003, he and a roommate moved into a large two-bedroom apartment across from Montrose Park for what he calls "a ridiculously low price." Not so much anymore. A one-bedroom rental in the neighborhood averages around $2,000/month.
"Georgetown is definitely in the midst of a transition," Brennan Jr. admits. "At the same time, the draw to this area remains consistent."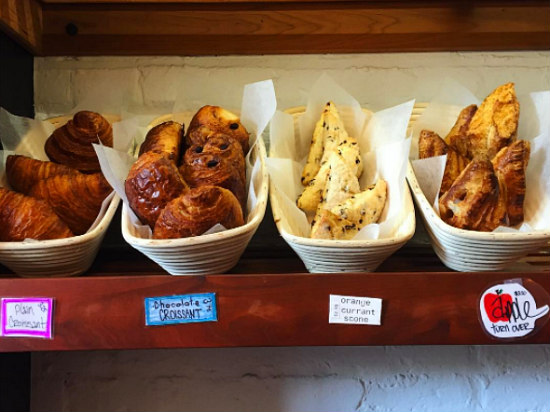 Treats from
Baked and Wired
.

Five Things to Do
Get a Sweet Treat at Baked & Wired. Skip the lines (and hype) of Georgetown Cupcake in favor of "cakecups" at Baked & Wired, which include the Elvis Impersonator (top yours with candied bacon).
Stroll along the Georgetown Waterfront Park. Whether you're lounging by the water or meandering along a painted labyrinth, this redeveloped park space is an antidote to the frenzy of M Street.
Shop 'Til You Need a Treat. The main draw of Georgetown still remains its shopping scene, particularly along M Street, which is lined with the likes of J.Crew, Nike, H&M and dozens of other stores.
Stuff Your Face at Filomena. — Something of a Georgetown establishment, Filomena's huge Italian dinners still hold up in the wake of trendier spots that have opened (and shuttered) in recent years.
Visit the Old Stone House. — Dating back to 1765, this building is a slice of Georgetown at its earliest. If you want to know the history of where you're shopping and dining, start here.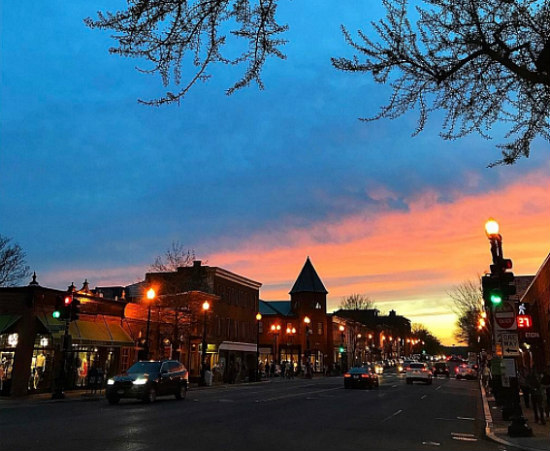 M Street

No Metro, But Other Ways to Get Around
Transportation options in Georgetown are pretty solid, provided you don't mind the congestion along M Street (especially on weekends).
Infamous for its lack of a dedicated Metro station, Georgetown's central business district is a healthy walk along the water or up Pennsylvania Avenue from the Foggy Bottom-GWU station.
Making things easier are several bus lines (including the G2 and 30 series) as well as the Circulator, which takes residents to points north (including Glover Park), south (including Rosslyn), and east (to Union Station).

The Bottom Line
In 21st-century DC, it seems, rich historical legacies and epic homes don't make a neighborhood stand out the way they used to. While many residents of Georgetown would just assume the neighborhood stays the way it is, others have big, if not unrealistic, plans that will serve as answers for the slight identity crisis that one of DC's toniest areas has been dealing with of late. Time will tell if the answers involve gondolas cutting across the sky or unique canal-side entertainment.
---
Zak M. Salih is a freelance writer based in Washington, D.C. His work has appeared in publications including Washington City Paper, the Richmond Times Dispatch, Baltimore City Paper, the Chicago Tribune, and the Christian Science Monitor.
Recent Neighborhood Profiles:
This article originally published at https://dc.urbanturf.com/articles/blog/georgetown_what_will_the_future_bring/12522.
DC Real Estate Guides
Short guides to navigating the DC-area real estate market
We've collected all our helpful guides for buying, selling and renting in and around Washington, DC in one place. Start browsing below!
First-Timer Primers
Intro guides for first-time home buyers