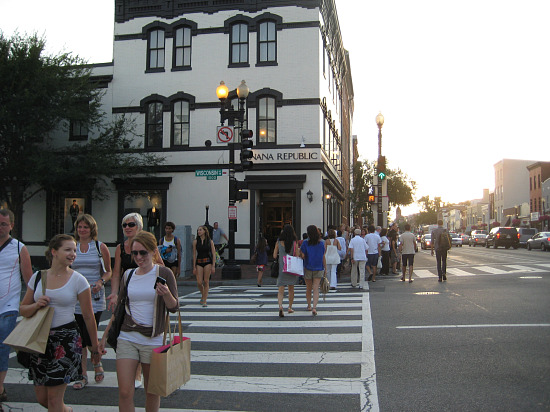 The Intersection of M Street and Wisconsin Avenue in Georgetown
Georgetown. The name alone draws a variety of connotations. For some, it's the symbol of Old Washington with upper class socialites and politicos living in mansions hidden behind discreet facades. For others, it's a place defined by serious shopping and the ubiquitous presence of Georgetown University co-eds. And for those who look at the city's oldest neighborhood and are annoyed rather than wonderstruck, Georgetown is simply an area endlessly bombarded by crowds and traffic that's best avoided at all costs. Love it or hate it, it's hard to deny that Georgetown has a distinct charm. For all the shops and crowds of M Street and Wisconsin Avenue, Georgetown is full of quiet back streets lined with row houses, big and small. If you're a renter, finding a reasonably-priced apartment is not out of the realm of possibility. However, those homebuyers who aren't willing to pay a hefty premium to live there will probably best appreciate Georgetown as visitors, not residents.
Not Just Popped Collars and Pastel Cardigans
Georgetown is bounded by the Potomac River, Rock Creek Parkway, the northern edges of Montrose and Dunbarton Oaks parks, 35th Street, Reservoir Road, and the western border of Georgetown University.
Once a separate jurisdiction from the rest of the District, Georgetown became fashionable in the 1950s when John F. Kennedy lived there as a congressman and senator. For decades after, the neighborhood's name served as a metaphor for the high-level community of movers and shakers who lived in the area. As recently as the early 1990s, Georgetown was one of only a handful of commercial areas in the city deemed safe enough and cool enough to go out in. However, times have changed. A new "it" neighborhood is coined almost annually in the District, and Georgetown no longer has the nightlife cachet it once did. Despite DC's remarkable diversity, Georgetown seems to be a place dominated by the popped collar and pastel cardigan crowd. But according to T.J. Murphy, a real estate broker and founder of The Murphy Team, residents are more mixed than they appear at first glance. "It's like the rest of the city, in many ways," he said. "It's far less snooty than its reputation."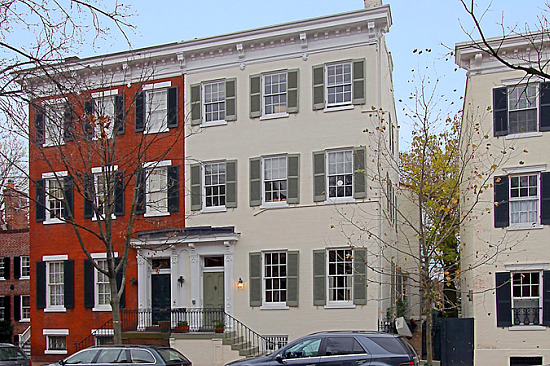 Houses on P Street
Hundred-Year-Old Homes Crowd Out New Developments
Location in Georgetown is largely defined by whether you live east of Wisconsin Avenue in the so-called East Village, or west of Wisconsin Avenue in the West Village. The cobblestone and streetcar rail-lined streets of the West Village are sometimes the deciding factor when a buyer can't decide between the two sections of the neighborhood. Both areas are primarily dominated by Federal row houses, and narrow ones at that. The joke around DC is that you can stand in the living rooms of some Georgetown residences, spread your arms and touch both walls. Many of these homes are more than 200 years old and have been well maintained or restored. They vary in size and style ranging from turreted Victorians to low, boxy Colonials. There are a few condo developments scattered around the neighborhood. Near the Potomac River is 3303 Water Street, a modern building that was developed in 2004, and Wormley Row, a converted schoolhouse on Prospect Street, will soon start the townhouse phase of its project that will be complete next summer.
Home Prices Remain Some of the Highest in DC
A neighborhood with a national reputation, walkable streets, and a peaceful atmosphere near the heart of the city doesn't come cheap. The average sales price of a two-bedroom house in Georgetown is currently $860,000; three-bedroom homes are selling for an average of $1.35 million. It's all about the zip code, explained Nate Guggenheim, a real estate agent with Coldwell Banker Georgetown. "You can get a cool little house for $500,000, but it'll be very small," Guggenheim explained. "What's available in the lower price ranges are for people who really want to be in Georgetown."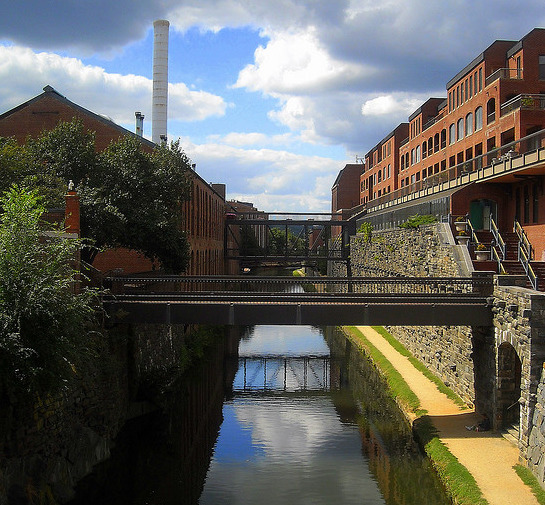 The C&O Canal at the Bottom of Georgetown. Photo by Josh Howell.
Condos aren't much cheaper. While the odd 1980s-era one-bedroom unit might sell for around $350,000, the average list price is currently $847,000. For renters, though, options abound. One-bedroom apartments can be found in tall buildings or in the basements of row houses, running anywhere from $1,500 to $2,500 or more per month. Alex Rouse, who rents the second floor of a small colonial house with his girlfriend, thinks that rents in the area are about as affordable as in Logan Circle where he used to live. "We still wanted to be within walking distance of Dupont, but we needed something more quiet," Rouse said, regarding his move to Georgetown.
Banana, Apple and H&M
The eight-block stretch of M Street that is Georgetown's main artery is one of the city's shrines to commerce and home to small boutiques, trendy chain stores and restaurants ranging from pubs to some of the city's best. With its narrow sidewalks, the street can get pretty crowded on Saturdays, but that doesn't deter the crowds who flock to H&M, Urban Outfitters, Banana Republic, and restaurants like Clyde's, Tackle Box, Café Bonaparte, and Georgetown Cupcake, which has a seemingly never-ending line since it achieved stardom on national TV. The addition of the Apple Store on Wisconsin Avenue in mid-June only bolstered the area's shopping rep.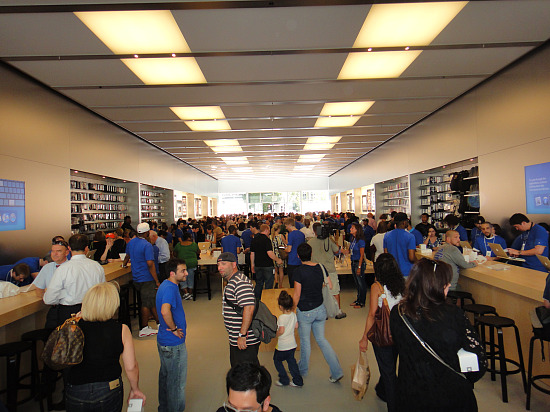 Opening Day at The Apple Store
The waterfront, a wide patio and boardwalk overlooking the Potomac River, attracts the after-work K Street crowd to bars like Sequoia and Tony and Joe's in the summer. Georgetown has a number of independently-owned corner stores where residents can drop in for a box of pasta or a six pack, but the neighborhood's only supermarket is the newly renovated Social Safeway that sits north of Georgetown's uppermost border. To get away from the bustle, residents can walk to the Georgetown University campus or Dumbarton Oaks, which offers trails that meet up with Rock Creek Park.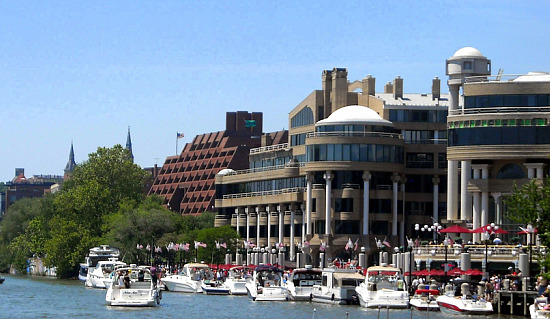 Georgetown Waterfront
Don't Let That Story Scare You
"Is it safe? Oh, yes," said Richard Hoppe, who's lived in Georgetown's East Village since 1994. "There are occasional robberies and muggings, and a couple of years ago there was a handful of home invasions. But it feels safe, and incidents are rare." Four years ago, the city was shocked by an attack on a couple walking at night in Georgetown that ended with the man dead, his throat slit. But there haven't been any homicides in Georgetown in the last couple of years, and violent crimes are few and far between.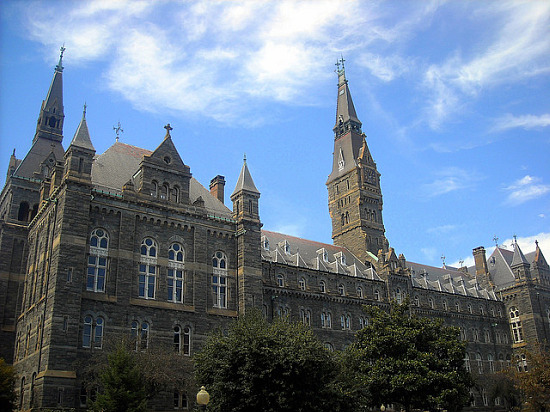 Georgetown University. Photo by Josh Howell.
Meet My Friend, Mr. Circulator
The biggest knock against Georgetown is that it doesn't have a Metro station, and the neighborhood feels somewhat isolated from the rest of the city as a result. But the area is well served by the Circulator (which is currently taking over routes between Rosslyn and Dupont Circle that used to be covered by the Blue Bus) as well as the G2, D1, D2, D3, 31, and 33 bus lines. For drivers, the neighborhood is convenient—especially for those heading into Virginia as Georgetown is near the George Washington Parkway, I-66, and Highway 50. Parking can be tight, particularly on the weekends, but as with areas like Dupont Circle and Adams Morgan, Georgetown residents have a higher tolerance than most about how far they will go for a spot. "I don't think I've ever had to go farther than three blocks in any direction to park," Richard Hoppe said.
The Bottom Line
Georgetown's reputation will always make it a safe yet prohibitively expensive place to buy a home. For some, the charm and amenities make having a Georgetown address—and paying the associated steep prices—worth it. For others, the neighborhood will best be enjoyed during occasional visits. Amanda Abrams is a Washington, DC-based journalist who has written feature stories for The Washington Post, Christian Science Monitor, and Washington City Paper.
Real Estate Agents Serving Georgetown
The following real estate agents are active in Georgetown. Call or email them to get in touch.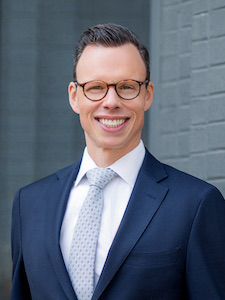 Maxwell Rabin
TTR Sotheby's Int'l Realty
Phone: 202.669.7406
Website: View website
Listings: View listings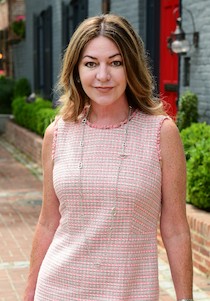 Lee Murphy
Washington Fine Properties
Phone: 202-277-7477
Website: View website
Listings: View listings

More Stuff about Georgetown
ZIP code: 20007
Schools: Hyde Elementary School on O Street, Hardy Middle School on 35th Street and the Duke Ellington School of the Arts on R Street are Georgetown's three public schools.
Georgetown real estate data and profile from Redfin
Georgetown rental listings on Craigslist
This article originally published at https://dc.urbanturf.com/articles/blog/georgetown_history_hoyas_and_hm/2448.
DC Real Estate Guides
Short guides to navigating the DC-area real estate market
We've collected all our helpful guides for buying, selling and renting in and around Washington, DC in one place. Start browsing below!
First-Timer Primers
Intro guides for first-time home buyers