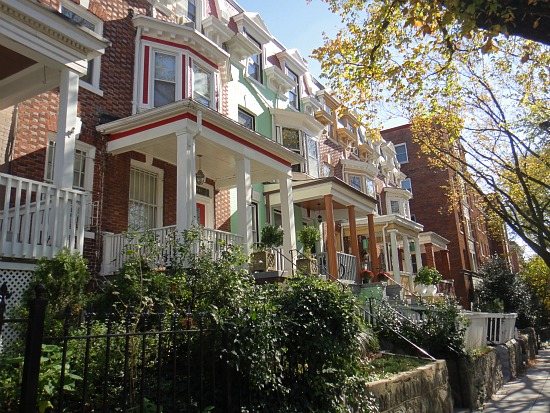 Row houses in DC.
As fall approaches, there are a number of questions floating around about the DC area housing market. Will the tight inventory in the for-sale market continue? Will the slew of new apartments entering the rental market push rents down? Will interest rates continue to drop?
With these questions in mind, we asked six local industry professionals to offer their thoughts about the climate of this season's housing market. Following are their predictions.
---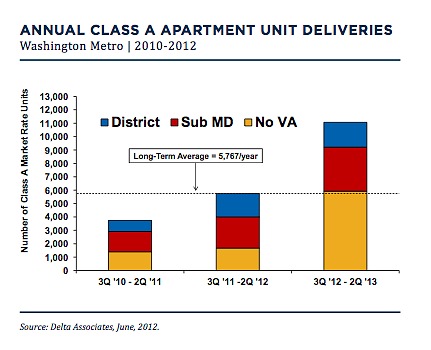 Apartment deliveries for the DC area. Delta Associates.

Apartment Rents May Stop Rising, But Just For A While
By Gregory H. Leisch, CRE Founder and Chief Executive of Delta Associates
Commercial real estate moves in cycles and the cycle is now moving to favor the tenant, as developers are about to deliver too many apartment buildings to the DC area. We estimate that 6,000 units will be delivered in the region in the second half of 2012 — that is more units than is typically needed in an entire year. And 11,500 units will deliver in 2013 — perhaps twice what the area needs in a year.
Therefore, rents which increased 8 percent in 2010 and 2 percent in 2011, will either remain flat or decline modestly in the coming months. So, tenants can expect it easier to find an apartment and to find deals on an apartment. This condition will not likely last long because demographic shifts are producing large numbers of apartment renters who will be coming to market over the next 5 years in record numbers. These are potential renters who are 25 to 34 years-old who now live at home with mom and dad. Or who are doubled up with one-another and will un-double as economic conditions improve. And the structural shift from owner to renter does not appear to be completely over. So, take advantage of this short-term opportunity, as ever escalating apartment rents take a breather.
---

The Fall Market – Don't Hold Your Breath
By Lindsay Reishman, Founder of Lindsay Reishman Real Estate
As for-sale inventory has tightened in DC, the constant mantra from agents is for buyers to be patient and more inventory will come. It is certainly true that the city traditionally sees a small bump in inventory in September and October, but the bigger story is the overall trend.
Over the last five years, inventory in DC has steadily declined. On average this year, we've had about 2/3 the inventory we had on the market last year and about half of what we had in 2008. As a result average days on market have declined and prices have increased. I predict that we'll see a small bump in inventory in the fall, which will quickly be absorbed, and the trends of decreasing inventory and increasing prices will continue. I recommend that buyers not hold out hoping for a flood of inventory, but instead be aggressive and act quickly in the fall market if you see something you like.

---

Low Inventory Should Continue Putting Upward Pressure on Pricing, But…
By Jonathan Hill, President of RealEstate Business Intelligence
Following the dictates of supply and demand, low housing inventory will continue putting upward pressure on prices as we enter the fall real estate market. We're likely to see continued gains when looking at pricing on a year-over-year basis, though the area should expect modest declines in month-over-month pricing trends coming off the June highs based on typical seasonal patterns.
The question is probably how much of an increase in prices and will that effect be strong enough to stave off the effects the looming sequestration circus on Capitol Hill could have on the local economy. Should we be pessimistic or jaded by past Congressional gridlock? Must we visit a parallel universe to find compromise on the 1) Bush tax cut extension, 2) raising the debt ceiling, and 3) eliminating the threat of sequestration? With the House and Senate in session for only 16 days between Election Day and end of the session, all bets are off. Without resolving these BIG issues, double-dip recession will be likely.
Can you imagine $600B in defense cuts rippling through the DC Metro economy? Seems like everyone presumes this would be so bad that it can't possibly happen. But can it? The uncertainty regarding sequestration alone has the power to deflate the recovering local housing market, but a quick post-election deal before the 112th Congress calls it quits would provide a much needed boost and set up 2013 to build on the real estate market recovery that began this year. Even Congress might feel it had accomplished something extraordinary. Now, there's a thought!
---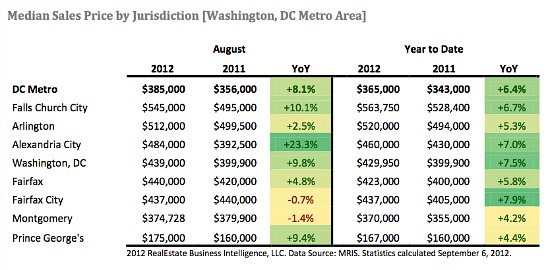 Year-over-year change in median price for the DC area. RealEstate Business Intelligence.
By Holly Worthington, Managing Broker/Vice President of Long and Foster Real Estate
Inventory has been dwindling all over the city and prices are rising in most areas. There will continue to be a scarcity of inventory but as the market continues to strengthen, more homeowners living in their first home will get the confidence to sell and buy a "move–up" home. This will help increased the inventory in the lower price ranges which will open up opportunities for first-time buyers. Because of the low number of housing starts over the past four years there will still be a shortage of housing in both the rental and for-sale sectors. Prices will continue to rise. The tsunami of people in their twenties getting ready to buy will keep the market inventory low and moving quickly. Bidding wars will continue but buyers will remain wary regarding property condition, repairs, and appraised values. Rising interest rates may motivate buyers to get off the fence but lending guidelines will remain tight. Once DC banks feel they can safely foreclose again on some of their delinquent loans, more inventory will come on the market but not enough to change the market balance in favor of the buyer. The sellers are calling the shots right now and unless we fall off the fiscal cliff later this year that will continue.
If I were to give advice to someone, it would be to invest in a four-plus bedroom house in a mid-priced neighborhood and to rent rooms out to tenants. Homes for rent in the lower price ranges are hard to find and these renters are a demographic that will continue to grow in our city – young working individuals who are not yet earning enough to have their own place.
---

A Cooler Housing Market This Fall
By Lisa A. Sturtevant, PhD, Deputy Director of the Center for Regional Analysis at George Mason University
The Washington area's housing market bounced back faster than almost anywhere else. According to data from RealEstate Business Intelligence, average home prices in the metropolitan area (a 22-jurisdiction region) have increased in 29 out of the past 33 months. The condo market—which had trailed the single-family market in its recovery—has strengthened in the last few months, even in jurisdictions outside the District of Columbia and Arlington. The Prince George's County market was mired in foreclosures for years but has seen price appreciation consistently since April. Sales are up, inventories are low, and prices are back near peak in some jurisdictions.
The Washington area housing market will continue to recovery broadly this fall, but the pace of sales activity and price appreciation will moderate as demand dips and some potential homebuyers and sellers retreat from the market. A cooler fall housing market is anticipated due to the pervading political and economic uncertainty. In particular, concerns about the $1.2 trillion in Federal budget cuts—often referred to as "sequestration"—that are scheduled to go into effect on January 2, 2013 are on people's minds. These cuts could have a substantial impact on the regional economy. Local businesses are already pulling back on hiring, Federal government employees are waiting to see how their agencies will be impacted, and people are generally cautious about making big changes. As a result, it is likely that we will see more moderate sales activity and price growth in the region this fall.
---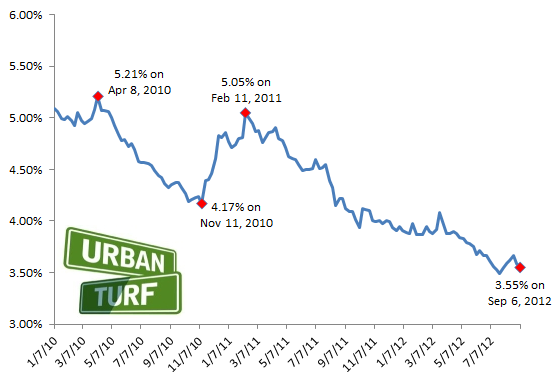 The trajectory of interest rates since January 2010.

Low, Low Rates But Maybe Not For Much Longer
By John Settles, Branch Manager, Mortgage Specialist of Wells Fargo.
Whether or not the country will continue to enjoy historically low interest rates in the coming months is dependent on the tug of war between the European debt crisis, likely quantitative easing (QE) from the Federal Reserve and the state of the economy. The Eurozone recession appears to be worsening, and there seems to be little hope for politically sensitive bailouts. Bad news in Europe is good news for mortgage rates, or vice versa. As for the Federal Reserve, they are feeling the pressure to act, and I expect a new round of QE sometime in the next 90 days, which could keep rates low or push them lower.
The fall may represent one of the last chances for consumers to buy a home at what are historically low rates. However, if China and Europe continue to suffer economically, and if the Fed adopts a strategy as suggested above, rates could remain low for the foreseeable future. I wouldn't suggest that you gamble and play the market because unpredictable events like the Federal Housing Finance Agency just announcing an increase in Fannie Mae/Freddie Mac guarantee fees could quickly push rates up.
This article originally published at https://dc.urbanturf.com/articles/blog/fall_market_predictions_lower_rents_lower_rates_lower_supply/6000.
DC Real Estate Guides
Short guides to navigating the DC-area real estate market
We've collected all our helpful guides for buying, selling and renting in and around Washington, DC in one place. Start browsing below!
First-Timer Primers
Intro guides for first-time home buyers