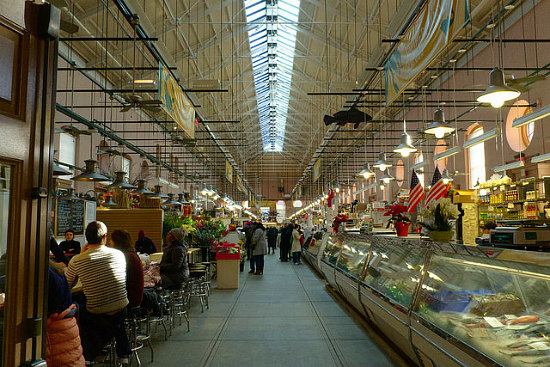 Eastern Market. Photo by
Rich Renomeron
.
UrbanTurf has profiled more than 50 neighborhoods in the DC area. We are now revisiting each of those neighborhoods to update our profiles and see how they've changed over the years.
---
In the spring of 2007, a fire tore through the historic halls of the public market that gives the Eastern Market neighborhood its name. Two years later, the market reopened its doors. Now, in 2017, a new development -- one that's not bringing buildings down, but building them up -- is coming to this charming Capitol Hill neighborhood. Right across the street from Eastern Market, on the site of the old Hine Junior High School, construction crews are hard at work on a massive new development set to open later this year. Ground-floor retail (including an anticipated Trader Joe's) will anchor 150,000 square feet of office space, 162 residential units, underground parking, and a public plaza. Already densely packed with low-rise historic buildings and shops, the new Hine development project, with its large footprint and modern architectural style, stands out in the neighborhood. It's also indicative of neighborhood change that, depending on whom you speak with, is either welcome or worrisome. "I really like how undeveloped the neighborhood is, and I don't want it to start looking like downtown," recent neighborhood arrival Alison Rogers told UrbanTurf. "At the same time, all the new retail will provide jobs, which could be good for a lot of people. I'm hoping with all the local businesses and the buildings with rent control, we'll still see more of a mixed-income population than just a high-income one." A little more hopeful: Madeline Odendahl of Eastern Market Main Street, a nonprofit dedicated to balancing the neighborhood's history with the economic development it needs to be a competitive business community. "There was a lot of pushback on this specific development from the neighborhood," she said. "For us, it's exciting. It's hard to bring density here, which you really need to have a strong business climate. So having more offices, more places for people to go to lunch every day – I think that will be a great asset to the neighborhood."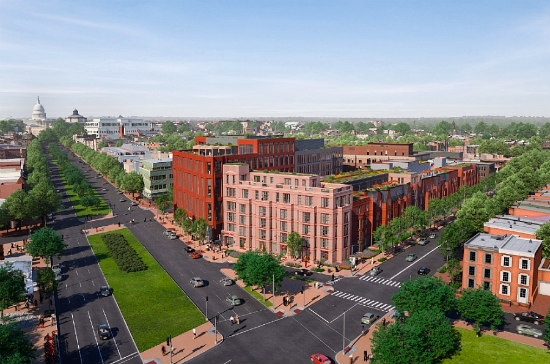 A rendering of the Hine development.
For Larry Janezich, who's lived in the neighborhood since 1966 and runs the local blog Capitol Hill Corner, things are little bleaker. "I always enjoyed living here because, back in the 60s and 70s, it was a very funky and diverse place," he recalls. "Now, it's becoming less of any of those things. I'm sorry to see the neighborhood change in a direction where it's less interesting, though I understand how inevitable that is." He's also not sure retail space will bring such a diversity of business to the neighborhood. "Retail is difficult all over the Hill because of online shopping and high rents," Janezich said "Dining establishments offering alcohol or coffee shops or fast-food places with high profit margins are the only kinds of places that can be sustained in those spaces." Rogers, who loves her Eastern Market apartment for its affordable rent and its proximity to beautiful historic homes, describes the neighborhood as a place where the vibe changes from block to block. This might be an apt description for a place where one particular block, once home to a high school, is aiming to change the character – and the future – of the neighborhood.

The Namesake Market
In operation for more than 125 years, Eastern Market is a block-long interior public space lined with grocers and purveyors selling everything from local seafood and thick cuts of meat to homemade pastas and fresh-baked breads. Outposts like Capitol Hill Produce, Southern Maryland Seafood, Blue Iris Flowers, and the always crowded Market Lunch are neighborhood staples. They're also public meeting spaces for friends and neighbors. "The majority of people who shop for groceries at Eastern Market go there for a specific reason," says Odendahl. "They have relationships with people behind the counter, and they go to them for their expertise." Then there's the popular Sunday Flea Market, which has been in operation for over 30 years. Originally located across the street from Eastern Market, the weekly gathering of nearly 70 vendors selling crafts, antiques, and curios has had to move operations to 7th Street SE in the wake of the current construction.

In America's Backyard
To include or not include Barracks Row? That's the big question when pondering the boundaries of Eastern Market, which, like many of the other micro-neighborhoods on Capitol Hill, are continually a matter of debate. In this neighborhood profile, we've focused on the neighborhood surrounding the market proper, bounding the neighborhood to the north by East Capitol Street, to the west by 3rd Street SE, to the east by 11th Street SE, and to the south by the diagonal slash of Pennsylvania Avenue SE.
This prime location behind the U.S. Capitol Building (something of America's backyard) is a big draw for residents like Rogers' roommate, Bre Swims. "One minute you can be shopping for West Virginia peaches, and the next you can be perusing Shakespeare's folios at The Folger Shakespeare Library," she told UrbanTurf.
There from the Beginning
When originally outlining plans for America's federal city, Pierre L'Enfant made room for several public markets: a western market, a centrally located market, and an eastern market, which was finished in 1873. The Eastern Market neighborhood itself grew around the market and like other parts of Capitol Hill brought in an influx of federal government workers who wanted a short commute to their offices – and who stayed longer than people in other DC neighborhoods. Stemming perhaps from the public market, Eastern Market has a reputation as a pocket of permanence in a sea of transience. "Most of our neighbors have been living here for decades," says Christopher Ray, who owns one of the neighborhood's many eye-catching, spacious town homes. "Many of the businesses too have been in place for years. I think the permanence helps people to care more about the community, a feeling that manifests itself in high participation in local charities, street cleanups, and other beautification projects."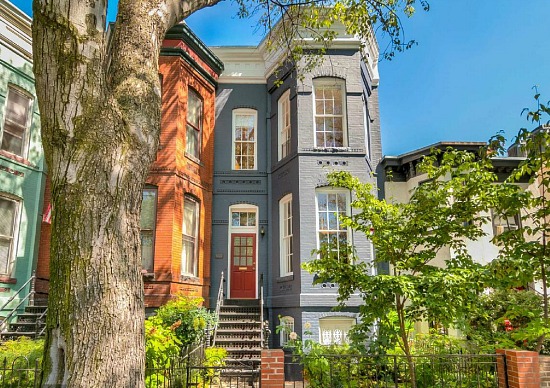 A rowhouse on 7th Street.
Making Way For New Homes
Stroll along the streets of Eastern Market and you'll see a bounty of row homes: Victorian row homes, Federal-style row homes, porch front row-homes, many of them with well-tended front gardens that people will occasionally stop and admire. But there's nothing along the scope of the buildings currently rising above Eastern Market at the Hine School site, which look to strike an incongruent tone compared to the more historic buildings residents find charming despite their age. "A lot of them are old and kind of falling apart," says Rogers. "But the neighborhood is just so pretty that you put up with it." Rogers and Swims share a two-bedroom apartment in a larger complex with a monthly rent of $2,050. According to local real estate agent Jackie Sink, the median price range for a row home in the neighborhood is $830,000 although prices for single-family houses regularly venture into seven-figure territory.

Four Things to Do
Get Lost at Capitol Hill Books. This multi-story used bookstore is packed with used books – on the shelves, on the floors, on the stairs, in the bathroom. Don't come here for a quick browse. Come here for an entire afternoon of hunting.
Grab Breakfast at Market Lunch. Dating back to 1978, Market Lunch is an Eastern Market food stall serving up no-frills breakfasts and lunches (including crab cakes). Stop by on a weekday when it's easier to claim one of the few seats, as there is a line virtually all weekend.
Have Fun at Labyrinth Games & Puzzles. One of the neighborhood's many small shops, this spot is the perfect place to hunt for your next favorite board or card game. The store also hosts weekly game nights on Thursday evenings.
Drink the Bourbon Milk Punch at Barrel. Eastern Market has its share of bars and lounges. Among them is Barrel, which serves up a bourbon milk punch (yes, there is milk in it) that Rogers recommends everyone should try.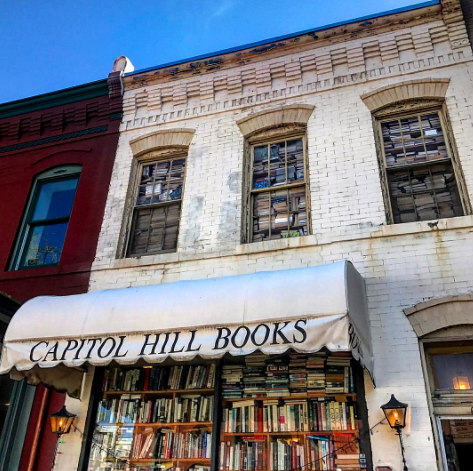 Capitol Hill Books.

Metro, Don't Park
Befitting a small, extremely popular neighborhood that sees a giant influx of visitors (especially on weekends), parking in Eastern Market can be frustrating. Parking opportunities for residents is a concern, according to Sink. "We all love to live here, and while many of us walk and bike, we still need a place to park our car." For those who choose not to travel by car, the neighborhood has a wealth of public transportation options. There is, for starters, the eponymous Metro Station, which serves the Blue, Orange, and Silver lines. Then there are various Metrobus routes running through the neighborhood, including the 90, 92, 30, 32, and 34, as well as plenty of Capital Bikeshare docks.

The Bottom Line
It's been over half a century since Janezich first arrived in Eastern Market. And while he may belong to the camp of residents somewhat leery about the changes coming to the neighborhood, he's not going anywhere. "I'm planted here," Janezich says. "There's still the excitement and vibrancy of urban living here, which remains attractive. The Hine project is going to have a huge impact, but I have a lot of confidence the market, and the neighborhood, will continue to survive. It's going to be a process of evolution." Zak M. Salih is a freelance writer based in Washington, D.C. His work has appeared in publications including Washington City Paper, the Richmond Times Dispatch, Baltimore City Paper, the Chicago Tribune, and the Christian Science Monitor.
Recent Neighborhood Profiles:
This article originally published at https://dc.urbanturf.com/articles/blog/eastern_market_a_historic_neighborhood_in_hine_sight/12743.
DC Real Estate Guides
Short guides to navigating the DC-area real estate market
We've collected all our helpful guides for buying, selling and renting in and around Washington, DC in one place. Start browsing below!
First-Timer Primers
Intro guides for first-time home buyers