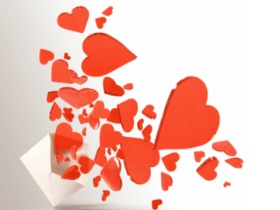 Two years ago, The New York Times reported that homebuyers in New York City were using a new tactic to get the home of their dreams: writing heartfelt letters to the sellers. The article highlighted a Manhattan couple whose love letter won them a home even though their offer came in $8,000 below a competing bid.
As the competition of the DC area market remains persistent, buyers are looking for similar ways that they can differentiate their offer from others in a competitive bid situation, and many have at least considered the idea of writing a letter to a seller.
But is this tactic an effective one? By and large, the consensus among those in the industry is that the answer is no.
"I have never had a letter be a determining factor on either side," Suzanne Des Marais of Keller Williams told UrbanTurf. "That said, I am not actively working with buyers these days, but on the listing side, it doesn't pull a lot of weight for me."
"I have used that tactic, but it unfortunately doesn't seem to work in my experience," Dwell Residential's Jennifer Myers said. "So many buyers think it will be the thing that gets them the house, but it really doesn't become a factor."
When talking to real estate professionals in the area, the reason for this becomes fairly obvious: a home seller is not likely to be swayed by a letter, no matter how much it plucks at the heart strings, if there is an offer with better financial and contingency terms on the table.
"If the seller is sentimental, it sometimes works," Jen Angotti of DCRE said. "Sellers in DC don't seem sentimental. They are always after the highest dollar amount."
Yet another strike against the letter is that it could actually violate fair housing policies.
"Think about the goal of a letter. It is to introduce and 'sell' the buyers," Long & Foster's Marj Rosner explained. "How do buyers do that? Typically, they try to package themselves as likeable and charming. They do that by offering personal information which, aside from being immaterial to the contract in most cases, is often in violation of fair housing laws."
Rosner said that when she is managing multiple offer presentations – or single offer presentations for that matter – she explains to sellers that it is not in their or anyone's interest for a letter to impact what should be a financial decision.
"Sometimes a sentimental seller wants to see the letters, so I will keep them in a file and turn them over after settlement," Rosner said. "Occasionally, buyers include photos, with the letters, and I make an exception for photos of dogs. I like dogs and they are not yet a protected class."
Ironically, a dog was front and center in the one instance that UrbanTurf heard of in which a letter was truly effective in trumping price to get a buyer the home they wanted.
Last year, Mark Nielsen fell in love with a five-bedroom house being sold through an estate sale in Crestwood. The sister of the former owner was handling the sale.
Nielsen visited the house four times, and then on the day that his offer was due, his agent, Coldwell Banker's Mandy Mills, told him that he was in competition with seven others.
"My offer was good, but not as good as the others," Nielsen said. "I asked if I should write a letter about what I planned to do with the home and my agent said it couldn't hurt."
In the letter, Nielsen explained why he had fallen in love with the home and how he planned to renovate it. He and his partner recently adopted a little girl and he wrote about how they looked forward to their daughter and their golden retriever playing in the yard.
A day later, Nielsen got an answer.
"My agent told me that I wasn't the highest offer, but that the sister wanted us to have the house," he said. "She liked what our plans were, but the reference to the dog may have been what sold her. Her brother had golden retrievers as pets his entire life."
The listing agent conveyed that she had strongly advised her client to go with the highest offer, which had much better financial terms, but that the woman was touched by Nielsen's letter.
"I didn't really do it to play on heart strings, but in my view this house was about more than the numbers," Nielsen said. "I think a lot of people have an emotional connection to their home, and that proved to be the case in this instance."
This article originally published at https://dc.urbanturf.com/articles/blog/dear_seller_will_your_house_be_mine/8291.
DC Real Estate Guides
Short guides to navigating the DC-area real estate market
We've collected all our helpful guides for buying, selling and renting in and around Washington, DC in one place. Visit guides.urbanturf.com or start browsing below!
First-Timer Primers
Intro guides for first-time home buyers